Apia deserted on first night of Level 3 lockdown
By Adel Fruean

•
20 March 2022, 1:46PM
The streets and roads in the capital Apia were deserted Saturday night as the country's Alert Level 3 lockdown kicked following the detection of COVID-19 community cases.
All shops, restaurants and night clubs that are usually open on Saturday nights were shut with only authorised vehicles owned by the police and other essential services using public roads.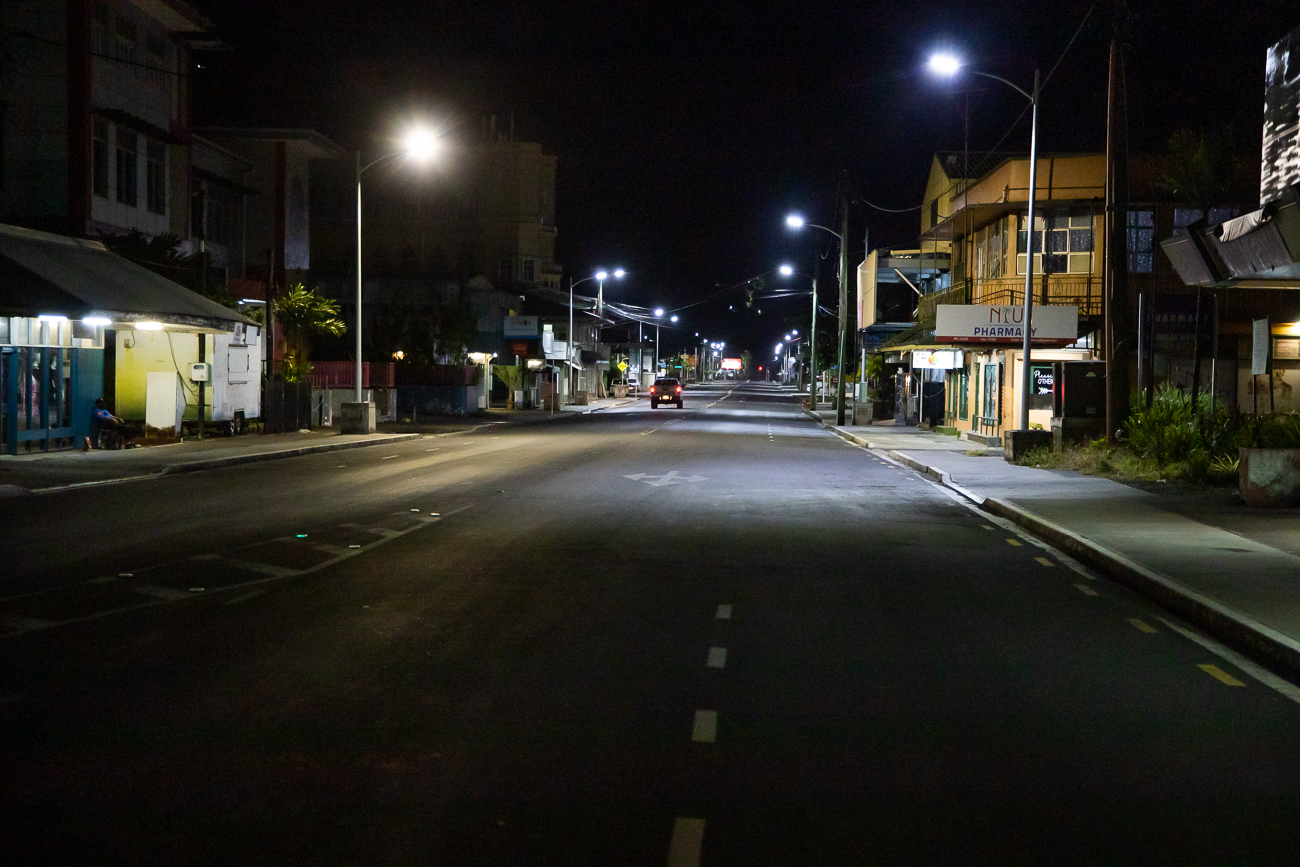 The Government announced a full lockdown after it elevated its Alert to Level 3 effective from 12.01 a.m. Saturday to 12.01 a.m. Tuesday due to an increase in community cases.
However, Prime Minister Fiame Naomi Mata'afa, in an special announcement on Friday evening, said shops and other essential services will open during the lockdown from 8am to 2pm on Saturday, Monday and Tuesday.
Sunday is the only day that has a complete lockdown with no shops opened or church services held with the public to remain at home with all movement banned. 
There were Police officers at various checkpoints during the day and night, both in the town area and outside the capital, to ensure compliance with the state of emergency orders (S.O.E.) in line with the requirements of the Government's Alert Level 3.
While some police officers were stationed at the checkpoints, others patrolled Apia's various suburbs to enforce compliance of the S.O.E. orders.
As of Saturday evening Samoa recorded a total of 111 active cases which includes imported and community cases, the highest number of positive cases the country has ever recorded.
Furthermore, the Government also announced that all villages in Upolu and Savai'i have divided into 13 zones as part of its Alert Level 3 strategy to enable local health authorities to effectively manage and contain the spread of COVID-19. There are eight zones in Upolu and five in Savai'i.
The zones' features include hospitals as well as critical infrastructure such as shops, gas stations, supermarkets, pharmacies, police and fire stations, automatic teller machines and banks. 
The zoning encourages the public to access services available in their zones, rather than travelling to either Apia on Upolu and Salelologa to access the same services.
By Adel Fruean

•
20 March 2022, 1:46PM