Country's newest doctors take Hippocratic Oath
Samoa's newest class of doctors from the nation's own School of Medicine joined the public service this week, with three graduates being sworn into the hospital on Monday as house surgeon interns. 
Dr. Stanley Manoa Black, Dr. Fogalele Vaesavali-Sua and Dr. Fiona Seumanatafa bring the total number of graduates from the National University of Samoa's medical school to 34.
After six years of study, practice and intensive training the three doctors have signed up to give back to their country and will work in the Ministry of Health.
They have graduated with a Bachelor of Medicine and Bachelor of Surgery, and each have their own passions they want to follow in the future.

Dr. Seumanatafa said she wants to study renal medicine and nephrology. If she pursues that path, she could become Samoa's first qualified nephrologist, specialising in kidney care, she said.
It involves another three years of study at least, after six years of work at the hospital.
"I have seen a lot of diabetes, hypertension in Samoa. We have in our Kidney Foundation the number [of patients] is going up. There has to be someone specialised in this area to look after those people."
Dr. Vaesavali-Sua, who said she was inspired to study medicine in order to help people, wants to become a gynaecologist or obstetrician.
"My first time delivering a baby was like a miracle to me. I actually cried," she said. "Being able to save babies and their mums, it must be interesting."
For Dr. Manoa Black, the answer is less straightforward. He has an interest in surgery, the paediatrics department, and even obstetrics and gynaecology.
"Something that reminds me that this is my calling is when patients come in unhappy and sick and leave happy and healthy. That to me reaffirms that this is where I need to be."
On Monday, the three doctors took their Hippocratic Oath, among the oldest ethical codes in the world. It obliges those who swear by it to treat patients to the best of their ability, protect their patient's privacy, and to do no harm.
In a modest ceremony at the Ministry of Health, they recited the oath together with Samoa Medical Council Chair Papalii Dr. Sam Petaia, who closed the formal moment with words of encouragement: to work hard, have vision and courage, and to remember who they are.
Medical professional and Pastor, Asiata Professor Satupaitea Viali led an opening prayer service and urged the students to serve God through their work. 
An emotional Dr. Filipina Amosa-Lei Sam, Head of the School of Medicine told the Samoa Observer she is excited for the three to find their niche among the specialist areas of medicine that are still vacant in Samoa.
"The ultimate hope is to provide for the health needs of the country, so we hope for these new graduates to work as registrars, and then become specialists after doing post-graduate or specialist training."
She said the University through the School of Medicine is working with the Ministry of Health and donor partners such as World Health Organization to ensure there are opportunities for doctors to pursue postgraduate studies will be offered locally through the National University of Samoa and overseas if necessary.
If they get to leave the country for further studies, it is important for the Ministry to keep supporting them so that they and their families can be taken care of while they study, Dr. Amosa-Lei Sam said.
"It depends enormously on the Government, and on the number of scholarships that are offered, and for the Ministry to open up to supporting doctors who want to go on training and receive salary adjustments accordingly to the level of qualification that they will acquire," she said.
"I believe this is the only way for the government to retain qualified doctors who have earned specialization in various areas of medicine."
As their mentor and educator, Dr. Amosa-Lei Sam said she found their oath swearing ceremony emotional, as she recalled the efforts they made to get to this day.
"I only have good things to say about our graduates. They are very bright and dedicated students, so of course they would make very good and reliable doctors.
"I would be comfortable for them to see me when I am sick. We train our students to be better than us so that when we end up on that bed in the emergency department or in any area in the hospital, we have the confidence that they will treat or manage us to the best of their ability, because they have the knowledge, skills and compassion to do so."
The school too has grown in capacity, and she is excited about the use of online resources available to the students. 
"I am very confident to say that we are in a good place, we have our senior colleagues in the Ministry and Private Sector who are contributing to the teaching, training and mentoring of our students in addition to recommended online learning resources to support our students learning and a supportive University and Management team. 
"We believe they are going to be good doctors for the people of Samoa."
National University of Samoa Vice Chancellor Aiono Dr. Alec Ekeroma gave the keynote address for the ceremony. He urged the students to take good care of not only their patients but of their own bodies and minds too.
"You are now equipped with the tools that will help you forge a future for yourselves and your family, a future filled with immense possibilities and a future where your efforts will bless you to serve others and those around you. 
"We are meant to serve our patients, our communities to the best of our abilities, day and night, we are not supposed to sleep, but get up when someone knocks on your door, to treat them and answer their questions.
"It is now part of the oath that you also look after your own health, because ill doctors cannot look after ill patients."
Also at the ceremony were around 60 students currently enrolled in the School of Medicine, who performed the hymns for the service. In a few years, they will be a big boon to the health sector, Aiono said.
Dr. Manoa Black came first in his class, and gave a speech on behalf of the small group. He thanked the community of supporters around them, the University staff and educators, and the Ministry of Health and the Government of Samoa for the opportunity to study medicine and give back to the country.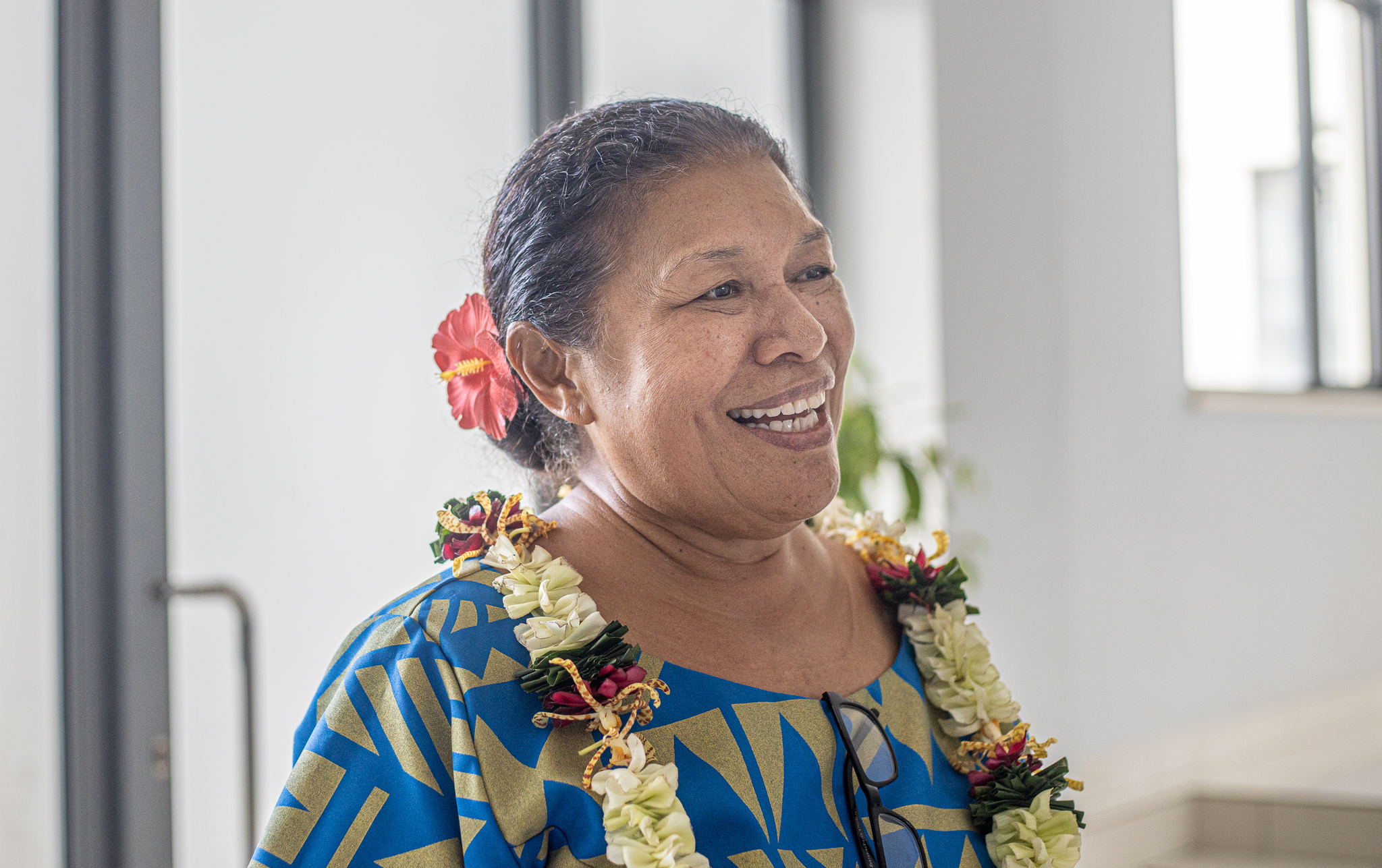 Samoa Medical Association President Leniu Dr. Asaua Faasino attended the ceremony too. As the head of the sector organisation, she said she was excited to welcome the new students to the industry. 
"I really wish them the best. It's a huge responsibility, and they are ready for it because they have had a lot of guidance and mentorship.
"The Association is always behind all the doctors, including the young ones."
The S.M.A.'s continuing education programme is designed to include both the experienced and inexperienced doctors, including these new graduates, she said. 
"They can seek guidance, even if it's just to counsel psychologically, socially, just to give them that positive energy and keep going, and know what to expect at work."
In their early years at N.U.S., Leniu taught the three students.
She said they were hardworking, serious students and worked together as a team to study.
"I enjoyed teaching them. They always challenge you to learn more so that you can teach more and put things into context, so that they know what to expect.
"The classroom session is quite different to the real world."
Notably absent from the ceremony was the Director-General of the Ministry of Health, Leausa Dr. Take Naseri.