Accelerator Lab to solve development challenges
Accelerator Labs, which is a way of using innovative methods and thinking to solve development challenges, will soon be launched in Samoa by the United Nations Development Programme.
The U.N.D.P held a hackathon at the Lava Hotel at Sogi on Wednesday attended by 60 students and teachers to teach them about the Accelerator Lab Learning Cycle and to hear from youth what they think digital transformation should look like and how to move forward in the space of digital transformation.
The Head of Exploration Accelerator Lab, Taimalelagi Kaisarina Salesa, told the Samoa Observer in an interview on Wednesday that the accelerator lab is a concept that has been in years in the making within the U.N.D.P. framework especially in terms of looking at sustainable development.
According to Ms. Salesa, the purpose of an accelerator lab is to try and use innovative methods and innovative thinking to try and solve development challenges.
"So I think a lot of the challenges that development partners, [Non-Governmental Organisations] and even government, especially government go through when we talk about sustainable development, is that a lot of projects they are not sustainable you know they are only successful until the funding runs out," Ms. Salesa said.
She had explained that the accelerator labs were then created to look at how they not only as development partners, but also in collaboration with their national partners come together and learn new ways of working and learning.
The frameworks of implementation and design that they have been using for the past few years has not been working, in terms of ensuring the projects and programmes that are implemented at the community level are sustainable, added Ms. Salesa.

One option accelerator labs offer to their national partners is new ways of learning such as artificial intelligence and using artificial intelligence and machine learning to look at emerging trends of what's working and what does not work, and pinpoint successful local innovators to find out why they are successful.
They will then look at how they can experiment and test these successful solutions so that they can grow the solutions to reach the national, regional and global level.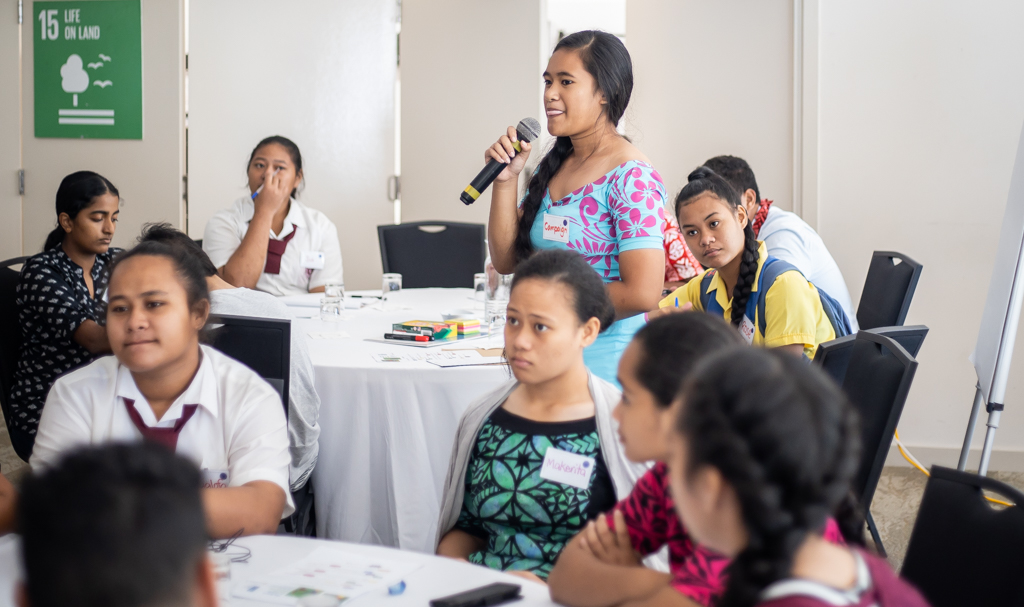 "One of the benefits of the accelerator lab for Samoa, Cook Islands, Niue and Tokelau is really, its innovative work and digital transformation," added Ms. Salesa.
"As we have seen from the pandemic and the requirements to stay at home, social distance and to really work from home, a lot of the normal things that we usually do or how we usually work normally you know has changed.
"So we have seen an emergence in the use of Zoom, Google Classrooms including introduction of Moodle in our classrooms here.
"Accelerator lab is really here to try and identify what kind of digital solution works best for us as a country."
According to Ms. Salesa, the accelerator lab works, has a very unique way of working and has a learning cycle of four phases.
"So one is to sense, second is to explore, third is to test and then fourth is to grow," she said.
For sense and exploration, it is about understanding what is happening in real life time, what is happening at the ground level, and from there they can then explore further in terms of using new data collection methods to get the necessary evidence-based policies and frameworks to see what is working and what is not. 
Ms. Salesa said from there they create experiments which is where the Accelerator Lab has the opportunity to either succeed, when they start testing the experiments, or fail in the experiments so from there a successful experiment is then scaled up.
Some countries have been quite successful in terms of an Accelerator Lab and she had explained that Barbados in the Carribeans successful experimented resulting in Bluebot.
She added that the Barbados Acc Lab has designed a Bluebot that can map the coral reefs in Barbados as well as identify extinct or key fisheries in the ecosystem that requires protection.