Romeo Samoa bringing cheer through music
Special music recordings, live performances at holiday functions and a concert leading up to Christmas are keeping Romeo Ioane Samoa on his toes during a most peculiar holiday season.
To say that the 35-year-old music producer, better known as Dr. Rome, and the father of two children, Loloma and William, is busy would be an understatement. 
The goal behind his recordings and holiday concerts is to ease the country's COVID-19 worries after the country two different patients returned positive tests for the virus putting the country on alert.  
He also wants to cheer up Samoans who are stuck outside of the country due to COVID-19.
"The aim is to entertain the country, our people and cheer everyone up because right now there are a lot of worries caused by the pandemic. We are trying to bring out some new music to cheer everyone up so the pandemic won't weigh so heavily on everyone's minds," Samoa said.
"We are recording a lot of songs, especially Christmas songs. Oh my goodness, the number of songs that have not been released yet! There are so many. It won't be long before Christmas is here so all the Christmas songs will be released by this week."
A few Samoan language Christmas tracks have been released on his YouTube Channel which has 50,000-plus subscribers. But he says there are several more that need to be fine-tuned and published even before the week is over.
Viewers can already find a number of new Christmas recordings on the Dr. Rome Productions Tama Ole Pouseilala YouTube channel.
When all the Christmas recordings have been released, there will come family and church gatherings that will require music, of course.
"We are receiving a lot of invitations to perform and provide entertainment at so many functions," said Samoa.  
"Not just in the town area….kua as well. We are performing for the churches, hotels, and it's our entire team. We have a huge team for Dr. Rome Productions and we have a lot of concerts scheduled for Upolu and Savai'i."
The Dr. Rome Productions team, formed in 2015, has grown from one band to include more than 100 artists.
Part of his team traveled to Savai'i on the weekend to perform at Nighthawk in Salelologa.
Dr. Rome fans can look forward to a free concert tentatively scheduled for 19 December at the Malaefatu Park Reserve in Sogi.
"We are planning to have a big concert," Samoa said. 
"We want to set up a tent and perform there maybe [...] so our team can come and everyone can come and enjoy the show."
Music has always been a big part of Samoa's life.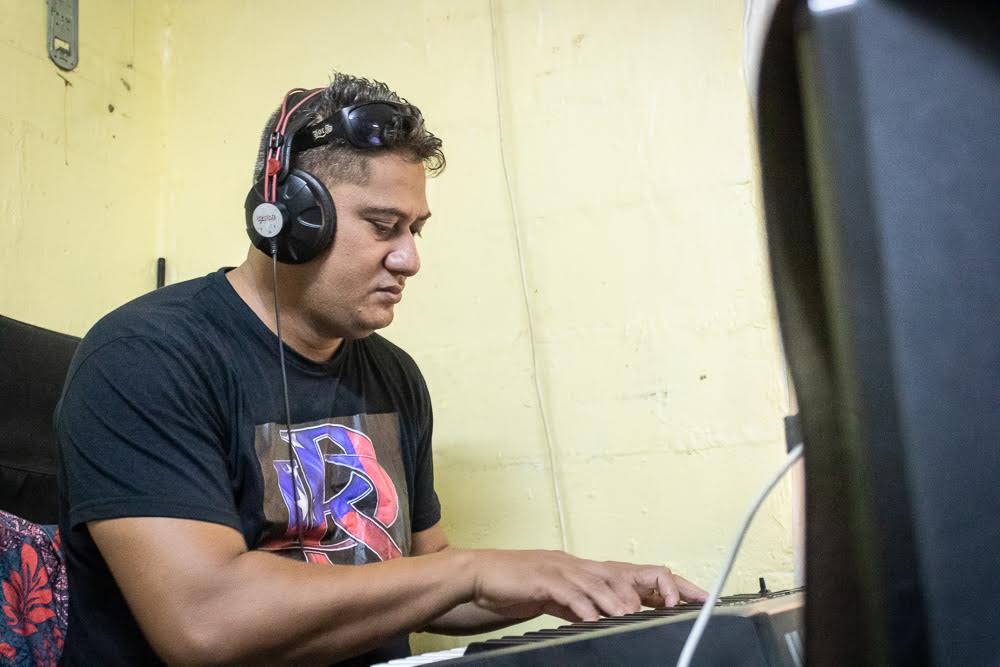 After Avele College and a foundation year at university, Samoa earned a scholarship to study in Fiji. 
After graduation, he returned to Samoa in 2007 and worked as a Policy Analyst for the Ministry of Prime Minister and Cabinet (M.P.M.C.).
In 2011, his wife, Fiona Lene Samoa, who works for the Ministry of Foreign Affairs and Trade (M.F.A.T.), took up a post for the Samoa High Commission in New Zealand. They relocated.
"That is where my love for music was reawakened. When we returned to Samoa I didn't go back to my job," the musician said.
"But I grew up with music."
His musical influences are artists like Tiamaa, the original Punialavaa, Aniseto Falemoe and Musiluki Su'a. American "oldies" are also high on his playlist.
Dr. Rome got his start with the Tama Ole Pouseilala Band in 2015. 
Tama Ole Pouseilala is the name of a parcel of land in Salelologa, Savai'i, and his father's village.
His parents are Rev. Elder Ioane Viliamu Samoa and Vaitai Samoa who served the Congregational Christian Church of Samoa (C.C.C.S.) in Fogapoa, where Samoa was raised. 
"My dad's village is Salelologa where there is land named Pouseilala which we named the band after," he said.
Their earliest songs were "Lou Sei Oe" and "I'm So Sorry." 
Tama Ole Pouseilala disbanded when most of its members left the country.
Music is one industry that hasn't seemed to slow down since the pandemic.
Dr. Rome says business is quite "normal."
"[The pandemic] hasn't affected my work. There are a lot of people who are coming to record their music. Business is normal. It's good. We are making good money," he said.
"What I want to do is to help our young artists to develop their singing and musical talents and we have a lot of new artists."
Homesick Samoans who are unable to travel home for the holidays are responding well to his videos that showcase the sounds and scenes of Upolu and Savai'i.
"There are a lot of people outside of the country and they are really happy with the music. They say when they see the videos, it's like they are here in Samoa," Samoa said. 
"A lot of them wait for the songs to be released and they say it is just like being back in Samoa when they watch the videos."
The Dr. Rome Productions Studio is offering a $150 special that includes a music recording and music video.
On Christmas Eve, Dr. Rome will join the C.C.C.S. Fasitoo Uta Youth for a Christmas concert and celebration.