Centre for Samoan Studies answers: What is the Pulemelei Mound?
By Sapeer Mayron

•
21 June 2020, 3:00PM
The Centre for Samoan Studies has endeavoured to answer some of the most common questions about the Pulemelei mound in Palauli, Savaii, after the historical site was thrust into the spotlight this year.
The mound, which is the largest man-made structure in Polynesia, is part of an 1150 acre plot of freehold land up for sale by O.F. Nelson Properties, the company of more than 26 shareholders, some of which entire family groups, that has owned the land for around 200 years. 
The National University of Samoa's C.S.S. had been in conversation with the shareholders and board for over five years when the Letolo Plantation (including the mound) went up for sale, by way of an online advert with its own website. 
C.S.S. Adjunct Professor Leasiolagi Dr. Malama Meleisea said he had no idea the family planned to sell the property and thought the Centre was closing in on a genuine arrangement between the two. 
The deadline for expressions of interest closes on 01 December. So far one bid has been made public: a US$100,000 offer by archaeologist Gregory Jackmond who surveyed the Letolo Plantation in the late 1970s. Mr. Jackmond is currently based at C.S.S. 
The site's sale has been controversial in the district it sits. Vailoa village Alii ma Faipule, and Member of Parliament for Palauli Sasae, Tuifa'asisina Misa Lisati Aiolupotea have been running an online petition to stop the sale, asking the Government of Samoa and UNESCO to step in. The petition has 1973 signatures, nearly hitting its target of 2000.
Frequently Asked Questions about the Pulemelei Mound, compiled by the Centre for Samoan Studies, National University of Samoa (photos provided by the C.S.S).
WHAT IS THE PULEMELEI?
The Pulemelei is the largest and oldest pre-colonial man-made structure in Samoa and in Polynesia and it is unique in the world. It is a rectangular mound constructed of locally sourced basalt stone/volcanic rock. It is located in the village of Vailoa, district of Palauli, on Savai'i's south coast.  Since 1872, the site of the Pulemelei has been part of the Nelson Family-owned Letolo Plantation. Pulemelei sits about 1700 meters/2.7 kilometers inland from the coast, about 100m above sea level.
 HOW BIG IS PULEMELEI?
Pulemelei is currently 61m long x 65m wide x 12m high. Here's an interesting fact about Pulemelei's size - when the mound was first mapped in the 1960s and 70s, the basal dimensions were 61m long x 50m wide, but when it was measured again in 2002, it was 61m long x 65m wide – an additional 15 meters wide. Researchers attribute the increase in width to different types of disturbances; from trees growing through the mound, humans moving the stones around, or even possibly earthquakes that have collapsed parts of the structure. One of the main concerns researchers have is that with continued neglect, Pulemelei will collapse even further and once it is destroyed it would be impossible to piece it back together.  
 WHO BUILT PULEMELEI AND WHAT WAS IT USED FOR?
No-one knows exactly how Pulemelei was built, specifically who built it, or what it was used for, but the oral histories collected from the people of Palauli connect Pulemelei to Lilomaiava, one of the paramount titles of Savai'i. Different stories report that Pulemelei was built as a foundation for Lilomaiava's home, others that it was a meeting place for important district chiefs, and some claim that the mound was an ancient burial ground. Given that there are many different oral histories that tell of different uses throughout its history, it is very possible that Pulemelei was used for different activities at different times.
 HAS PULEMELEI BEEN STUDIED BY ARCHAEOLOGISTS?
Yes, Pulemelei has been studied intermittently by archaeologists since the 1960s. Kiwi archaeologist Roger Green was the first foreign researcher to visit and record Pulemelei in 1964. Green and his team enlisted the help of young men and women from Vailoa to help clear the mound, and while they did not conduct any excavations, Green measured and mapped as much of the monument as he could.
Pulemelei was mapped again, and in more detail, in 1965 by American archaeologist Stuart D. Scott, who also carried out other small surveys in parts of Sagone, Lata and Satupaitea. In Palauli, Scott decided to focus his study on Letolo Plantation because the area was easily accessible and the well-known presence of Pulemelei, thanks to Roger Green a year earlier. Scott paid particular attention to the sunken built-in ramps on the eastern and western slopes of Pulemelei, giving visitors two ways to access the top. Scott also noted that the surface was completely level and covered with a layer of water smoothed stone, or ili'ili. Of particular interest was Scotts discovery of 10 circular, flat stones dotting the top of Pulemelei, which Vailoa residents insisted were used as seats. Scott's research helped advance the theory that Pulemelei was used, at some point, as a meeting place.
Following Scott was the work of Greg Jackmond. From May 1977 to August 1978, Jackmond lived in Palauli and conducted an extensive survey of most of the Letolo Plantation, the first time the ancient settlement surrounding Pulemelei was mapped in full detail. Jackmond, working with a young Samoan helper, recorded over 3000 man-made features – house platforms, walls, walkways, earth ovens and stone piles. With the help of Jackmond's survey, researchers began to see very clearly that Pulemelei, while impressive on its own, had been part of a dense prehistoric settlement that took many generations, and many, many hands, to build.
There was a long break in the archeological study of Pulemelei after Jackmond in 1977, until 2002, when Swedish archaeologist Helene Martinsson-Wallin conducted her research - the first large-scale examination of a monumental complex in Samoa. This included survey and mapping of the area, as well as excavations in select locations relative to Pulemelei. Wallin was able to conduct her research over the course of a few weeks each year in 2002, 2003 and 2004.
Wallin's excavations yielded carbon samples that date the earliest human activity around Pulemelei to about 2000 years ago (so far). Her team also concluded that Pulemelei is actually a single mound made up of three separate layers, with the first layer being built around 900-800 before the present, approximately 1000 years ago.
Evidence of human activity was found on the lowest layer of Pulemelei, indicating that there was a long break in construction between the first and later layers, and, more importantly, that Pulemelei had been used by generations of Samoans for at least a thousand years. According to Martinnson-Wallin, Pulemelei fell out of use around 1700-1800, likely due to the increased movement of Samoans to the coast because of infrastructure and development driven by European settlers.
Since the work of Wallin in the early 2000s, Pulemelei has been subject to several small-scale studies by foreign researchers, journalists and adventure junkies who visit Samoa periodically.  
HAS THE NUS CENTRE FOR SAMOAN STUDIES STUDIED PULEMELEI?
The Centre for Samoan Studies had not studied the mound specifically yet, but two of our most recent research projects have built on all the former studies conducted on the monument. 
In 2015, CSS received funding from the United States Department of State's Ambassador's Fund for Cultural Preservation (AFCP), to create a Geographical Information Systems (GIS) database of national cultural heritage sites. The GIS database would be Sāmoa's first national archaeological and heritage repository, and data collection involved physically re-finding previously-recorded archaeological remains, recording their GPS waypoints, photographic and video documentation, and collecting any associated oral histories from landowners or stewards of these sites. 
We were extremely fortunate to have the funding to support the training and participation of nearly 20 of our local students, so this project was also the very first time Samoan youth were carrying out an archaeological survey themselves. 
Our research team spent the first year surveying archaeological sites on Upolu, and then in 2017 we began surveying on Savai'i. Palauli was selected for this research because we could see, using Greg Jackmond's survey, an extensive network of over 3000 ancient structures in Vailoa alone. 
Our team hypothesized that if pre-historic settlement was found across Letolo, then the same could probably be said for the rest of Palauli. Our 2017 survey picked up where Jackmond's had ended, this time ranging across customary lands of Vailoa and into the neighbouring villages of Vaito'omuli and Fa'aala. 
In April and June of 2017, the surveys were conducted in pre-designated 300m2 blocks. The research team spent three weeks in the field surveying in 5 blocks, or about 45 hectares, and their results were a shock to everyone involved – they found and recorded over 500 pre-historic features comprising an extensive network of house mounds/platforms, star mounds, earthen ovens, walls and walkways, exactly like the results of Greg Jackmond's 1977 survey. 
All of this data is safely stored in a GIS database held at the Centre for Samoan Studies at NUS.
After completion of the 2016-2017 surveys, CSS continued to work with the villages in an effort to encourage the people of Palauli to protect and maintain these archaeological sites. This resulted in CSS applying for and being awarded a new grant from the United Nations Development Program (UNDP) to fund a new two-year project, formally titled Recording and Protecting Sāmoan Cultural Landscapes Through Community Heritage Management. 
This Project has three primary objectives; first, to preserve and protect these sites, second, to ensure the village benefits financially from this venture and, third, to inform future research and heritage efforts nationally. As a result, on February 5, 2020, we officially opened the Palauli Heritage Trails in the village of Vaito'omuli, a walking trail that winds through prehistoric structures and gives visitors the chance to learn about Old Samoa through oral histories and archaeological remains.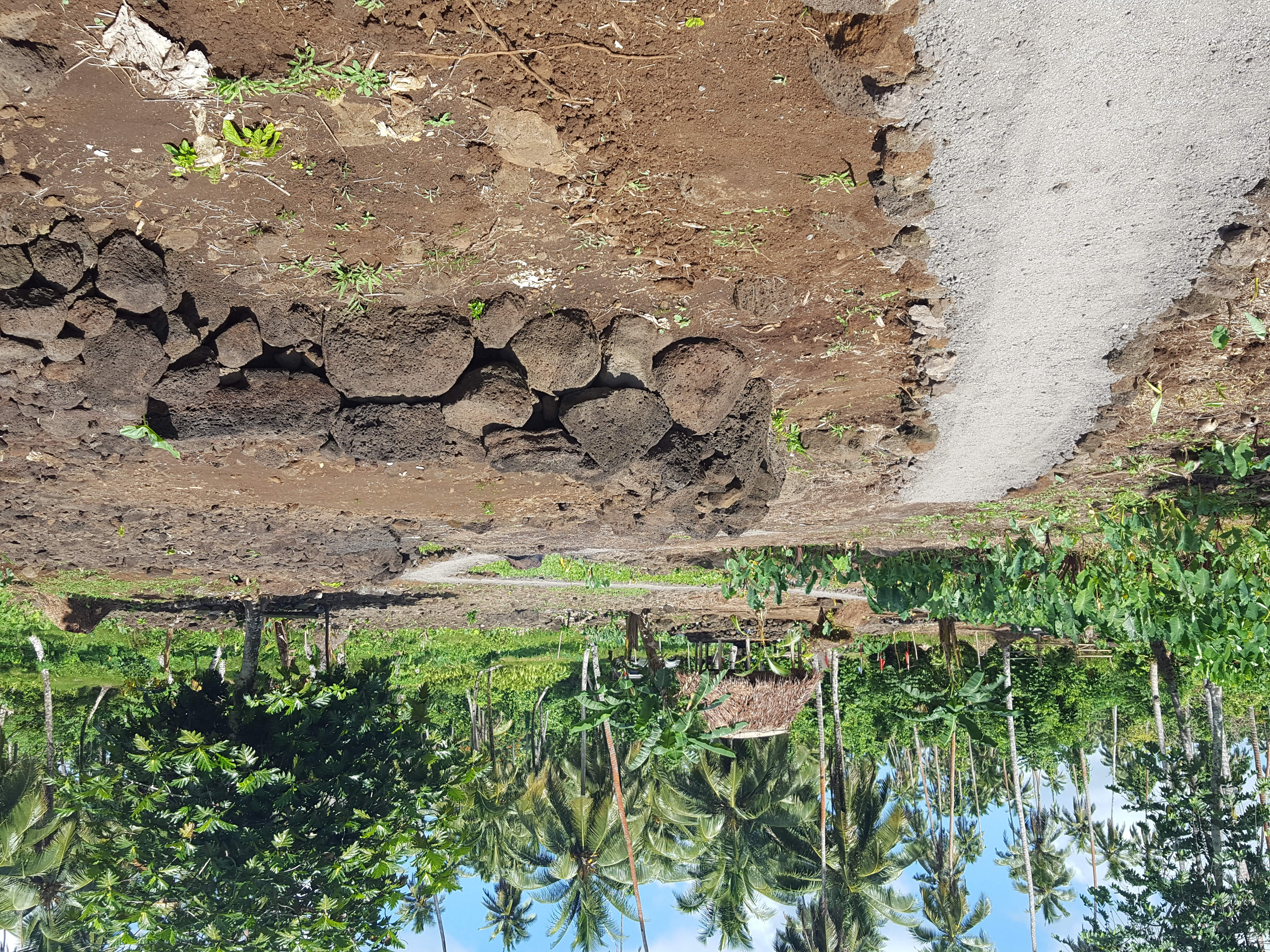 At the Centre for Samoan Studies, we believe that further research into Samoa's heritage sites, like Pulemelei, can be accomplished through the lenses of both science and culture. By understanding village fa'alupega, stories, songs, poetry, oratory, and names from Palauli, and using archaeological survey, excavation and dating methods, we can begin to uncover the mysteries behind the building, use and purpose of Pulemelei.  
WHY IS IT IMPORTANT TO STUDY PULEMELEI?
Studying Pulemelei, and other archaeological sites, will help us develop a better understanding of many of the complexities of fa'a-Samoa, both past and present. Pulemelei specifically gives us a chance to look at how power structures and the fa'amatai have evolved over time. It may also throw light on a period around 1000 years ago when Polynesians pushed out from Samoa to settle other islands in Eastern Polynesia.
The data generated by archaeologists, and our own local team, challenges Samoan history, as we know it, suggesting that pre-contact population estimates are much too low. Also, the notion that Samoans only ever lived on the coast is clearly incorrect. Deepening our understanding of this part of our past also allows us to explore ancient bloodlines and long forgotten connections to our Pacific cousins. 
WHAT COULD BE THE FUTURE OF THE PULEMELEI?
The Archaeology and Cultural Heritage team at the Centre for Samoan Studies, NUS, hope that the site of the Pulemelei and the surrounding archeological area could be given to the government of Samoa and administered by a Trust of Palauli people with support from NUS, UNESCO and Samoa Tourism Authority.
WANT TO KNOW MORE ABOUT ARCHAEOLOGY IN SAMOA?
Center for Samoan Studies,
Niu Afa Building
Le Papaigalagala Campus
Phone – 20072 x388
https://samoanstudies.ws/
By Sapeer Mayron

•
21 June 2020, 3:00PM