Workshop pushes women empowerment
Australia's top diplomat in Samoa has paid tribute to women rugby players who've had to overcome hurdles to play the game.
Australian High Commissioner Emily Luck, who gave the keynote address in a workshop at the Lakapi Samoa headquarters on Monday, said the workshop's theme "Women in Rugby – Respect" highlights the important contribution that women players have made to rugby over the years.
She said these included inspiring the next generation of women rugby players in Samoa.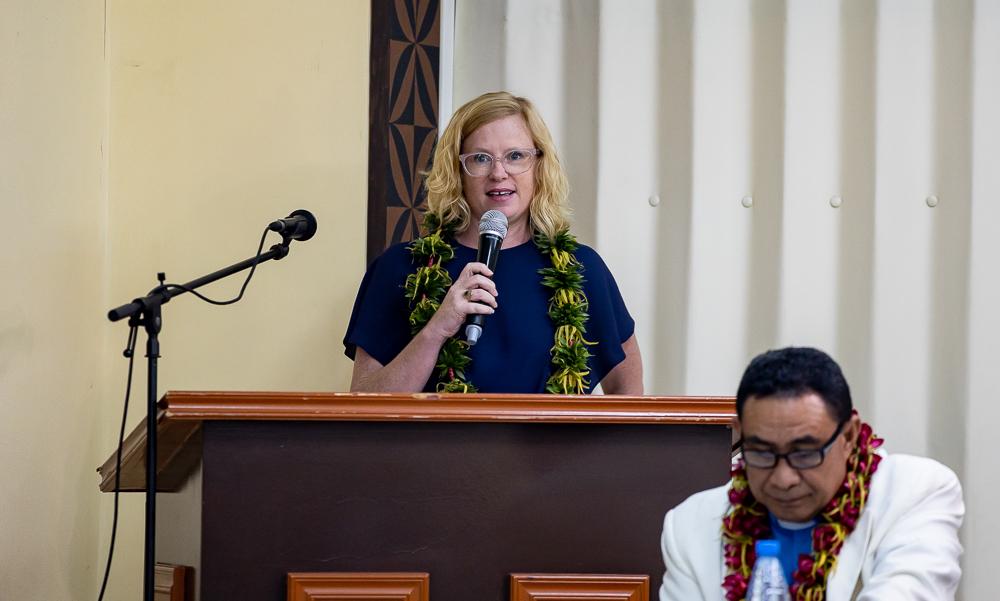 "You can't be what you can't see and you are all an inspiration to those who will come after you and a credit to those who came before you," said Ms Luck.
"I'd like to touch on the word Respect. Without it, we are unable to increase the participation of women and girls in all areas of the sporting world.
"So too respect is an essential component of the participation of women and girls in other elements of society."
Emphasising that she is thrilled that the 50th anniversary of the Australia–Samoa diplomatic relations will be celebrated this year, Ms Luck said she can already see a lot of opportunities to enhance ties between the two nations using sport.
"We can see many opportunities and exciting pathways through sport. 
"Sport can inspire people to action and I hope that your participation today will continue to inspire you to be a great athlete and at the same time focus on achieving personal goals that will benefit your families and communities and also the overall development of Samoa."
One of the attendees at the workshop on Monday was Tofilau Avii Faalupega, who was the first Samoan woman to graduate as a rugby union referee in 2017.
Her journey wasn't easy either as she revealed the challenges that she had to face on her way to becoming a woman umpire.
"When I first started refereeing I did encounter hardship such as people telling me that rugby refereeing is a man's job and that a woman isn't fit to carry out the job," she said. 
"This did not however stop me from achieving my dream of being a referee.
"That is the main purpose of this workshop which is in its second year now, it is to push and empower our women so that they can also attain and achieve the same status that men get from rugby."
Tofilau Avii Faalupega is currently employed as a women's development officer at Lakapi Samoa.
Lakapi Samoa's Human Resource Manager Virginia Tuatagaloa said she is confident and equally encouraged that times are changing for the better in Samoa.
"From my perspective as a human resource manager with Lakapi Samoa, there have been a lot of changes," she said.
"Traditionally with rugby in Samoa, the attitude especially with parents, is still that daughters should stay at home, do the housework, look after the elderly and nurture the kids.
"But by giving opportunities to all these women to participate in rugby in the community, it has changed the mindset of people.
"Having women involved in rugby should be seen as normal, like for the boys."
The discussions at the workshop revolved around the theme "Women in Rugby: Respect" and celebrated women's involvement in rugby in Samoa, especially individuals who helped to push back gender-barriers through their involvement in the sport.
Their contributions were also recognized at the event by Lakapi Samoa.