Talanoa Lakapi celebrity headlines Corporate Fight Night
Pound4Pound is set to light up the Taumeasina night sky on Saturday night with the Vodafone Corporate Fight night set to attract boxing fans and unite the community at the island resort.
Headlining the corporate bouts is local TV Talanoa Lakapi personality, Va'aelua Aloi Alesana, who is gloving up to confront a sizable challenge in the form of his opponent, Neal Stephen.
Va'aelua, who is representing Janes Travel Tours will lock horns with Stephen, of Pure Pacific Water, in the evening's main event.
During the weigh in on Friday, the men showed plenty of spirit ahead of the bout. 
The brains behind the event is the President of Plantation Boxing and rugby legend, Fesola'i Va'aiga Tuigamala.
Stephen said he is looking forward to the bout against the TV personality.
"It's going to be a tough fight, he means business," Stephen said. 
"He's been sending me messages, threatening punches, smelling blood but he'll be smelling his own blood, don't worry.
"He's ready, I'm ready, we'll get it on."
Stephen said the pressure is on Vaaelua given his popularity and this has also motivated him to win.
"He's very famous, I've been trying very hard, and very thankful to Inga the Winger for my training, for coaching me, sparring tips and how to beat Aloi. It seems a lot of people want me to beat Aloi, I don't know why but he is a very nice man," he said. 
Stephen declined to reveal his game plan against Vaaelua but he promised that his opponent would feel his power in the three-round bout.

"It will take the full three rounds meaning I'm going to punish him for the full three rounds. I am not going to end it quickly so three rounds of punishment. I should also thank my sponsor Pure Pacific Water, Signs Studio, and Havens Spa, as I've been my regular massages and making sure I am in good shape. I've been well looked after and well supported," he said.
Asked for a comment, Vaaelua was reluctant saying he would rather let his hands do the talking in the ring.
But he said Stephen had made a huge mistake when he decided to take him on.

"Neal made a huge mistake by signing this fight. Get ready to count stars tomorrow," he said. "Neal is gonna forget his name by the time I'm done with him."
Vaaelua weighed in at 112.2kgs while Stephen was 111.7 kgs. 
Amateurs will also be featured at Saturday night's event. 
The President of Plantation Boxing, Fesolai Vaaiga Tuigamala, during the weighing of the fighters, advised the fighters to prioritise their safety always.
"Please listen to the referees to ensure your safety. We can control what happens outside of the ring, but we have no control over what happens inside the ring, so it is wise to listen to the referees in-charge," he said.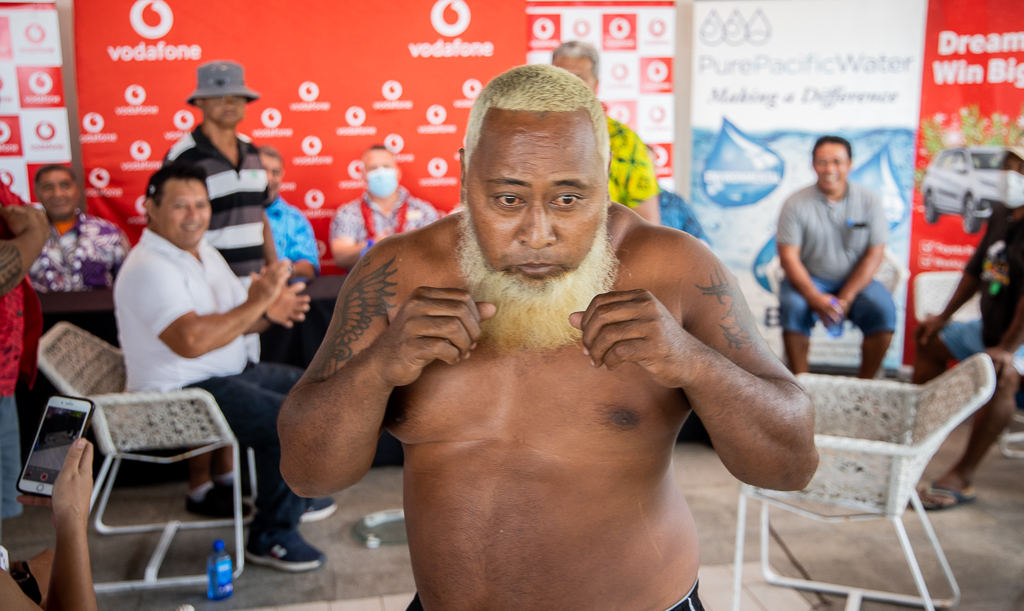 The President of referees, Su'a Faletolu, during his remarks, laid down the rules.
"Mostly before the rounds, the referee will tell you 'box up' which means you have to box up to the target area and not the low blow. 'Heads up' means you have to put your head up all the time," he explained.
"Don't hit at the back of the head, or at the back of the kidney, and be sure not to turn around. When you throw your punches, whatever combination you are using, you have to balance yourself and do not turn around to avoid your opponent hitting the back of your neck, and then something will happen," he said.