Kane Le'aupepe gutted to miss Super Rugby season

By Thomas Airey

•
21 December 2019, 8:00PM
Manu Samoa lock, Kane Le'aupepe ,was looking forward to his first full Super Rugby season having starred at the Rugby World Cup.
But a torn labrum is set to keep him off the field for five or six months - giving the 27-year-old little chance of game time for the Hurricanes in 2020.
Le'aupepe, whose roots are in the villages of Tanugamanono and Faleasi'u, was a bright spot in Samoa's World Cup campaign.
He played every minute for the Manu, was effective enough to make sports analytics company Opta's stat-based team of the tournament.
"Just being on the world stage, experiencing the best of the best has been massive for me," Le'aupepe said after Samoa's final game in Japan.
"It's definitely prepared me well going into Super, and I look forward to learning even more with Super Rugby [in my first full year]."
That's what makes the hip injury all the more gutting for Le'aupepe.
"I just wanted to keep the ball rolling from World Cup, I felt like I really enjoyed my time there," he said after undergoing hip surgery last week.
"Really enjoyed my rugby as well, just enjoying the sport, I was in a good place with the game."
The labrum is the cartilage around the edge of the hip socket that makes it more stable and flexible.
Le'aupepe had a cam on the top of his thigh bone where the leg fits into that hip socket:
"An extra bit of bone that kinda rubs away at the cartilage if it's there, so I had to get that shaved down."
It's a wear-and-tear sort of injury, which the lock though was a lingering groin strain initially.
"The last game of the World Cup was when I really felt something wrong," Le'aupepe said.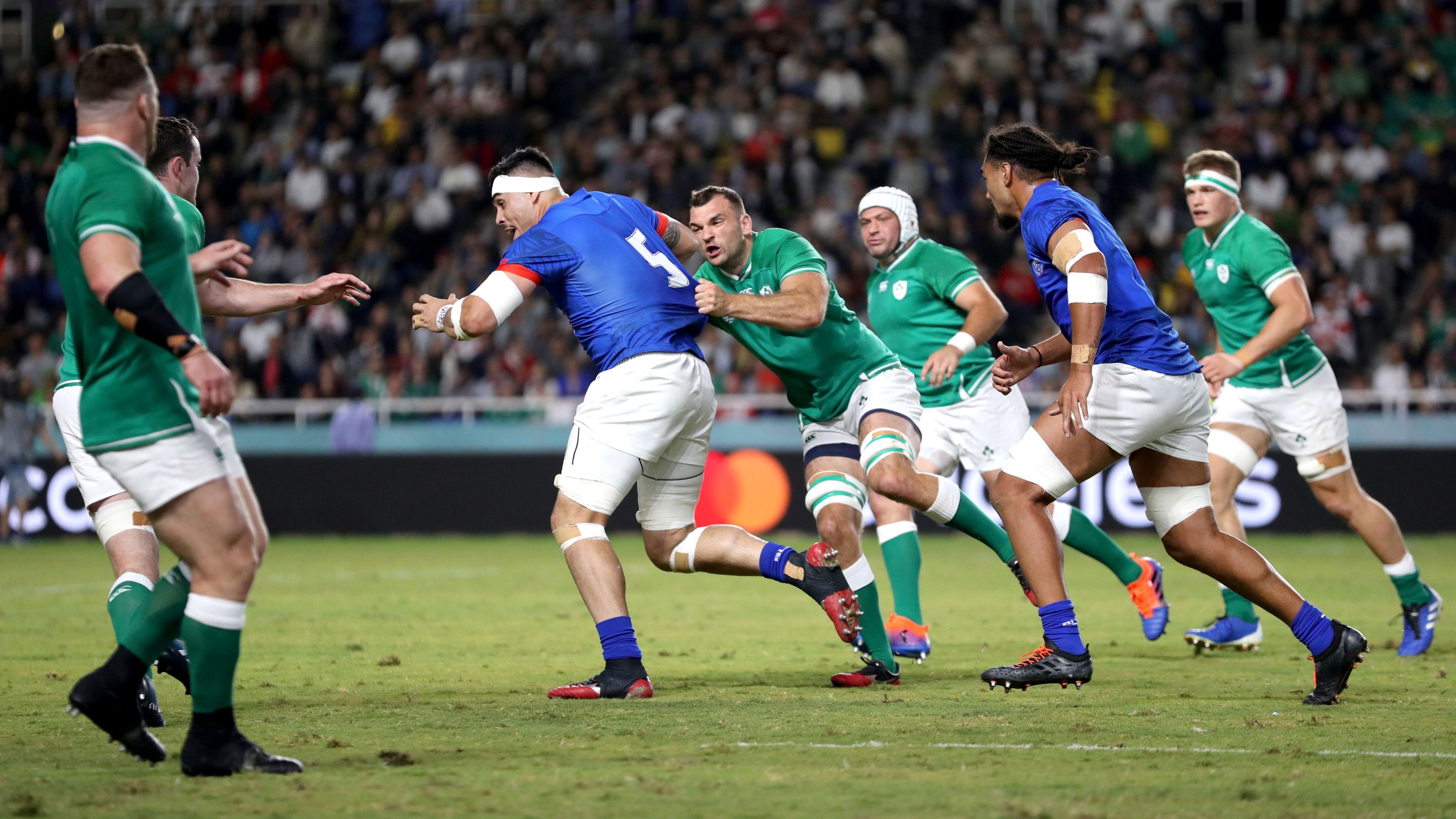 On his return home to New Zealand, the Hurricanes medical staff had him get an M.R.I. scan which revealed the extent of the injury, with surgery the necessary course of action.
"It would have caused problems later on and probably cut my playing career a bit short so it was really a no-brainer for me, just get it done and out of the way," Le'aupepe said.
While he hopes to recover quickly and play a role at the end of the Super Rugby season, Le'aupepe is trying to look at the situation as a short-term loss for long-term gain:
"It is what it is at the end of the day, and it needed to be done."
Le'aupepe found out about the extent of the injury while on holiday in Bali with his fiancée last month.
"It was kinda lucky I was over there and I had time to process it and get my head around what was going to go on," he said.
While his Hurricanes teammates are wrapping up the first part of their pre-season before the Christmas break, Le'aupepe is back home in Tauranga unable to train much outside of three five-minute bike rides a day.
"It's been real cool of the Canes, just to sort of let me go back and be at the place I wanna be, where I'm most happy at, and that's up north with my fiancée," he said.
The plan is for Le'aupepe to recover in Tauranga until late January, then come back into the group to continue is rehab around the start of the season.
He can't wait to get back in the mix:
"Definitely starting to miss the boys and miss that whole environment you get with the Canes."
But spending a bit of time on himself, his fiancée and his family is a real silver lining for Le'aupepe.
"It's been pretty full on really, since Mitre 10 Cup in 2018 it's been all go," he said.
That provincial campaign with Bay of Plenty earned the lock his international debut on the Northern Hemisphere Tour that November.
From there he had a few spells as injury cover at New Zealand Super Rugby franchises, before joining the Hurricanes on a deal for the rest of the year.
Then came the Pacific Nations Cup in July, and Manu Samoa's run-in to the Rugby World Cup.
Le'aupepe is glad to have the chance to reflect on the last year or so.
"Try to draw motivation from that to come back bigger, better and stronger," he said.
The time away from rugby also gives Le'aupepe the chance to look ahead to life after the game.
"You only play rugby for a short time in your life," he said
"I'll make the most of the years I have in the game, but there's the bigger picture of life after rugby, and this is probably a good time to look into what I'm gonna do."
The lock has always thought of the police as a potential career path, but isn't sure where he'll end up after professional rugby.
Well before all that comes to pass, he has a rehab process to follow.
"Just gotta control what I can control, and all that is at the moment is just concentrating on my recovery and making sure I'm ticking all the right boxes and following the advice of our trainers and nutritionists," Le'aupepe said.
"I can definitely see myself getting itchy feet, because this is my first serious injury I've had as well, so it's a whole new learning experience for me."
So while the Super Rugby season won't be the learning experience Kane Le'aupepe wanted, it will be a chance to learn and improve himself all the same.
Tags
Samoans abroad
Manu Samoa
Rugby union

By Thomas Airey

•
21 December 2019, 8:00PM