Manu fans in France in awe following victory
By Manaui Faulalo

•
18 September 2023, 1:27PM
Samoans Tagaloa Sam Faitua, Lamositele Tavita and Lei'u Ioane Sio were among the few who saw first-hand Manu get its first victory at the 2023 Rugby World Cup in France. 
Samoa recorded its first win at this year's RWC at the Stadium de Bordeaux last Saturday (2 am Sunday Apia Time), beating their South American rivals Chile 43-10 and getting a bonus point in the process. 
There were three Manu Samoa supporters in the stadium's stands who couldn't have been prouder, as they are the uncles of Manu Samoa's number 8, Fritz Lee.

Having played for the Manu Samoa himself, Lamositele said the team was a little bit rusty at the beginning of the match but then improved as the game went on.  
"Because it's the first game, there's a little bit of combinations they need to work out, but it was a nice win in the end," said Lamositele. "It's a win, and we'll take that for now. 
"It's our first game, and we'll be building up to the World Cup."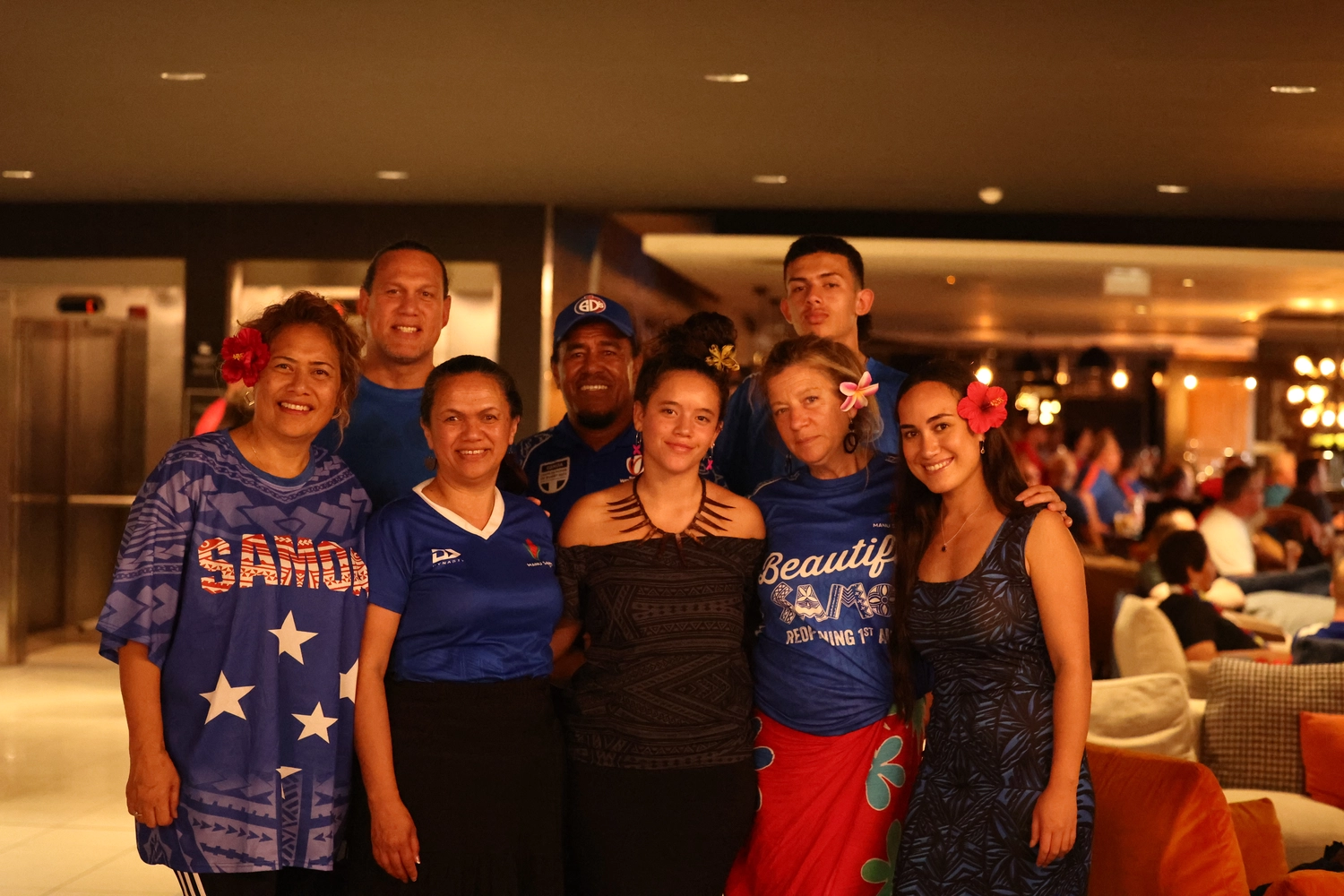 The Manu supporters told the Samoa Observer that even though there were only a few of them, they were confident that they were heard by the Manu Samoa team. 
"Even though our tapua'iga was small, we were loud enough," said Tagaloa.
They then talked about what they thought were the highlights of the game, agreeing that the first try scored by Duncan Paia'aua was a memorable moment.
"The highlight of the game was just before halftime when we scored that try, I thought that was the turning point," added Lamosetele.

Tagaloa and Lamositele arrived in France last Friday from Sydney, while Lei'u flew in a day before from Samoa.
Lei'u said that he would be in France until Manu takes on Japan (Friday 29 September 8.00 am Samoa Local Time), while Tagaloa and Lamositele will be in France and watch the Samoa vs England (Sunday 8 October 4.45 am Samoa Local Time) match before returning to Australia. 
Tagaloa hails from the villages of Lauli'i, Fagali'i and Asau while the Sio brothers hail from the villages of Falealupo and Solosolo.

The Manu fans said that they are hoping that the team goes all the way and brings The Webb Ellis Cup home. 
Supporters, families and friends of the Manu Samoa team gathered at the Pullman Hotel, Bordeaux after last Saturday's match. They greeted the returning team with Samoan hymns with the players reciprocating by singing the popular "Ua fa'afetai" Samoan song.
Manu Samoa's next upcoming RWC match is against Argentina this Saturday at 4.45 am (Samoa Local Time). 
By Manaui Faulalo

•
18 September 2023, 1:27PM