Inaugural art project launched for Tanumalala inmates

By Sialai Sarafina Sanerivi

•
19 August 2022, 10:00AM
Samoa's Police and Correction Services opened a new chapter on Thursday morning when they launched an art programme for inmates who are currently serving time at the Tanumalala Prison. 
A first of its kind in the history of prisons in Samoa, the launching of the event also saw the handover of 400 bibles donated by the local firm Samoa Stationery and Books (S.S.A.B.) to support the inmates' rehabilitation programme. 
The projects were made possible through the sponsorship and partnership of the S.S.A.B. and the British High Commission in Apia, Samoa.
The launching was attended by the Police Commissioner, Auapa'au Logoitino Filipo and Prison Service executives, Senior Supreme Court Justice Vui Clarence Nelson, S.S.A.B. Managing Director Tofilau Fiti Leung Wai, British Chargé d'affaires Robert Ower, as well as inmates currently participating in the rehabilitation programme. 
Speaking at the launching, Tofilau said the arts project for the inmates at the prison was initiated by Justice Vui. 
Auapa'au, speaking on behalf of his Minister Faualo Harry Schuster, expressed their appreciation to all parties who have made the project a success. 
"It is a pleasure to launch this art project for our prisoners which will develop the talents of our prisoners while they are under custody," the Police Commissioner said. 
"It is always a privilege for this Ministry, especially in the area of rehabilitation, to be able to work collaboratively with our international donor partners and our local business community to rebuild members of our society who are serving their times and to actively contribute in the social development of their integration back into our community upon their release.
"It has proven that art therapy is very effective as many people are very shy to share their issues with others verbally but rather express their feelings on a drawing carving or performing of art."
The Police Commissioner said they also sought the assistance of SSAB during the opening of the library within the prison compound and the company delivered the bibles on Thursday. 
"During the opening of our library, we also sought the assistance of the C.E.O. of S.S.A.B. and today we have witness that they have donated 400 bibles," he added. 
"This will provide tremendous support for prisoners, not only spiritually but also with their literacy development as well."
He then expressed their sincere gratitude to Tofilau and her team at S.S.A.B. for their ongoing support to enhance and develop the rehabilitation programme at Tanumalala. 
The ongoing financial assistance of the British Government through its High Commission in Apia was also acknowledged, as it has stepped forward to support projects and initiatives for the betterment of rehabilitation programmes for prison facilities in the country.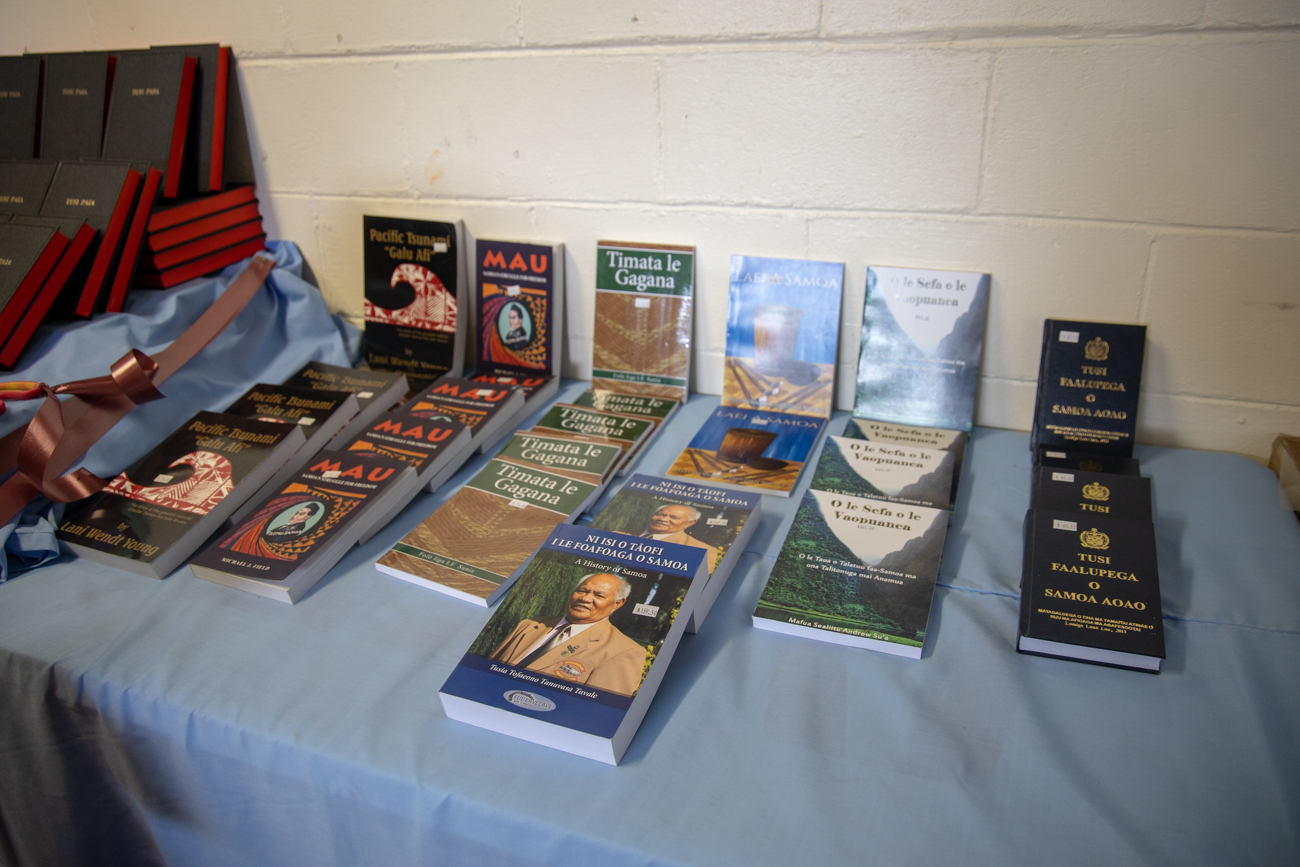 Turning to Justice Vui, Auapa'au commended his influence in the development of Samoa's Justice sector, and specifically pointed to rehabilitation and reintegration programmes. 
"Particularly in encouraging suitable rehabilitation and reintegration programmes for inmates, especially juveniles. 
"This is indeed a pillar of hope and support to not only our inmates, but also to the staff who are working tirelessly to ensure the outcomes of these programmes are successful.
"Personally, I always admire any effort to improve the standards of our community and village here at Tanumalala."
Auapa'au also acknowledged the work of Leiataua Samuelu as well as all prison guards and facilitators in charge of rehabilitation programmes at Tanumalala.
"This is the first time an art programme has been established in prisons in the history of Samoa and I am sure, with artist Papali'i Penehuro on board this will be a great success."
Justice Vui was thrilled to see the project come into fruition on Thursday morning, with art works from some of the inmates put out on display for the visitors. 
The Senior Justice is of the view that such a project will not only help the inmates while they are in prison, but it will also benefit them financially when producing "these wonderful works of art."
Justice Vui then expressed his gratitude to all the parties involved who made the project possible and continuously provide funding for projects to develop rehabilitation programmes at the prison. 
"We judges support these kind of initiatives because we know it's not just sending people to prison terms. We must look beyond that and we hope that these are glimpses of their future."
Tofilau was emotional as she talked about her passion behind the bible donation as well as the ongoing support for Samoa's correctional services by her company. 
She said her mother who was among those with a heart for helping inmates serving time in prison which is why S.S.A.B. jumped at the opportunity when the request was put forth to supply bibles to the prison. 
Speaking about the arts project, Tofilau said she believes strongly that "practice strengthens and sharpens talent."
"And I am grateful that our inmates are sharpening their God-given talents whilst they are in prison," Tofilau said. 
"Developing your talents, will help your reintegration upon your release so you can provide for your family and become a productive citizen of Samoa."
She then urged the prisoners to utilise the resources and programmes well so their talents can be further developed. 

By Sialai Sarafina Sanerivi

•
19 August 2022, 10:00AM