Youth unemployment initiative strikes new note
By Adel Fruean

•
24 November 2021, 9:20PM
As youth unemployment in Samoa remains stubbornly sky high, a two-day workshop at the S.I.S.D.A.C. Hall, Taufusi on Wednesday dedicated itself to finding some innovative solutions to a longstanding problem. 
The aim of the seminar, organisers said, was to address not just the growing number of unemployed young people in Samoa by educating them with life skills but also to mitigate the negative impacts that unemployment has on young people's lives. 
Indeed, it is the growing violence perpetrated upon young unemployed women and girls that led the junior division of the Samoa Victim Support Group (S.V.S.G.) to stage the employment network seminar 
The event concluded Wednesday and included over 200 participating young people from Upolu and Savaii.
The theme of the seminar was: 'supporting the employability of the youth: we are the present, and the future.'
Accordingly, it brought together representatives from the business community and community-based entrepreneurs, to speak on what they look for when seeking new recruits.
The young job seekers were also taught self-employment skills as well as how to look for jobs.
Examples of those who spoke to inspire job seekers ranged from members of the National Orchestra under the Ministry of Education, who used their musical abilities to make money to those who had turned to work such as in the restaurant industry.  
Also on the agenda was building national capacity for formal employment, labour rights awareness and establishing employment networks. 
The participants also heard from young people who have been placed with various companies over the last 12 months, through the S.V.S.G. Unemployment Programme.
The Chair of the S.V.S.G. Board Georgina Lui acknowledged with appreciation the funding support from the Canada Fund for Local Initiatives, which has enabled S.V.S.G. to mobilise 200 unemployed youths, especially young women and girls, and support them with their employability.
Two unemployed young siblings traveled from Savaii just to be part of the seminar.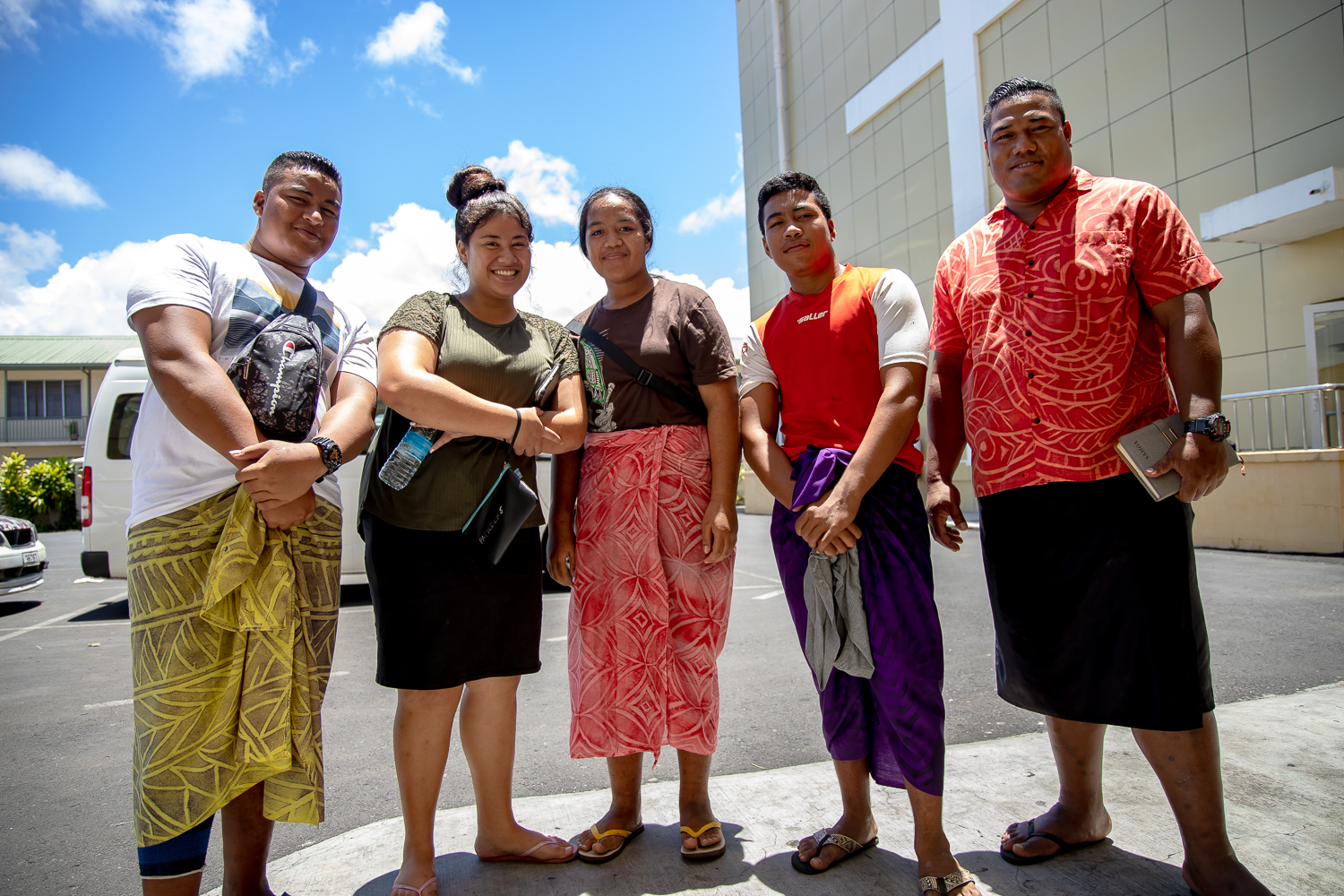 Tuala and her brother Neli Koki told the Samoa Observer that they are currently looking for employment opportunities to help care for their parents and siblings.
Tuala Koki, 18, said that she does not want to pursue higher education because her family cannot afford it.
"I just finished Year 13 and I am on a mission to find a job to help my family. We sell cucumbers and coconuts just to get some money," she said.
"I am grateful for this seminar because I learned some skills of being a florist and I also learned the basics in applying for a job.
"I know that having a higher education is important but I have to consider my parents' sake, it is my duty to take care of them."
She said her dream job was to be a police officer. 
Her brother Neli, 22, said that the programme is important because he learned bakery skills in hopes of making money.
"I hope to find a proper job so I can take care of my parents but also help pay for my younger sister's school fees," he said. 
The president of the S.V.S.G. Juniors, Folasaitu Beyonce Faailo, told this newspaper that some young people's financial hardships are a contributing factor to violence in Samoa.
Folasaitu added that the COVID-19 pandemic only worsened the situation especially for the most vulnerable members of our communities, women, youth especially employees that became redundant specifically those that were employed in the tourism industry.
Furthermore, Folasaitu said that one of the basic training they had was how to develop a good resume, CV that is of basic requirement when looking for a job.
"We hope that through these types of programmes we can help the unemployed youths get jobs."
Maintaining abusive relationships due to financial dependence, domestic conflicts over lack of resources, and negative emotions are but a few examples of the cases reported to S.V.S.G. 
A recent Samoa Bureau of Statistics report found the proportion of unemployed Samoan young people aged between 15-24 had nearly doubled between 2012 and 2017, rising from 16.4 per cent to 31.9 per cent.
To replicate the success of the Nofotane Program to assist poverty-hit families in the context of the COVID-19, the seminar will include a livelihood skill building component, during the second day. This is due to the fact that out of the 200 unemployed youths registered for the seminar, 75 per cent of them are caretakers or are performing the role of tautua or services to their families. 
S.V.S.G. will support these youths not only with formal employment placement, but also with informal self-employment, where they can still earn an income, while performing their services to their families.
In addition, S.V.S.G. is advocating for internships for selected participants upon completion of the Seminar.
The Group also acknowledged AJ Cowley and Kristabelle Cowley and the Farmer Joe Management for supporting two intern placements from the seminar.
The work placement's aim is to improve the employability of the participants through actual work experience. 
The internships range from two weeks to one month. Upon completion, employers will complete a performance survey of participants and provide a reference to assist with their future job search. 
The internship component of the Project will continue to run from December 2021 to the end of February 2022. 
By Adel Fruean

•
24 November 2021, 9:20PM