Samoa kick-starts two-day vaccination campaign
By Adel Fruean

•
23 September 2021, 12:00AM
Health authorities in Samoa kicked off a two-day national COVID-19 mass vaccination program on Thursday morning in a bid to administer 30,000 AstraZeneca doses to eligible population members.
A Government-declared two-day lockdown went into effect at 8am on Thursday morning with the streets of the capital Apia deserted and the police manning roadblocks to enforce the stay-home order.
Public transport as well as non-authorised vehicle movements have been banned with Government offices and businesses shut between 8am and 6pm as the Ministry of Health (M.O.H.) attempts to boost immunisation coverage against the COVID-19 to 99 per cent of Samoa's eligible population.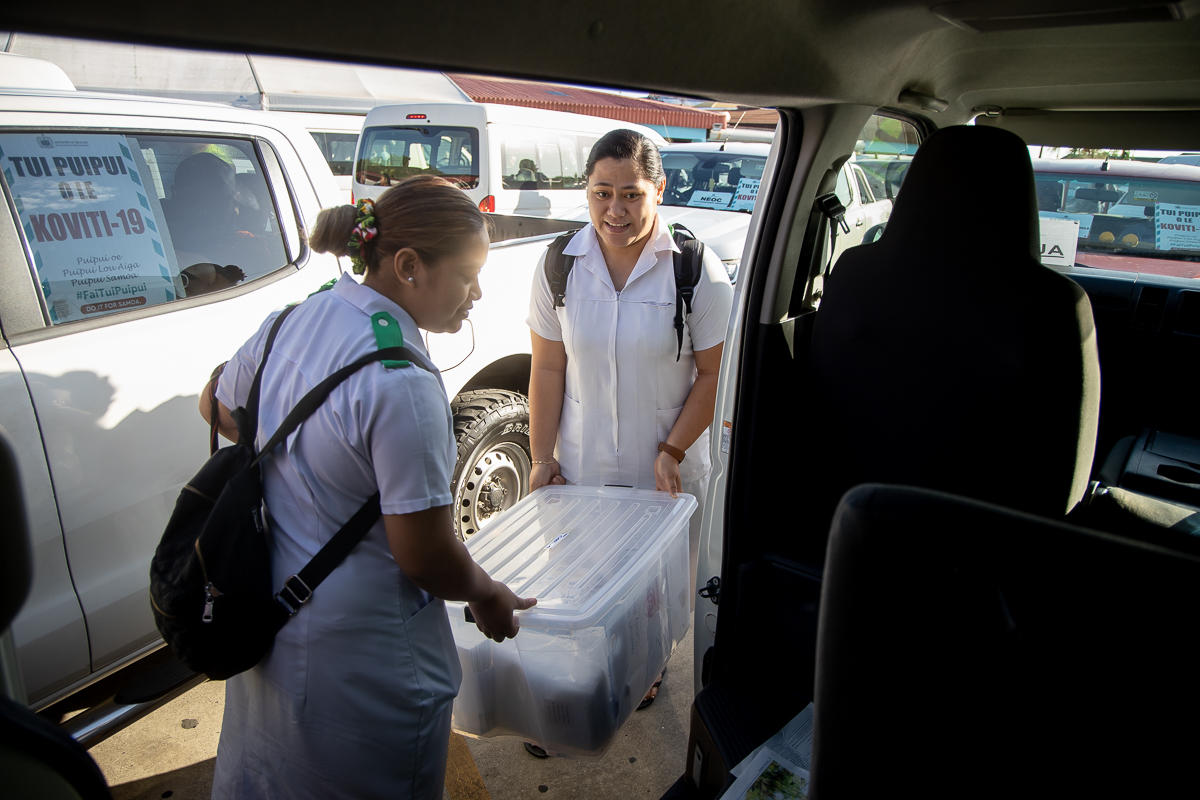 The National Controller of the National Emergency Operation Centre, Agafili Shem Leo has said in a statement that the hope of achieving herd immunity for Samoa, and in our collective efforts to fortify our national response to the unprecedented impacts of the COVID-19, the Government together with its partners will undertake a 'Mass Vaccination Campaign.'
Visits by the Samoa Observer to the Ministry of Health at Moto'otua saw more than 60 M.O.H. vaccination teams mobilising as early as 6am on Thursday morning. 
The teams are made up of vaccinators, data entry, drivers and also volunteers from Government ministries including Chief Executive Officers and their officials.
According to the Health Ministry, there are a total of 150 teams that will take part in the campaign with more than 80 teams in Upolu while 63 teams have been allocated specifically for the Upolu urban area. At around 8am, teams were seen in villages already vaccinating people. 
On Wednesday afternoon several teams regrouped at the National Emergency Operation Centre at Tuanaimato before being released to Savaii for the mass vaccination. 
There are also teams allocated to service the islands of Manono and Apolima. 
The teams will be working closely with the communities to implement this Campaign through the support and guidance of the District Hospitals and the Government Village women and men representatives to ensure that every eligible household gets vaccinated. 
The vaccination teams will be allocated in every village and will go directly to the residences. 
Members of the public are advised to remain at home including those who are staying at hotels during the vaccination so that the teams can conduct their work in checking vaccination status and administering vaccines to those eligible.   
The Health Ministry has also advised the public to help the vaccination teams to identify the individuals and families who have not been vaccinated, by tying a piece of red cloth or a red flag in front of their residences.
Furthermore, the Apia town area was completely empty with only authorised vehicles and police officers carrying out mandatory check-points with some in rural areas.
However, police officers were seen stopping some of the un-authorised vehicles and directing them to return home.  
The last time Samoa went into a total shut down was during a two-day mass vaccination in 2019 for the measles epidemic. 
All businesses have also closed due to the lockdown from 8 am till 6 pm, some businesses such as retailers and stores have announced that they will open after 6 pm. While the Samoa Shipping Corporation Limited announced that they have ceased scheduled trips between Upolu and Savaii for the two-day shutdown. 
The essential services include: National and District Hospitals; Ministry of Police, Prisons and Correctional Services; Samoa Fire and Emergency Services Authority; Samoa Airport Authority; Samoa Water Authority; Electric Power Corporation; International wharf, Matautu.
By Adel Fruean

•
23 September 2021, 12:00AM