Five awarded scholarships to study in Japan
Five local representatives have been selected as the recipients of the 2021 Sustainable Development Goals (S.D.G.) Global Leader Program to undertake studies in Japan.
The recipients are Elisapeta Valeli-Malaeulu, Faafetai Vaevaina, Victoria Lauina, Uaealesi Seleni and Natalia Te'o.
A small ceremony was held on Friday at the Japan International Cooperation Agency (J.I.C.A) office for the awardees and representatives from the Government and J.I.C.A. Samoa office.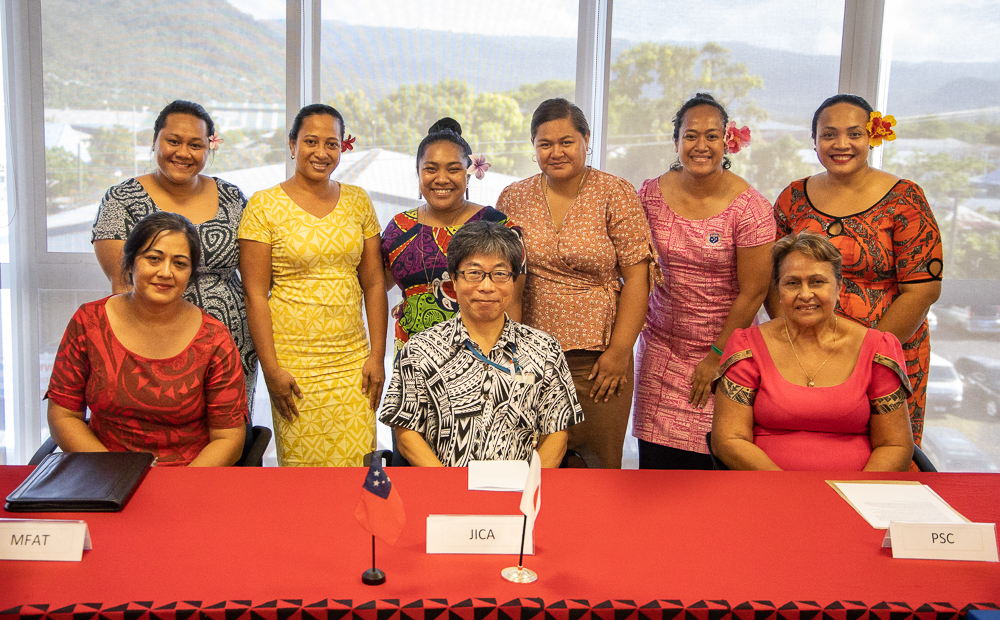 The main objective of the S.D.G. Global Leadership Program is to not only develop high level human resources, who would contribute to the development of their own countries, but to also establish and maintain long-term relations between the target countries and Japan. 
One of the recipients, Ms. Te'o said that the significance of the scholarship opportunity is because it is related to S.D.G. and that is how she stumbled onto it.
"When I applied, I mainly focused on environmental studies especially how I could help in any way I can global warming," she said.
"The knowledge I will gain from my studies in Japan will be applied in Samoa to further enhance its development.  
"I am interested to how Japan has developed so much over the years in so many ways including technology."
She will be studying a Bachelor of Arts in Social Science at the School of International Liberal Studies, Waseda University.
Chairman of the Public Service Commission, Lauano Vaosa Epa said that each of the awardees deserve special recognition as she was informed that the selection process had been rigorous and meticulous.
"For Samoa, I believe this year's intake has increased in awards being offered compared to when the program was first launched.
"On behalf of the Government of Samoa, I would like to extend our gratitude to the Government of Japan through the J.I.C.A. office.
"We hope our two countries' ties of friendships and close cooperation will continue to be enhanced over the years."
The J.I.C.A Resident Representative, Hoshino Akihiko congratulated the awardees on completing the screening and examination process and wished them well in their academic journey.
"All five of them will be taking online studies in the interim due to the current pandemic until it is feasible for them to travel to Japan, hopefully by November this year."
The four scholarship recipients who will be undertaking their masters degree studies are from various Government ministries whilst Ms. Natalia is currently working at a private organisation.
The duration of the bachelors degree program will be for four years, the master's program is for two years and the PHD program is three years (depending on each program offered by universities).
In addition, the program incorporates an internship component to enrich the participant's academic n and personal experience.
According to J.I.C.A., since the 8th Pacific Leaders Meeting (PALM8) in 2018 between Japan and the Pacific Island Countries (P.I.C.) agreed that people-to-people exchanges is an area of great importance. Since then, overseas study programs for individual regions were combined into a worldwide program called S.D.G. global leadership program.
Through J.I.C.A. the S.D.G. Global Leadership Program has provided training programs as part of technical cooperation in various fields.
In order to strengthen a network among the target countries in respective fields, J.I.C.A. established this long-term training program to foster young/middles bureaucrats, academicians, and leading human resources in various fields of target countries who will influence policy making processes of their countries or will contribute to socioeconomic development in the near future.
So far 12 Samoan nationals have been awarded scholarships under the S.D.G. programme to study in Japan since 2016. Already, five have successfully graduated from the programme and are now contributing to Samoa's development.