Put your citizens first: Republican Institute
Amid the ongoing political impasse and in the build up to a first-time leadership training for women in Samoa, Tonga and Tuvalu, the U.S.-based International Republican Institute (I.R.I.) reminds that democracies flourish when governments "put citizens first."
The I.R.I., with funding from the United States Agency for International Development (U.S.A.I.D.), is preparing to host its inaugural Virtual Leadership Training School for Polynesian Women in Samoa, Tonga and Tuvalu in July.
This is according to an announcement published on 16 June, 2021 on the I.R.I. blog Democracy Speaks.
The Institute works to strengthen political parties because democracies flourish when government puts citizens first.
The success of the Faatuatua i le Atua Samoa ua Tasi (F.A.S.T.) political party led by Fiame Naomi Mata'afa will be an important topic of discussion.
"Since 1984, I.R.I. has worked across the globe to strengthen political parties because history has shown that democracies flourish when governments put citizens first. This is made possible when party platforms and governments are [on] issues rather than personalities," they explain.

"I.R.I. is preparing to hold its first Virtual Leadership Training School for Polynesian Women in Samoa, Tonga and Tuvalu next month, and F.A.S.T.'s success as a new political party will be an important topic of discussion. In a country like Samoa that is comprised of two large islands spread across an area five times the size of Manhattan, maintaining a citizen-first government will be a challenge for F.A.S.T."
The Institute notes that "governments are most successful when women are included."
Samoa "was once hailed as the most stable democracy in the Pacific Islands," the I.R.I. said.
"Prime Minister Tuila'epa Sailele Malielegaoi of the Human Rights Political Party (H.R.P.P.) was the second-longest serving head of state in the world, and the H.R.P.P. has ruled since the mid-1980s," the Institute said.
Tuilaepa faced controversy over the years, including a widely condemned move to amend the Land and Titles Courts (L.T.C.).
Despite this, on April 9, the H.R.P.P. went into the elections holding 47 of Parliament's 50 seats, and Tuilaepa proclaimed the H.RP.P. would remain in power.
"By the following Monday, however, opposition party Fa'atuatua i le Atua Samoa ua Tasi (F.A.S.T.) had taken a considerable lead, and on May 25 the results were confirmed: for the first time in the 21st century, Samoans had chosen a new political party to lead the government," said the I.R.I.
"F.A.S.T. held 26 to H.R.P.P.'s 25 Parliamentary seats, and the party formed just six months before the election was set to take control of Samoa's government. That was not the only first. The new Prime Minister that F.A.S.T. vowed to elect was Her Excellency Fiamē Naomi Mata'afa. A woman."
When women are involved in the negotiating process, peace agreements are 64 percent less likely to fail, the Institute says.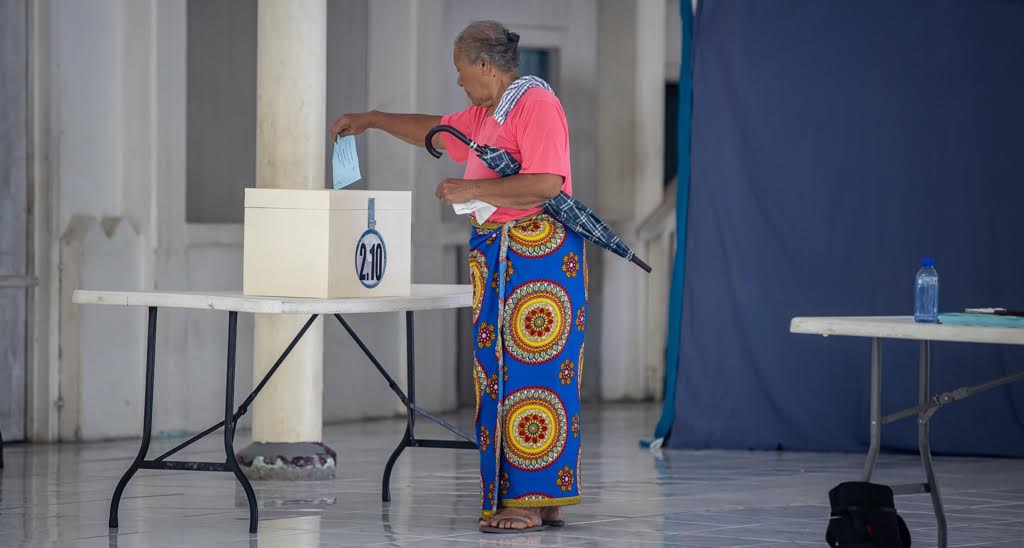 In countries like Rwanda, where women make up more than 50 percent of Parliament, policy makers have crossed party lines to tackle controversial issues.
"However, women's inclusion in government needs to start in political parties; when parties include women in leadership, men and women say they have greater confidence in government," the I.R.I says.
The Independent State of Samoa has a unique opportunity to impart the benefits of robust political parties and why they are needed in strong democracies. But Samoa has another important lesson to share across the region: #DemocracyNeedsWomen leading those political parties as well."
Non-partisan, non-governmental I.R.I. is "the premier international democracy-development organization," advancing democracy and freedom across the world, states iri.org.
Their non-partisan, non-governmental Institute has performed high-impact work in more than 100 countries since 1983—in Africa, Asia, Eurasia, Europe, Latin America and the Caribbean, and the Middle East and North Africa—and currently has offices in 40 countries worldwide, the Institute explains on its web site.