Fiame's potential successors tight-lipped
Following her resignation on Friday, the Human Rights Protection Party's (H.R.P.P.) has been alive with speculation about who might be the successor to outgoing Deputy Prime Minister and the party's deputy leader, Fiame Naomi Mata'afa.
Members of the current Cabinet are considered the party's the most likely source of replacement candidates to be appointed to the post by the party caucus. 
Fiame's successor as the deputy leader of the H.R.P.P. will be chosen by a vote of the parliamentary party scheduled to take place before Parliament rises next Tuesday, or run unopposed. The person who emerges with the party's backing will then be officially appointed to the position of the nation's Deputy Prime Minister. 
Another, quite possibly separate successor will also have to be found to take over her portfolio as the Minister for Natural Resources and the Environment, and Minister for the Fire and Emergency Services Authority. 
The Samoa Observer contacted all members of the Cabinet to ask if they would publicly affirm their interest in succeeding Fiame ahead of next year's general election. 
Touted future Minister, Gatoloaifaana Amataga Alesana Gidlow, was also surveyed. 
Profiles of those most likely to feature in the race to succeed Fiame and their responses are reproduced below.
Gatoloaifaana Amataga Alesana-Gidlow

She is not a Cabinet Minister but has been touted as a potential candidate for succession: Gatoloaifaana Amataga Alesana-Gidlow, who is the daughter of former Prime Minister Tofilau Eti Alesana, also of H.R.P.P. 
Currently, she is chair of the Parliamentary Select Committee conducting nationwide consultations into the three Land and Titles amendment bills.
Gatoloaifaana began her career in Parliament as the Minister of Health in 2006, representing Faasaleleaga No. 1. She and her husband Roger built the Savaiian Hotel in Lalomalava, now operated by their son Vaaelua Faapoipoituuloa Gidlow.
In the 2006 elections, she was one of just two women in the running. 
Asked on Tuesday about Fiame's resignation, Gatoloaifaana offered little insight into what might happen next.
"I don't know," she said. "Makes no difference to me."

Tialavea Tionisio Hunt

The Minister of Customs and Revenue Tialavea Tionisio Hunt, who is also Minister of Police and Correction Services, represents Vaa o Fonoti. He is also the Chair of the Liquor Board, the Revenue Board and of Juvenile Rehabilitation.
This has been his first term in Parliament, during which time he oversaw the introduction of taxation on Church Minister's income. He has faced heat over not only this policy but also two major incidents at the country's prisons where large numbers of prisoners broke out on several occasions. 
Approached on Tuesday, Tialavea said he respects Fiame's decision to step down from her role.
"I saw that coming," he said.
"It was only a matter of time for the Deputy to inform the Cabinet officially but at the end of the day that is [Fiame's] decision to step down as Deputy, it is not anyone's decision and I respect her decision.
"We are now waiting on God's decision as to who will be the next Deputy Prime Minister."
Tialavea would not share if he wanted the role himself but said he would not accept it if offered. He also believes electing a new Deputy with the end of term so near may not be necessary. Parliament is being dissolved in mid-January, three months ahead of the 2021 General Election.
"I don't think it is necessary to appoint a new Deputy Prime Minister," he said.
"The prime minister can use the Cabinet Ministers as his Deputy, whatever he needs we are there to lend a hand.
"But in the end the decision comes down to what the party wants."
Faimalotoa Kika Stowers Ah-Kau 
Minister of Health Faimalotoa Kika Stowers Ah-Kau has been in her role for a year and a half after being shuffled off her previous post as Minister of Women, Community and Social Development in April 2019. 
She represents Gagaifomauga No. 1, and has been in Parliament since 2014 when she won a by-election.
Before her political career, Faimalotoa worked for Radio 2AP for 35 years, leaving after a stint as Director of Broadcasting. 
As Minister of Health she has overseen the remerge of the Ministry with the National Health Services, and supervised a state of emergency caused by the measles epidemic of 2019.
When called on Monday, Faimalotoa said she had no comment to make on Fiame's resignation, saying only that the former Deputy used "her own free will."
Asked if she is interested in taking on the role herself, Faimalotoa said: "I have no comment as of now, because nothing has been discussed in regards to that in Cabinet yet."
Lopao'o Natanielu Mua 
Minister of Agriculture and Fisheries Lopaoo Natanielu Mua took on the portfolio in 2017, taking over from Laaulialemalietoa Schmidt after he resigned in the face of legal charges against him.  
He represents Vaisigano No. 1, and considers himself a farmer at heart. During his term he has tried to close Samoa's trade deficit by increasing crop exports and improving the local meat supply. 
In 2018, he caused a flurry of attention when he confirmed to Australian media that China and Samoa were in conversations to redevelop Asaua Port. 
On Monday he said he had little to add, "apart from what has been said.
"What is done is done, I don't think we can go back on that."
He said he has no interest in taking on the Deputy portfolio, adding that the decision is the Prime Minister's prerogative. 
Lopao'o would not be drawn into naming a potential successor from among the Cabinet Ministers, saying simply that everyone in H.R.P.P. is qualified for the job.
"Everybody is qualified, everybody, including other members of the party," he said. 
Loau Keneti Sio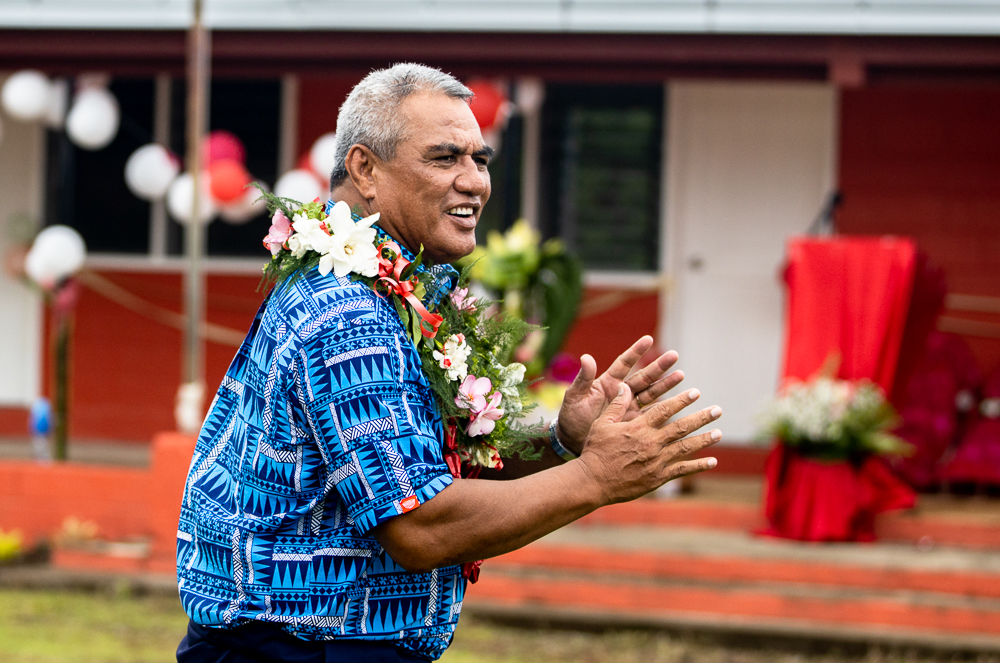 Minister of Education, Sports and Culture, Loau Keneti Sio began his political career after representing Samoa on the rugby world stage for 12 years, playing for Manu Samoa at the 1991 and 1995 Rugby World Cups. 
He represents Sagaga le Falefa.
He has had the MESC portfolio for this entire term, during which time the Ministry has had to try and recover its mathematics programme after just 16 school leavers, or one per cent of all students, passed their maths exam in 2014. 
Loau also oversaw Samoa's hosting of the 2019 Pacific Games as Chair of the Committee, during which time he entered the fray over New Zealand contestant Laurel Hubbard, saying it was unfair she entered because she is transgender.
He also managed the national school response to the measles epidemic, including closing all schools and mandating vaccinations for all students. 
On Monday, approached on Fiame's resignation Loau said he does not ask questions about the latest political development. 
"I mind my own business," he said simply. 
Lautafi Selafi Purcell
The Member for Satupaitea and Minister of Commerce, Industry and Labour Lautafi Selafi Purcell has had an extensive portfolio whilst in Government. 
He is responsible for the Ministry of Public Enterprises, which includes Samoa Airways (formerly Polynesian Airlines), the Accident Compension Corporation, the Samoa Housing Corporation, the Samoa Sports Facililities Authority, the Audit Office and even the Samoa Land Corporation.
The mammoth portfolio had the Samoa Observer calling him Mr Fixit in 2017 when he was handed the newly established M.P.E. that June.
He has been Samoa's face at trade negotiations with the World Trade Organisation, the European Union and the African, Caribbean and Pacific Group and most recently on the regional agreement PACER Plus. 
Before entering the world of labour and trade, Lautafi was a prison manager and inspector in New Zealand, as well as a Principal Advisor on the Pacific to the Department of Corrections. Here in Samoa he has been a prison reform consultant. 
He was tight lipped on Monday when asked about Fiame's resignation. 
"That is her choice and that is politics," he said.

Papalii Niko Lee Hang
Minister of Works Transport and Infrastructure, Papalii Niko Lee Hang is the Member for Urban East, the seat soon to be dissolved under the new Electoral Constituencies Act 2019.
He was elected into Parliament in 2006 under the Individual Voters constituency and was the Minister of Finance, as well as responsible for the Samoa National Provident Fund, the Housing Corporation, the Tenders Board, the Cabinet Redevelopment Committee and more. 
In his second term, he has held the M.W.T.I. portfolio and under his tenure, Samoa has undergone radical infrastructure changes, from the opening of the Faleolo International Airport to an expansion of the Matautu Wharf and refurbishment of the West Coast Road. 
He has also come under fire for some of these changes, including developing a new airport at Tiavea, closing Fagalii Airport and handing it over the Ministry of Police for driving training and limiting car imports of vehicles older than eight years. 
On Monday Papalii had no comment at all about Fiame's exit.

Tuitama Dr. Talalelei Tuitama
The Minister of Women, Community and Social Development Tuitama Dr. Talalelei Tuitama, who was Minister of Health until early 2019, represents Aana Alofi No. 1. 
A medical physician by profession, Tuitama led the Medical Unit of Tupua Tamasese Meaole Hospital in the 1990's before practicing privately for several years, including a stint as the President of the Samoa Medical Association.
Two of his children have followed in his footsteps to become doctors, including Samoa's only psychiatrist Seiulialii Dr. George Tuitama and former Director of the intensive care unit at T.T.M, Maapupula Dr. Dina Tuitama Uliate.
When approached on Monday, Tuitama said he has nothing much to say about the shock resignation.
"It was the Deputy Prime Minister's choice," he said.
"I don't fully understand the conditions of her resignation, which makes it hard to say anything."
Like his Cabinet colleagues, Tuitama said there were no discussions as of Monday afternoon into who would succeed Fiame.
"Well, no, no one is entertaining that idea [at the moment].
"The whole Cabinet is shocked by the resignation of the Deputy Prime Minister. And we also haven't discussed it yet."

Sala Fata Pinati
Minister of Tourism Sala Fata Pinati is the Member for Gagaemauga No. 1, and the owner of the Apia diner Pinati's Restaurant. This is his third term in office. 
He began his term as not only Minister of Tourism but also of Police and the Public Trust Office. After his win in the 2016 election, 17 charges of bribery and corruption were brought against him but were dropped in July. 
In 2019, Sala asked the Government to spend $20 million writing off the debt of several tourism properties in financial distress to ensure the industry's viability. In a memo at the time, Sala said the investment represents just four per cent of the total tourism earnings in 2018. 
On Monday in a phone call, Sala said he would not be considering the Deputy role for himself, and had very few comments to make on Fiame's exit.
"I am not worthy, I come from a very humble background," he said.
"The only thing is thanking the Lord that Fiame is still alive and healthy."
Faaolesa Katopau Ainuu
 Minister of Justice and Courts Administration Faaolesa Katopau Ainuu represents Vaimauga Sisifo No. 2, and this is his first term in Parliament.
During his term he faced criticism over court files being moved from the Land and Titles Court to his offices when they should not have been. The saga resulted in the Chief Executive Officer being terminated, and until today he has not revealed whether he too was asked to step down over the ordeal. 
Faaolesa's Ministry also re-introduced the  Criminal Libel Act, abolished in 2013 but resurrected under urgency in 2018 to deal with "ghost writers" online attacking members of Parliament. 
Approached about Fiame's resignation on Tuesday morning, said he had no comment to make.

Afamasaga Rico Tupa'i
Minister of Communications and Information Technology, Afamasaga Rico Tupai is another first-term Parliamentarian, representing Aana Alofi No. 3.
He is also responsible for Radio 2AP, the Samoa Post, and the Office of the Regulator. 
Before his political career, Afamasaga was in the private sector, and the media business, and has previously worked at the National University of Samoa. 
During his term Samoa's internet connection has been a key focus, with two internet submarine cables installed. He has been working towards getting every citizen digital identification for public services. 
In 2019 during the measles epidemic, Afamasaga helped mobilise a digital support system for the mass vaccination campaign alongside I.T. specialists in the country. 
On Tuesday, Afamasaga wished Fiame the best with her journey. But when asked about her successor, the M.P. turned to God.
"You know, every appointment is God-appointed. Every appointment is from God.
"All the 44 Parliamentarians within H.R.P.P. are entitled to the appointment."


Sili Epa Tuioti
Minister of Finance and Member for Faasaleleaga Sili Epa Tuioti has been in the public service for nearly 30 years, largely in Treasury and Economic Planning and Development. 
As Minister, Sili takes care of the Central Bank of Samoa, the Development Bank of Samoa, Samoa Life Assurance Corporation, Samoa International Finance Authority, Unit Trust of Samoa, and the National Provident Fund.
He also manages the Tenders Board, Offshore Jurisdiction, and Renewable Energy.
Before politics, he was the Principal Consultant for KVA Consult, as well as Co-Managing Director alongside Kolone Vaai, also a former Chief Executive of the Treasury.
During his term, Sili has been the face of Samoa's growing relationship with China and its loans to Samoa, as well as winning the country the rights to host the Pacific Games after Tonga had to withdraw. 
He oversaw the largest drop in jobs when the Yazaki Company left Samoa in 2017 leaving 700 people unemployed, and currently faces a worse situation with the tourism industry shattered by the global pandemic.
Approached on Tuesday, Sili said Fiame's decision was "hers alone.
"I wish her all the best in what the future holds," he said.
"The party is still waiting as to when a new Deputy Prime Minister will be appointed but then again it's nearing the end of the term. 
"Only time will tell when and who will be the next Deputy Leader but for the time being the candidate to the position should be the more [senior] parliamentarians and Cabinet Ministers who have the vast knowledge and experience to be the Deputy Prime Minister."
This has been Sili's first term in Parliament. 
* Additional reporting was contributed by Joyetter Feagaimaali'i, Sialai Sarafina Sanerivi, Soli Wilson, Tina Mata'afa-Tufele and Lanuola Tusani Tupufia - Ah Tong.