Discussion on custom neglected for too long
By Sapeer Mayron

•
25 May 2020, 5:00PM
The national discussion about custom in Samoa has been neglected for too long, leading to the tabling of three controversial bills that have the legal fraternity and public up in arms.
That's the opinion of Dr. Tamasailau Suaalii-Sauni from the University of Auckland.
Dr. Suaalii-Sauni, who has written extensively on legal pluralism in Samoa said there has been an ad hoc approach to codifying elements of Samoan custom as it suits political ends, and that it needs to stop.
From the monotaga definition in the Electoral Amendment Act No.5 in 2015 to the restriction of five Sa'o titles per family proposed in one of three controversial bills tabled in Parliament, she argues the tofa mamao (vision and wisdom) of the discussion has been missing for too long.
While the Westminster liberal democratic values adopted by the architects of Samoan independence have grown to be prioritised over the Samoan values of aganu'u and aga'ifanua, this is not necessarily the fault of the Westminster system, she said, but because that system is codified, taught and developed in writing.
"Some of that has got to do with a prevailing arrogance or a sense that we will never lose our agaifanua or what being Samoan is, because we are in Samoa and we are Samoan.
"It was presumed that we will deal with it when we get to deal with it over time but nobody dealt with it.
"The problems we are having today with the monotaga and with the Land and Titles Court is a consequence of our neglect of our Fa'aSamoa."
Because for the nearly 65 years of Samoan Independence the customary laws of Samoa have not been explored, studied and eventually worked into law, they cannot be used the way the introduced laws are.
The weight given to 'palagi law' is understandable. Dr. Suaalii-Sauni said for the most part, Samoa's laws need to be "comprehensible" to the outside world the country wants to interact with, be it donor partners or the international markets. 
And it would be naïve to think Samoa could restrict its laws to the Fa'aSamoa only, because it would trap the country in a "time-warp" where culture is not able to evolve as it should.
But the missing dialogue, scholarship and generated body of work on custom means the marriage between the "Palagi" and Samoan customary laws has been neglected, which inevitably leads to divorce.
Dr. Suaalii-Sauni said knowing the Samoa Law Reform Commission director's body of research, she is not surprised to see these reforms on the table.
Telei'ai Dr. Lalatoa Mulitalo began working as the Executive Director in early 2018. Among her vast body of published works is her PhD thesis on Law Reform in Plural Societies, and several explorations of legal pluralism in Samoa.
The two women are co-authors (alongside former Chief Justice Patu Falefatu Sapolu) on a chapter on Law and Custom in a 2012 book called Samoa's Journey 1962-2012, by Leasiolagi Dr. Malama Meleisea and Dr. Penelope Schoeffel.
"Legal pluralism is not a straight forward concept. It's definitely not something that is adopted in any clear way across what [Telei'ai] is describing.
"When you marry the scholastic interest with the political interest of Government then you get what we get here," Dr. Suaalii-Sauni said.
But the foundations for changing the legal structure of the country are not there yet, she added.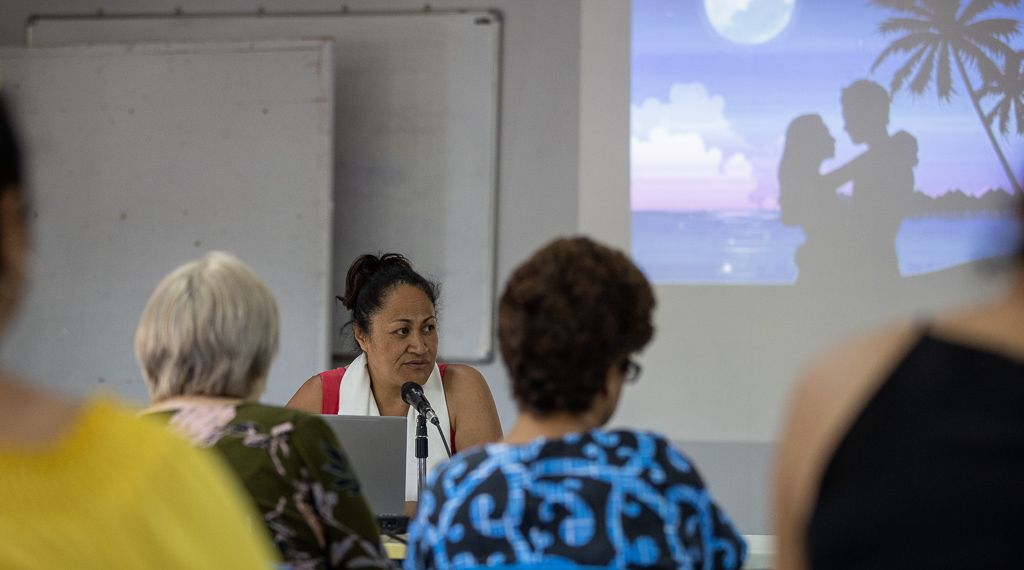 "If you look at the way in which the Government is setting up these custom principles and codifying them, they are doing it willy-nilly based on political persuasion, they are not doing it with an evidence base, or with solid scholastic support. 
"There isn't the knowledge base out there that has done the tofa mamau (vision and wisdom) where you have people who have gone through and studied how monotaga works in one village as opposed to another village."
When the monotaga was codified in the Electoral Act for the first time in 2015, its definition sparked questions over what exactly monotaga needs to be in the eyes of the law. 
Dr. Suaalii-Sauni said when in the lead up to the 2016 election, prospective candidates were taken to court over having allegedly not fulfilled their monotaga enough to be eligible to stand, it was a perfect example of how tricky that definition was.
Le Tagaloa Pita Alailima was disqualified from standing for not giving monotaga according to Electoral Act definitions but argued that monotaga as described in the Act is performed by other matai according to Sili custom. 
At the time, Le Tagaloa told the Samoa Observer that the decision is forcing Sili to go against its customs, and that the monotaga requirement is discriminatory and unconstitutional. 
"In Sili, the Alii of that village does not do monotaga as such, it's something else," Dr. Suaalii-Sauni explained.
"When you codify and you make this blanket declaration that monataga is this for everybody it blatantly overrides the authority of each village to decide their agaifanua and how these things work for them.
"It raises issues around where they (the drafters) got their interpretation from, what is the rationale for using it here?"
And because there is no clear guidance on how exactly to codify custom, the goal of legal pluralism is thwarted, Dr. Suaalii-Sauni said. 
"How is it that you codified monotaga? What is the geneology, what is the intellectual or cultural roots of that concept? It is very difficult to trace it back to the Fa'aSamoa frame of reference.
"That kind of scrutiny is the scrutiny we have neglected to do to-date and we really need it. I would very strongly push for it. 
"If [the Government] are really interested in doing this and making what the explanatory memorandum is suggesting 'a Samoan Constitution,' then they need to invest properly in this kind of probing work."
Dr. Suaalii-Sauni said these are questions that have been neglected for too long and are not at all addressed in the proposed bills or raised for discussion during the drafting phases.
One proposal included in the Lands and Titles Bill is to limit the number of Sao matai titles per family to five. But this is another example of ad-hoc custom codification that has not been thought through as it should be, she argues. 
"That level of engagement in Samoan epistemology, Samoan ontology, that work has not properly been done and you can't make assertions about the rightness or wrongness in any level of depth without that work."
She suggests the National University of Samoa could be the leaders of a national discussion and process around all these questions, and that there are senior matai and scholars who could be well equipped to support such work, while the legal fraternity undergoes serious research on this too. 
It would be hard but not impossible, and it is necessary if Government wants to use the law to protect and honour Samoan customs as it claims.
The work will require critical thinking that manages to both probe the shades and colours of custom but in accordance with the deeply held traditions of respect.
"If we are going to move forward in any constructive way we need to be able to invest in that," Dr. Suaalii-Sauni said.
"That is where I think there is some attraction to what the Government is proposing, focusing in on the custom stuff but that can be easily co-opted for your own political purposes, interest areas, if it isn't opened up to wider debate and scrutiny."
By Sapeer Mayron

•
25 May 2020, 5:00PM