U.S.P. throws open campus
Hundreds of local students from various schools in Upolu took part in the University of the South Pacific's Samoa Campus annual open day on Wednesday.
Some of the schools that attended include Samoa College, Avele College, Faleata College, Don Bosco Technical College, Saint Mary's College, and St. Joseph's College.
The event was also attended by the Minister of Education Sports and Culture, Seuula Ioane Tuaau who spoke about the significance of education. 
The students and guests were treated to cultural performances from Tongan and Samoan students studying at the university.  
Part of the programme was a tour of students around the campus to see what the university has to offer in terms of courses.
Government Ministries such as the Ministry of Agriculture and Fisheries and Ministry of Natural Resources and Environment also displayed information booths for the students.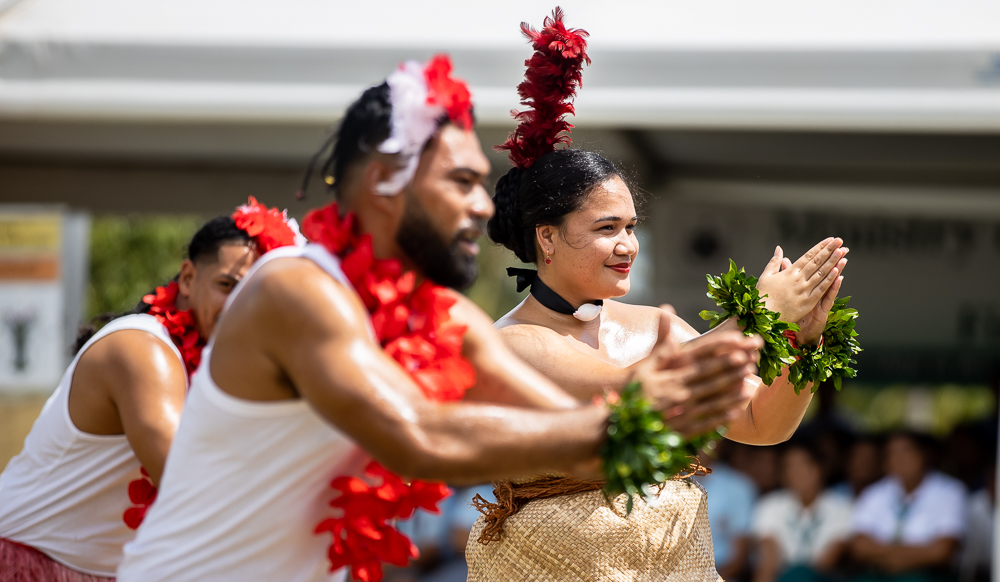 Representatives from the Samoa Qualifications Authority, Ministry of Health, Red Cross were also seen displaying information booths.
According to the U.S.P. Samoa Campus Director, To'oto'oleaava Dr. Fanaafi Aiono-Le Tagaloa, the open day is part of the regular calendar for U.S.P.
U.S.P. has 14 campuses around the region with 12 member countries.
"Samoa Campus is one of the fortunate campuses that has been able to actually host a face to face open day.
"It is because the rest of our islands had some COVID trouble for example our main campus which is in Fiji because of the Delta outbreak there and all the loss that's happened there, they haven't been able to have this.
"They had an open day virtually and we also had an open day last year because of COVID."
However, she said that for this year, with all the different measures that Samoa has been able to carry out in relation to the COVID-19, "we are able to enjoy this face to face."
"It is extremely vital because I think most of the time people have preconceptions which aren't clear on what a university offers, so it's always good to come, have a look, ask your questions and make your informed decision.
"The theme is 'shaping pacific futures' that's actually the vision for the university over the next three to five years."
The Samoa Campus Director said that all schools were invited to the open day but more than 800 students from various schools attended.
When asked about future plans of the university in hosting next year's open day she said that, "I guess we'll just go bigger and better and we will pray that COVID-19 remains away from Samoa's shores."
She explained that so long as Samoa is safe and COVID-19 free the university will be able to boost their preparations.
"With our [U.S.P.] Vice Chancellor coming to Samoa, it will be another reason to lift the standard and lift the profile of the university here in Samoa."
To'oto'oleaava confirmed that the U.S.P. Vice Chancellor, Professor Pal Ahluwalia was due to arrive in Samoa next week.
"But because of the lockdown in New Zealand and Australia, it's probably looking more into December with the repatriation flights coming out of Auckland."
She said that the key message [for students taking part in the open day] would be: is the unique selling aspect of the U.S.P. is the fact that  it's a regional university, you get the opportunity to study in your own home but you have the benefit of meeting people from different cultures and beliefs.
"Sometimes we are so inwardly focused but we need to actually look beyond everything else that is available."
A Year 13 student from Faleata College, Rose Tiavi shared that one of the things she learned from the open day was one of the messages that, "your future is in your hands."
"The open day has broadened my perspective in terms of career opportunities that can be achieved through having a higher education."
Another student from Faleata College, Mareta Timi said that some of the subjects that have been shared during the open she had never had before.
"I am grateful for the invitation to be part of this event because some of the subjects that are being taught in the university are not known or taught to us students in schools.
"Learning something new today will help me make better decisions in the future regarding my education."