New e-Health system promises better care
By Tina Mata'afa-Tufele

•
11 July 2021, 1:20PM
Caretaker Prime Minister Tuilaepa Dr. Sailele Malielegaoi launched a new e-Health system that is expected to improve medical record-keeping, strengthen health information and vital statistics for the country.
Telemedicine, which allows patients to consult with a doctor long distance is included in the system that was developed over multiple phases, said Tuilaepa. It gave him "great pleasure to officially launch the e-Health developments, for Samoa," he said.
Caretaker Minister of Health Faimalotoa Kika Stowers, Health Director General Leausa  Dr. Take Naseri and others attended the launch held at the Tupua Tamasese Meaole Hospital in Motootua. 
"I am confident that the e-Health Developments launched here today will accelerate improvement in data recording and analysis, strengthen health information and vital statistics in Samoa. It is mainly my conviction, that these developments will further strengthen our resolve in responding to key policy and implementation questions and enable forward planning for health and development," said Tuilaepa.
"On behalf of the Government and People of Samoa I wish to thank our development partners in health for their ongoing support to this remarkable milestone. I also like to make special mention of the joint venture of Sustainable Solutions New Zealand and Beyond Essential Systems Australia, which has served as the Consultant firm assisting the Ministry of Health in these developments. Their commitment and colleagueship is commended, in our determination to achieve this project."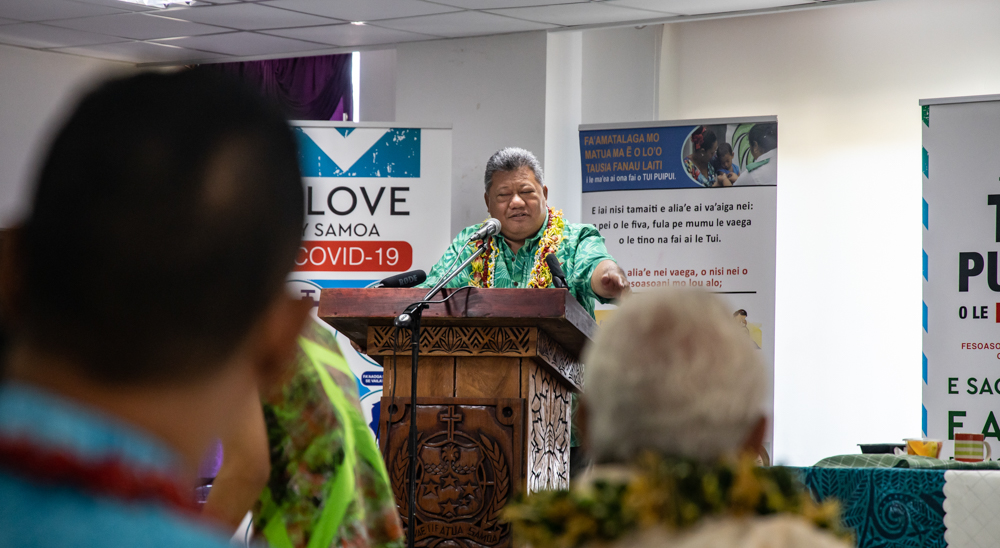 He welcomed health officials who attended the event held "amidst the COVID-19 state of emergency" and applauded the launching of the e-Health developments, saying they were a decade in the making. 
"It is a significant feat that after a decade of trials and errors, we have managed to steer Samoa's e-Health developments within our own context, and amidst great global uncertainties because of COVID-19. Through sector-wide approach and development partner assistance, the establishment and rolling out of e-Health marks a new fabric of the digitisation age for the health sector in Samoa," said the Caretaker Prime Minister.
"The fact that we needed to develop, guide, direct and own our direction in e-Health towards 2040; has been the courageous stimulus for the Ministry of Health in this development."
He noted that the e-Health launch "has come by and large with the notable partnership between the Government of Samoa, the World Bank, the Government of Australia and the World Health Organization." He also acknowledged the Health Program AdvisoryCommittee for their persistence and unending support in this endeavour.
"The recent public health emergencies in Samoa highlighted several urgent issues in the national health information system architecture. One of the major challenges for the Health Sector was the need to transition to digital health systems under a coherent e-Health strategy, as versus human resource capacity to meet the demands," Tuilaepa said.
"It is not a quick fix, neither was it supposed to be a band aid solution. Samoa's e-Health Policy and Strategy 2017 to 2022 expected a greater focus on strengthening Health Information System, civil registration and vital statistics; and Government expected no less.
 E-health developments were divided into phases. Phase 1 commenced in 2020 with the implementation of supply, the Electronic Logistics Management Information System (eLMIS), and Tupaia, a health data aggregation and visualization tool.

Phase 2 is the introduction of the Tamanu Mobile for patient screening and this is being utilized for the COVID19 vaccination data recording and management.
Phase 3 is the implementation of the patient-level electronic medical record (Tamanu Desktop) at the main hospital here in Moto'otua and the referral hospital at Tuasivi, Savai'i. 
"That also includes the implementation of the Tamanu desktop and mobile at all remaining Government health facilities in Samoa, so that patient data is captured across every incidence of care," Tuilaepa said.
Phase 4 is digitizing public health reporting which also includes the establishment of the national data warehouse (DHIS2), fully integrated with Tupaia and Tamanu.
"Telemedicine is also another development launched today. This involves the use of electronic communications and software to provide clinical services to patients without an in-person visit. Telehealth and telemedicine definitions encompass very similar services, including: medical education, e-health patient monitoring, and patient consultation via video conferencing, health wireless applications, transmission of image medical reports, and many more," the Caretaker Prime Minister said.
"The digital transmission of medical imaging, remote medical diagnosis and evaluations, and video consultations with specialists are all examples of telemedicine. This is the provision of remote clinical services, via real-time two-way communication between the patient and the healthcare provider, using electronic audio and visual means. Telemedicine does not replace face-to-face consultation when it is needed but instead complements it."
By Tina Mata'afa-Tufele

•
11 July 2021, 1:20PM