Club launches first 'paddle around Upolu' event

By Vaelei Von Dincklage

•
24 June 2021, 12:00PM
Preparations are all set for a group of paddling enthusiasts to paddle around Upolu island for the first time in what is expected to be a three-day journey.
The Pualele Outrigger Canoe Club President, Manua Cam Wendt, told the Samoa Observer in an interview on Thursday that the club's inaugural event is called "Upolu Perimeter Paddle" which will involve 25 paddlers in a three-days and two-nights journey covering 180 kilometers of sea.
He said depending on the weather the canoes and their paddlers will set off on Thursday morning to begin the three-day journey.
"It's the first time and our club is really excited to be part of it. we will see how it goes and we're going to look at how we're going to make this into a race or an event," said Mr Wendt.
"We're not sure what the conditions or things are like on the other side of the island, as a club we have paddled from here all the way down to Mulifanua, and on this side it's all the way down to the Falefa Waterfalls.
"So we know what the conditions are like on this side and it'll be completely different for us once we go around Mulifanua and head up to the south coast."
To ensure safety for the paddlers there will be a support vessel accompanying them around the island over the three-day duration of the journey, which Mr Wendt said was costly but a necessity for the paddlers' safety.
"So that if there's an emergency on the ocean that the canoe can either be towed or the paddlers can get off the canoe and onto the boat," he said.
"It's a safety thing, so we've had to factor in the cost of how much it will cost to have this boat follow us around the island for three days.
"We have planned it for three days, we're trying to get as many of our club members as possible to participate because a lot of them work.
"And with the 14 stops we've divided it up and we just said to people 'okay, well you choose a time and a date that you can sign up that you know you can do or where you can take a leave'."
The paddlers' departure is scheduled 6.30am on Thursday and they will then make their way to Sataoa by 4pm and spend a night at the Sataoa beach fales, before leaving on Friday for Namu'a Island, Aleipata.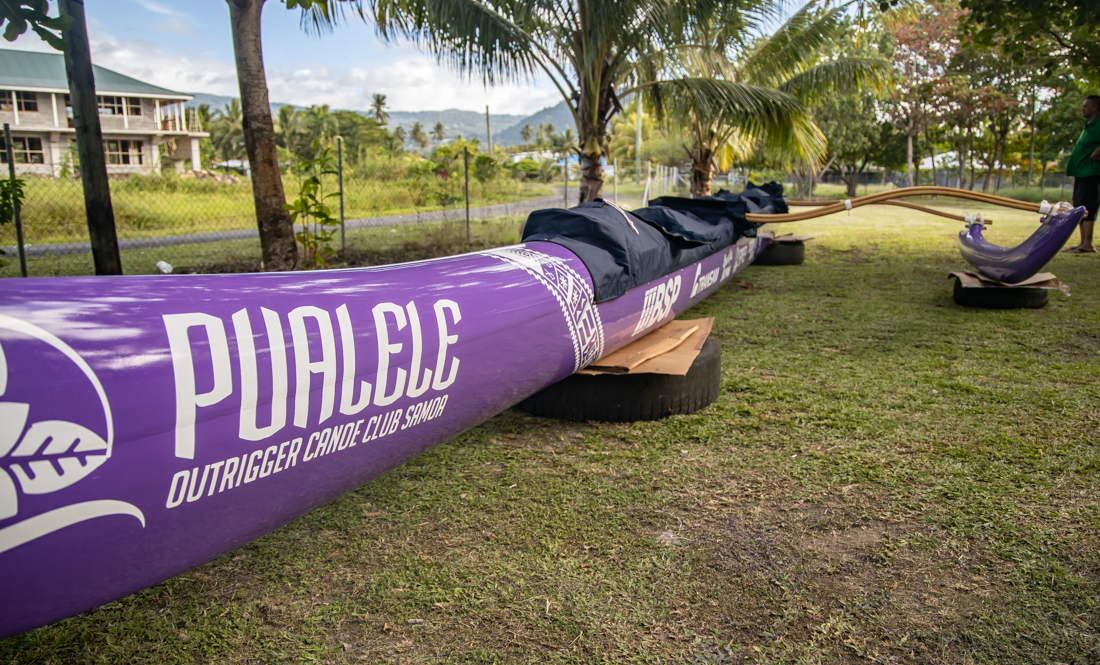 They will spend the night at Namu'a Island and kick off the final leg of their journey at 6.30am on Saturday morning, and hope to get to Taumeasina by 1.30pm in the afternoon on the same day to complete the historical journey.
The organising of the inaugural around-the-island paddling adventure wouldn't have been possible without the support of sponsors, whom Mr Wendt said were keen to get on board due to the rare and unique experience it offered the paddlers, their club as well as the sponsors.
"We've managed to get a lot of sponsors, they have come on board to help support us, we were able to get their support because it is the first time that this has been done, so they wanted to be part of something new," he said.
"This is not a big sport like rugby so they wanted to help develop the smaller sports which is also why they gave their support. 
"We've got support from S.P.R.E.P because obviously, we're out on the ocean, and they have a clean ocean campaign so they have asked if they could use the footage because we'll be having a drone. 
"The same way with S.T.A. because they want to use our footage as well and from our paddling, we can see the coastline. 
"So acknowledging our sponsors for making this possible for us especially with COVID-19  and how things are tight with the economy."
Among the sponsors was Bank South Pacific who stepped forward with a $6000 cheque and merchandise with the club president thanking the bank for stepping forward to support the round-island journey. 
International paddlers have also made queries with the club on whether it could become a race according to Mr Wendt, but he said it is important to get the three-day event this week concluded before they can look at its potential.
"One of our mission statements is to provide a unique paddling experience, experiences for our paddlers and so we started again after a few years with paddling to Savai'i. 
"What we did is in 2006 we tried it as a club and then once we worked out how we could do it we turned it into a race. 
"Then the last one we had was in 2017 we had a race to Savai'i every year. 
"We have paddled to Manono, we've paddled around Manono to Nuulopa (the little island) and this way we've paddled up to Saoluafata, and we've taken our boats as a club all the way up to Falefa."
Mr Wendt said when they posted a public notice a lot of clubs expressed interest to join and they were advised it was not a race.
"We told them it's not a race, we just wanted to check out what the logistics are and we need to look at and then from then on we can look at how to turn it into a race.
"The interest was to go to Savai'i, we've already had some of the paddlers who are on our page who have said their good luck and wishes they could be part of this. 
"Like I said it's never been done before, to go around the island, so I think yes, there is that interest. 
"If it's done properly and marketed properly, and then we have the resources in terms of boats, then yes it could be turned into an international race. It can be done in less than three days."

By Vaelei Von Dincklage

•
24 June 2021, 12:00PM