F.A.S.T. overseas donations top $1 million
The Faatuatua i le Atua Samoa Ua Tasi (F.A.S.T.) political party has announced that it has cumulatively collected more than $1 million in financial donations from overseas supporters during the election campaign, one of the party's candidates has announced.
In a video posted to the party's Facebook page, F.A.S.T. candidate and the deputy country manager of the Western Union money transfer service, Mulipola Anarosa Ale-Molio'o, said that overseas donations to the party since the party began seeking office now totaled more than $1,120,880.
The video highlighted significant contributions originating from American states, such as Utah and Alaska. 
But prominent former Member of Parliament and party candidate, Faumuina Leatinu'u Fong, said that the figure was likely an underestimate because the party had already collected hundreds of thousands in donations that were yet to be added to its total donation tally.
The video was posted following an official local party fundraiser, and all-day radiothon and telethon held in Vaitele Tai on Friday for local supporters. 
That official fundraising event collected some $260,000, the party confirmed. 
The leader of F.A.S.T., Fiame Naomi Mata'afa, closed the event by thanking organisers, announcers, the media and donors around the globe for their support.
F.A.S.T. Founder La'auli Leuatea Schmidt told the Samoa Observer on Friday that the radiothon and telethon, which wrapped up after 7pm., was in the planning for six months and netted an exact total of $268,000.
"Today is one of our events that has been planned for quite some time, the end of all our activities before [the] election. Today is our radiothon and this is our first ever fundraising for Samoa," La'auli said.
"We have been receiving a lot of help and love and support from our support group and families and friends from overseas but this is our only fundraising for Samoa. We understand the environment and the situation with our people here but we feel that we should also give the chance for our people here to give in whatever they can."

Funds will cover expenses and acitivities for the election, he said.
F.A.S.T. wrapped their roadshow on Thursday in the Sagaga No. 2 district.
"Today we have been planning for the last six months. We were waiting for the right time. Yesterday was our last roadshow and meeting with the nation, the whole of Samoa with Sagaga 2. Today we wish to finish up all our activities with our radiothon," La'auli said.
The radiothon which drew monetary support from across Samoa, Australia, New Zealand, the United States and other countries, also marked the end of fasting.
"It also marks the end of our fasting because we planned to have the fundraising on a Friday," said Laauli.

An entire cow was roasted over an open fire pit during the radiothon, an event he said was the signal for fasts to be broken. 
"That's the povi to end our fasting, for the party to come here and for anyone who can come, we invite for lunch. Today, we open our fasting," said La'auli.
At 10.30am, donations were pouring in non-stop from across the country and from F.A.S.T. supporters outside of Samoa.
Donations of $5,000 Samoan tala were being phoned in support of specific districts and constituencies.
Some donations were pledged for specific candidates and others for the party.
Laauli could not provide an estimate on how much was raised by mid-morning.
The radiothon was streamed live on the official F.A.S.T. Party Facebook page.
"At the moment I am not sure about the finance sector and what they are collecting at the moment but it's not only here (Samoa.) We just got calls from Savai'i, where we have another station. We also have another station in New Zealand and Pago Pago (American Samoa)," he said.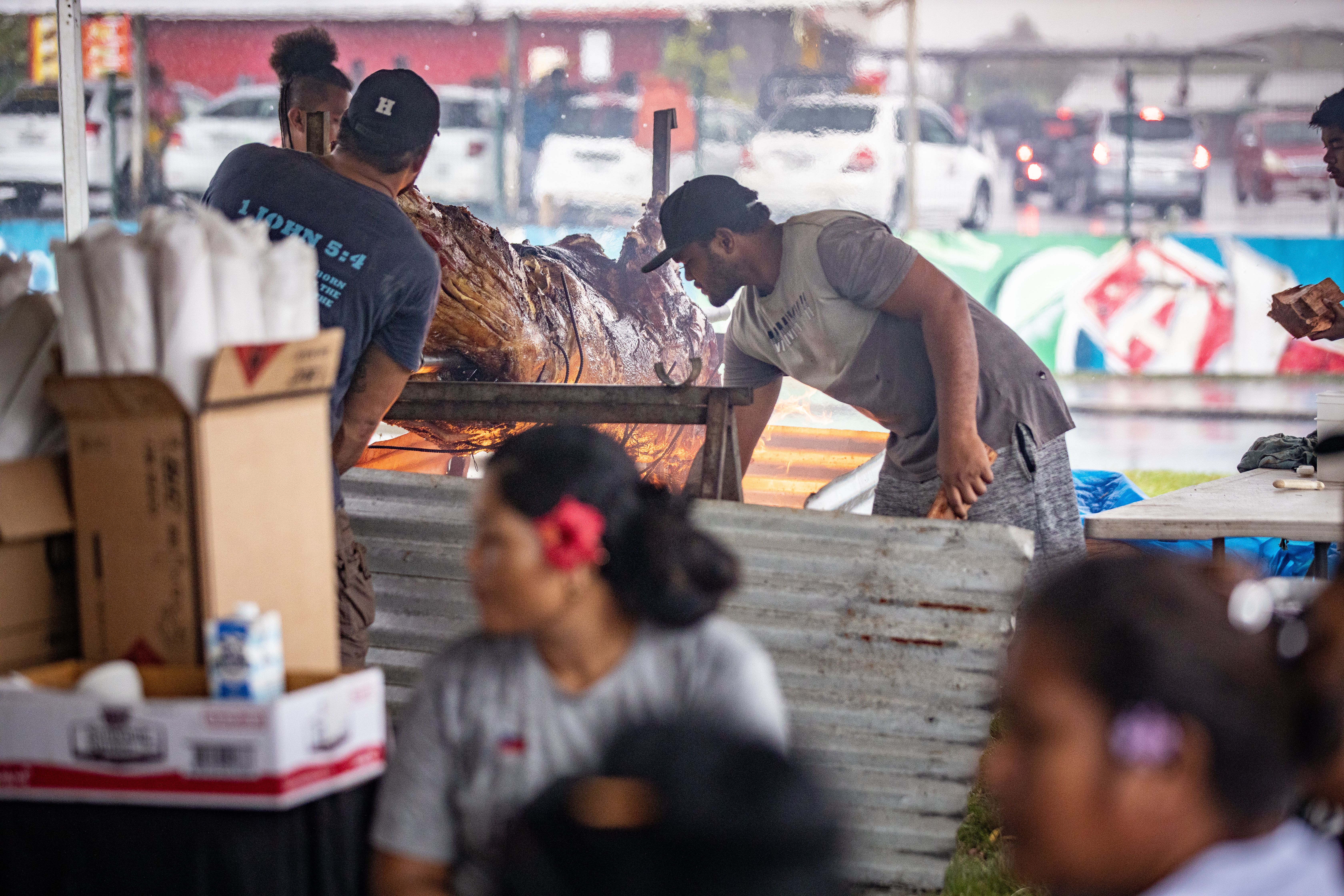 "Our main office is also collecting support from various people, our supporters and families."
People in the U.S. were sending donations direct to Hawai'i which were then wired to Samoa.
La'auli thanked Samoa for the support.
"Thank you, Samoa for the support. Thank you so much to the people of our nation and those who are living in distant countries and most especially our supporters here in Samoa," he said.
"Whatever the amount you have contributed, thank you so much Samoa for the love."
F.A.S.T. concluded the event with a word of prayer.