Foundation marks World Kidney Day
The National Kidney Foundation has begun kidney checkups of members of the public and staff at selected workplaces as part of its commemoration of World Kidney Day.
N.K.F. Director Dr Ben Matalavea told the Samoa Observer on Thursday that the theme for the commemoration this year is "living well with kidney disease".
He said the event is marked every second Thursday of March annually as designated by the World Health Organisation.
"This event is held on every second Thursday of March every year and is designated by the World Health Organization and also the kidney associations of the whole world to promote awareness of how important kidney disease and how it has affected the whole world," said Dr Matalavea.
This month a team from the N.K.F. will visit workplaces on Tuesdays and Thursdays and open to the public on Wednesdays and Fridays at their official premises at Moto'otua.
They also raise awareness on kidney diseases at the various organisations that they visit including the Electric Power Corporation (E.P.C.) office, where their team has been since Tuesday.
When the Samoa Observer visited the N.K.F. team at the E.P.C. premises on Thursday a total of 72 workers had already been checked.
E.P.C. employee, 50-year-old Semi Key told this newspaper that he is thankful for the service which also includes basic health checks such as high blood pressure and glucose levels.
"It is an important programme to check my health issues. I got the chance to check my high blood pressure, amount of glucose in my body," he said.
"I may think there's nothing wrong with my health and found later on there is after the check-up."  
Awareness that the N.K.F. team is doing includes addressing misinformation that patients who are put on dialysis treatment pass away, which the team says is discouraging and can have a negative effect on patients and their families.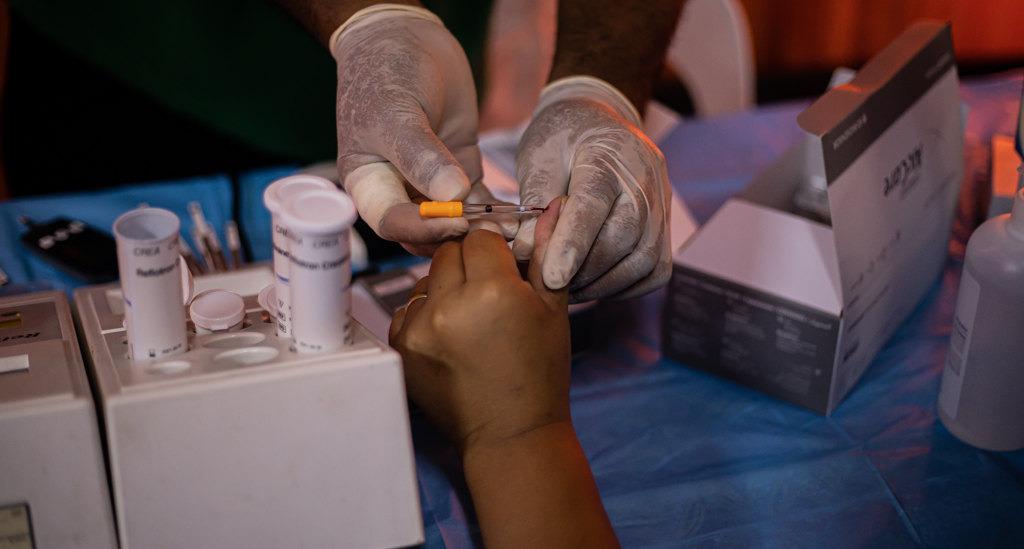 The N.K.F. is of the view that dialysis treatment ensures quality of life, without having to go through all the symptoms of kidney failure. The public is advised to go for a kidney check at a nearby hospital if anyone feels they have the symptoms of a kidney failure.
Meanwhile, Dr Matalavea has expressed concern at the impact of the COVID-19 pandemic on the ability of ordinary Samoans to live a healthy lifestyle, in order to protect themselves from noncommunicable diseases.
He said he is worried that the focus will shift away from N.C.D. and result in that area of public health not getting the attention that it deserves.
"Because as you can see, we are always getting advice or awareness from the Ministry of Health about COVID-19 when we should have paid attention to N.C.D. with its increasing number of diabetes and high blood pressure," he said.
"The people who are suffering from those two diseases are not getting the attention that they should because that will cause kidney failure, blindness, bacterial infections to be more strong to them and they will get a limp removed. 
"Our hospital is full of these patients, that is what I mean COVID-19 is having all the attention when we really should pay attention as much as possible to these non communicable diseases."