Absentee M.P.s to face action
The absence of four non-Government M.P.s for much of the final, six-week sitting of Parliament will be dealt with, the Deputy Speaker vowed on Wednesday.
Deputy Speaker of Parliament, Nafoitoa Talaimanu Keti said he would publicly demand a meeting with the M.P.s.
"Under [Parliament] Standing Order section 24 it is clear in black and white, that no Member of Parliament can be absent unless they are officially excused by the Speaker of the House," said Nafoitoa.
"I had consulted with the Legislative Clerk and it's been confirmed they were not excused."
The M.P.s have missed much of Parliament's most recent sitting in favour of campaigning with the opposition Fa'atuatua i le Atua Samoa ua Tasi (F.A.S.T.) party.
But in addition to three independent M.P.s who will run with his party, F.A.S.T co-founder Laauli Leuatea Schmidt has previously insisted he applied for and obtained an official leave of absence.
During Wednesday evening's session of Parliament, Nafoitoa repeatedà concerns raised by the Prime Minister Tuilaepa Dr. Sailele Malielegaoi regarding M.P. absences without proper reasons.
Tuilaepa said the practice belittled the integrity of the Parliament. 
He said it was evident they are neglecting their oath that was sworn before God, to carry out their duties from when they were first sworn in up until the final day of Parliament.
On Monday this week the quartet returned to their seats in Parliament.
Lotofaga M.P. Fiame Naomi Mataafa, Urban West M.P., Faumuina Wayne Fong and Salega East M.P., Olo Fiti Vaai missed a full week of Parliament sitting along with a few days of the preceding week, in order to attend F.A.S.T. roadshows on the big island.
The Deputy Speaker said the four M.P.s do not honour the mutual respect accorded to them.
"This is something the Deputy Speaker will not overlook," he said.
Nafoitoa noted that during a Ministerial speech by the Minister of Works, Transport and Infrastructure, Papalii Niko Lee Hang, on  such as the Vaiusu wharf, they were again not present.
Earlier the Prime Minister Tuilaepa said he had unspecified reports before him of false claims made by absent M.P.s.
"I have reports before me of the false claims by these [said] M.P.s who are well known for lying and as indicated before, the public are well versed with their unfounded claims and it is something that needs to be addressed," said the Prime Minister.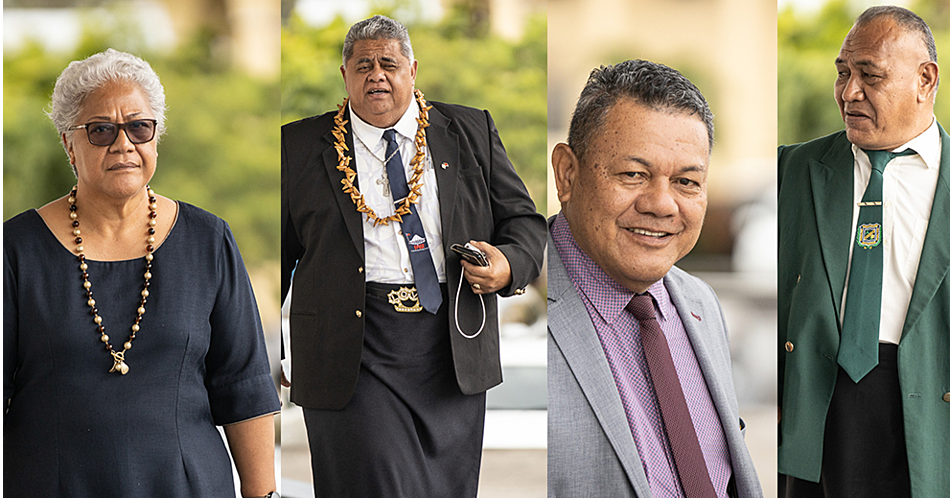 He said that action should be taken against the absent Members of Parliament to stamp down on disregard for standing orders.
The Prime Minister said the country does not need representatives who have no regard for the authority of Parliament.
"They are busy with their [roadshows] and are making false claims against the projects by this Government and I am never tired of informing the public and correcting their false claims, so the public is aware of what is really going on," said the Prime Minister.
In addition to La'auli the absent M.P.s include three independents: Lotofaga M.P. Fiame Naomi Mataafa, Urban West M.P., Faumuina Wayne Fong and Salega East M.P., Olo Fiti Vaai.