Bad weather forecast to continue
The Samoa Meteorology Division has warned bad weather is forecast to continue after parts of the Apia town area were flooded following continuing heavy downpour on Tuesday.
The Principal Scientific Officer for Weather Services at the Samoa Meteorology Division, Silipa Mulitalo, told the Samoa Observer villages hit by flooding included Fugalei, Vaimea, Solosolo, Pesega and Sapapalii, Savaii.
"The primary concern for this week is rainfall generating flooding," said Mr. Mulitalo.
The forecaster also said that extreme weather activity on the outskirts of Samoa had reached record highs over a three-decade period. 
"In terms of tropical cyclone developments, February has the most Tropical Cyclone counts that have affected Samoa like in the past 30 years," he said.
"We are very lucky that February is coming to an end but no cyclone has affected our country."
The Principal Scientific Officer for Weather Services said that, according to their observations over the last two days, motorists have been prevented from crossing bridges, while several fords heavily flooded. 
"For this week's weather conditions, it is dictated by the position of the South Pacific Convergence Zone (S.P.C.Z.)," the forecaster said.
"The S.P.C.Z. lies above Samoa and it covers an extensive area from Solomon Islands to French Polynesia. It has migrated to us and normally there is a cyclone but we are fortunate there is nothing."
The phenomenon is a band of intense rainfall extended from the Pacific region all the way to the equator but the weather front is being pushed southwest by La Niña conditions.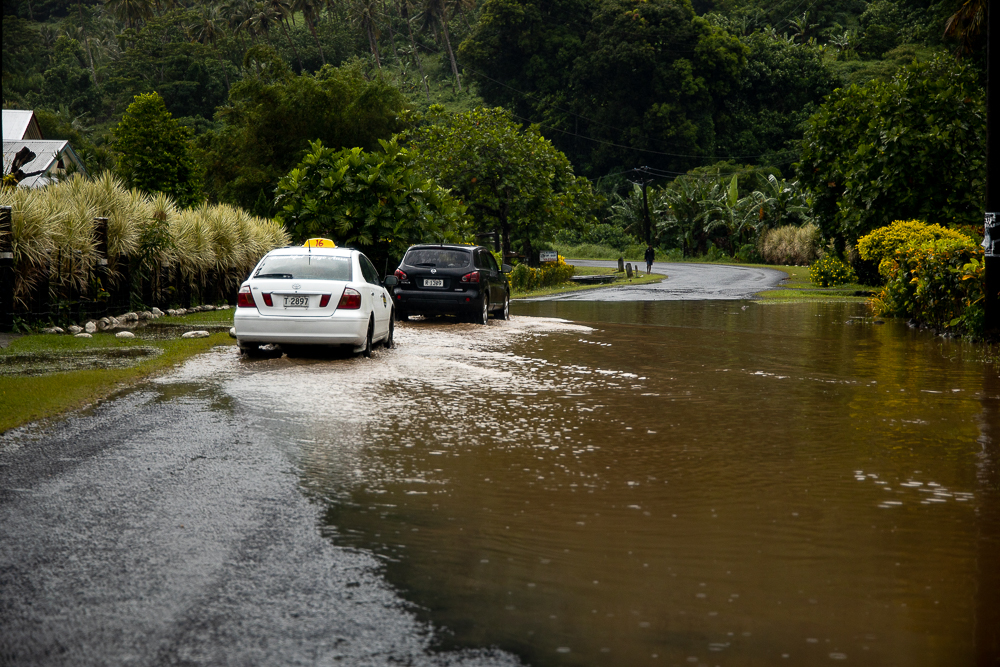 Mr. Mulitalo said that it was important for members of the public to heed the warnings issued by the MET Office.
He also warned that just because there has been no cyclone for Samoa, that does not mean people should feel safe to go swimming. 
He explained that the village of Letui in Savai'i has recorded the highest total of precipitation with 248.6 mm rainfall recorded so far.
"But it is likely that the same rainfall intensity is recorded here [Upolu Island] but we will only know by tonight [Tuesday]," he said. 
"The good news is there's no concern for Samoa in terms of a Tropical Cyclone but we will still experience bad weather conditions.
"We also have to talk about the behavior of people, if there is no cyclone some people will go swimming near rivers yet if there is severe flooding they might get carried away which has been evident through past experiences such as the December and January flooding."
As of Tuesday morning, the Meteorology Office issued heavy rain, marine, flood, wind, warnings with high surf and coastal flood advisories.
"The active convergence zone continues to affect Samoa with heavy persistent rainfall and strong gusty winds," the MET Office statement read. 
"Flooding and landslide are highly likely to prone areas. The system is predicted to linger over the forecast zone until tomorrow, maintaining heavy rainfall with strong Northwesterly winds of 45-55 kph. 
"High waves and swells of 3-3.5m impacts all coastal and open waters. Since strong winds are moving closer, waves and swell activities may exceed 4 metres later today.
"Therefore, [the] wind advisory is now upgraded to a warning. 
"[A] coastal flood advisory is now in effect as well for coastal low-lying areas alongside with advisories and warnings already given out."
Some of the forecast impacts include: heavy downpours with poor visibility, gusty winds, foggy and slippery roads over mountain passes and ranges, pooling near roadsides and waterways.
Other effects include very rough seas and high surf with possible coastal flooding to exposed locations and river overflows and landslides. 
The Samoa Fire and Emergency Services Authority (F.E.S.A.) also advised the public to continuously maintain aware of bad weather conditions while heeding warnings for heavy rain and strong winds.
"The Authority wishes to advise the public to consider your safety at all times when travelling on the roads in this current condition," the F.E.S.A. said in a statement. 
"Roads are slippery, flooded and several main [roads, fords, and bridges] are inaccessible as a result of heavy rain over night, as such we urge your good selves to please drive with extra cautious at all times.
"Leave home only if it's necessary otherwise remain at home where it's safe and warm. 
"The Authority remains on standby to assist with any emergency as well as [the] evacuation of our families within our low lying areas easily prone to flooding, Remember to call 911 for assistance."