Apia engulfed by floodwaters; residents fearful
Having only been struck by flash flooding less than a month ago, Apia was engulfed by rising waters again on Wednesday, as the Meteorological Division issued a nation-wide flood and heavy rain warning.
Families who live in Apia's low-lying areas - who had to be evacuated from their homes less than a month ago following flash flooding last year on 18 December - are now living in fear of having to go through the same experience again. 
Villages hit by flooding include Fugalei, Alamagoto, Taufusi, Vaimea, Sinamoga and Lelata. 
Flooding in the town area caused long queues of vehicles trying to navigate their way through brown murky waters while other areas became inaccessible for motorists. 
One resident living at Vaimea, Sina Matalasi, told the Samoa Observer that it was heartbreaking to see flooding occur again so soon.
"It's the start of a new year yet, I did not expect that with only a small amount of time it has led to another flood," she said.
Ms. Matalasi also said that the flooding around parts of her village made it inaccessible to reach their homes by car.
"As a car owner, the flooding will have impacts on our vehicle which is another disadvantage because it comes with costs which we cannot afford," she said. 
"The previous flood left us with a lot of problems because it was one of the worst ones ever but now it has happened again.
"I fear that our home will also get flooded if the rain continues, this is not a good start for another year."
Another resident from Alamagoto, Ioane Latai, said  that they are shocked their roads are now flooded: "The floods will only make everything worse and complicate things."
A small shop owner in town, Pele Sami, also expressed her disappointment about the sudden inundation which began suddenly on Wednesday afternoon. 
"With the flooding not only it will decrease the numbers of our customers but it would also mean us having to close the shop altogether," she said. 
"I think now we have to pray it does not have to get worse because we are all just recovering the previous flood."
A weather update issued by the Meteorological Division at 5 pm on Wednesday, said developing clouds and rain with gusty wind conditions were slowly entering the island from the north. Those conditions were accompanied by the arrival of an active trough and an associated convergence zone.
"These systems will provide wet and gusty weather state across the Samoa island chain on Wednesday evening towards Thursday morning," the weather bulletin states. 
"Hence the heavy rain warning now being valid for all of Samoa and a flood warning is enforced for all rivers and vulnerable areas.
"Furthermore, the potential Impacts: heavy downpours with poor visibility, gusty winds, foggy and slippery roads over mountain passes and ranges, pooling near roadsides and waterways. River overflows and landslides."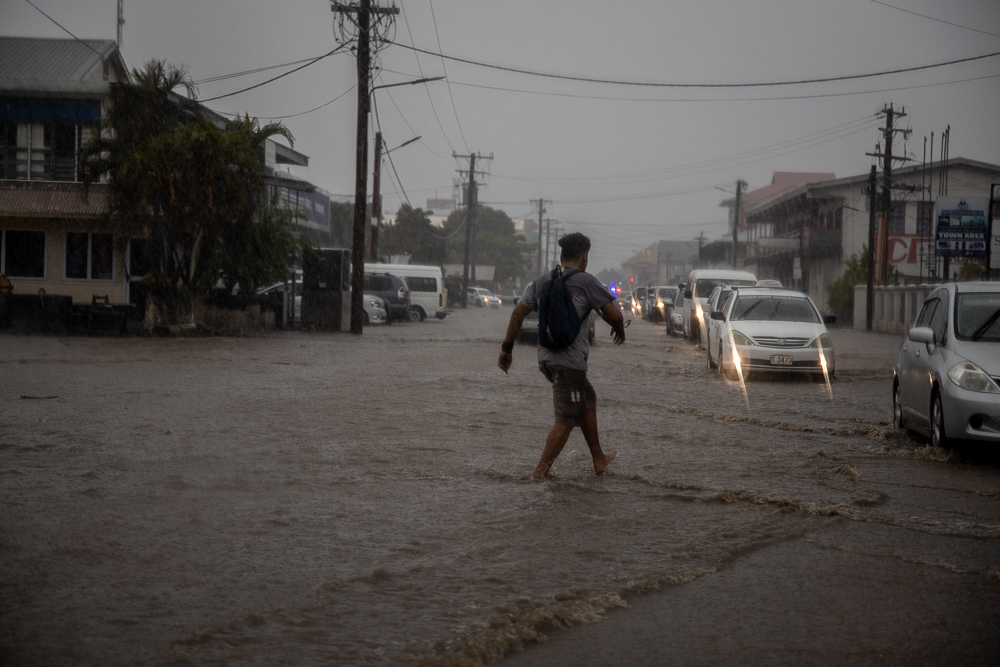 The Meteorological Division also issued a marine advisory, stating that the latest wave observation on Wednesday afternoon showed waves and swells below two metres. 
In an interview on Tuesday, the Meteorological Division forecasted more "above normal" rainfall for January with a possibility of a repeat of the 18 December 2020 flash floods in the event of continuous rain. 
The Samoa Water Authority on Wednesday appealed to its consumers to store rainwater for consumption due to heavy rain causing rivers to overflow, leading to the risk that dirty sediment may affect water quality at Fuluasou, Alaoa, Vailele, and Fagalii.