Health welcomes new registered nurses
Fifty registered nurses with a Bachelor's Degree in Nursing have joined the Ministry of Health (M.O.H.) in a major boost to nursing capacity within the health sector.
The M.O.H. hosted a ceremony in its conference room on Wednesday to welcome and acknowledge the efforts of the registered nurses as well as those who are recipients of diplomas, following the completion of the National University of Samoa's Bachelor of Nursing programme.
Some of the nurses were also awarded with certificates of appreciation by the Ministry for being frontline workers, as part of the Government's quarantine operations during the COVID-19 pandemic.

The ceremony was attended by the Minister of Health, Faimalotoa Kika Stowers, M.O.H. Director General, Leausa Dr. Take Naseri, Samoa Nurses Association President, Solialofi Papali'i as well as family and friends of the graduates.
Faimalotoa acknowledged the support of the graduating nurses' parents and families for supporting their sons and daughter's professional career. She also commended the nurses' hard work, especially serving the people of Samoa through the provision of health services.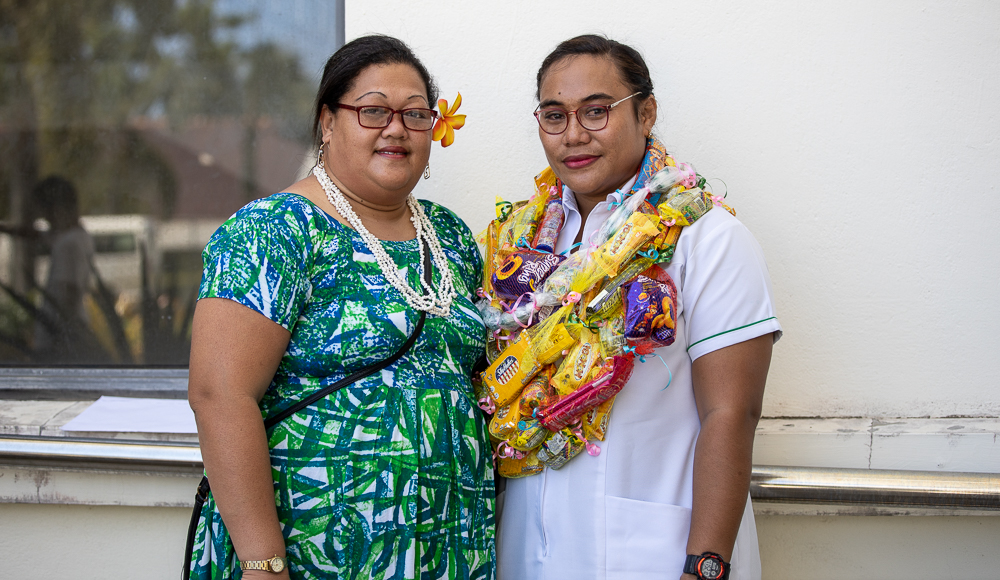 In a reminder of their call to service, Solialofi encouraged the nurses to serve with honesty and love as sick people will come to them for help.
The graduation of the nurses on Wednesday was bittersweet for newly-graduated diploma-holder Taiosavaii Mulipola Fiatau, who lost her father last month before her special day.
The 26-year-old from the village of Siutu told the Samoa Observer that she feels both happy and sad.
"It is because I lost my father before he could see me complete my studies," she added.

Ms. Fiatau added that her father was her biggest supporter who also encouraged her and revealed that her mother is currently hospitalised.
"My mother is currently sick and hospitalised plus my father is deceased, it is not an easy time but I am so grateful to God for blessing me with the wisdom and strength to see it through," she said.
Emphasising that her father played a pivotal role in her taking up nursing as a career, Ms. Fiatau said he continued to push her, and he reminded her of the testimony of their church minister on the need for more doctors.
"My father whispered to me and said what did you take back from what the church minister said and eventually I decided to be a nurse," she said. "I know that this profession as a nurse is not easy but with faith in God plus commitment and honesty I believe that all will work out. 
"My father would have been so happy today, he worked as a carpenter to support me through school but he is not here to share this moment.
"During the times when I get tired and exhausted, my father would challenge me and said not to look at things physically but to trust God. In honour of his memory and passing, I will strive for excellence because this is my gift for him."
Ms. Fiatau also thanked her family members locally and overseas for their support during her educational journey.