Best friends claim top awards at N.U.S.
Two childhood friends who went on to do the Foundation Year programme at the National University of Samoa (N.U.S.) were among the course's top students this year.
The N.U.S. has announced 18-year-old Sophie Warren Tualaulelei this year's top commerce student while her pal 19-year-old Malnnie Nofoagatoto'a is the top arts student.
The two top students – who became childhood friends since enrolling at the St. Mary's Primary School to do Year 1-8 and secondary education at the St Mary's College – were emotional as they shared their journey following a special awards presentation ceremony for the N.U.S. Foundation Programme and Technical and Vocational Education and Training (T.V.E.T.) 2020 students.
Speaking to the Samoa Observer, Ms. Nofoagatoto'a said it is an honour to achieve something with her best friend by her side, after a challenging academic year.
"We worked so hard, it was not easy and achieving this together makes it extra special, knowing we have best friends who push each other and that's a blessing and a gift," she said.
For Ms. Tualaulelei, she said achieving a top honours award in the N.U.S. Foundation Programme isn't something they thought they were able to achieve.
"It's been a long journey, we've met different people, different students from other schools but we managed to pull this together," she added. 
"We've been there for each other, we've had our ups and downs, we managed to overcome them all and make our families, our school, our girls, our church and everyone proud."
The pair credited God and his guidance for their success and said the top honours they were awarded on Wednesday belongs to their families and everyone who had supported them through their journey.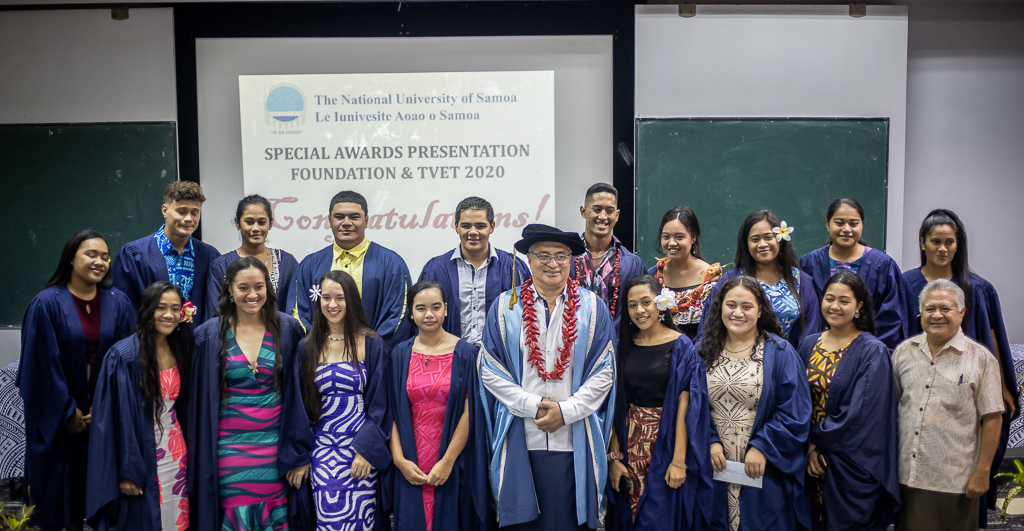 They said having to adapt when their school work moved online so suddenly, due to the coronavirus lockdown, was the biggest challenge they faced this year as they tried to stay focused.
"We just received instructions from our teachers but it is very hard for us to understand, especially it is our first year in University, and to overcome that we were determined not to lose focus, despite it being a very distracting period," added Ms. Tualaulelei.
"Setting our minds to our goals and being determined is what got us here, and why we are here. Everyone worked so hard; everyone deserves a clap."
The two graduating students acknowledged their families, churches as well as the rest of their group of friends who could not make it to their awarding ceremony on Wednesday.
"This award is not only for us, but also for you all. What is good for us will also be good for our communities and that's what matters," Ms. Tualaulelei said. "And we cannot wait to come back, serve our communities and see what the future holds for us."
During his congratulatory speech, the N.U.S. Vice-Chancellor, Professor Alec Ekeroma recognised the top students' efforts throughout a year marred with disruptions to their coursework.
"I'm sure you have your own stories as to how you managed to survive this difficult year and to be a top student," he said.
"Your family will be your witness for the many hours you have worked. So congratulations to you all and also congratulations to your parents and family."
Professor Ekeroma then reminded the top students that excelling means they have most likely developed good habits or observed from successful people, they are required to have goals as they move forward in life.
"You will most likely be leaders in different fields and leaders you must, our country depends on you," he added. "We look forward to welcoming you back. But for the meantime, the N.U.S. community and staff are proud of your achievements and it is a day of celebrations.
"Go out and celebrate and even when it's raining, it is okay to dance in the rain." 
Aspiring lawyer, Ms. Nofoagatoto'a is the daughter of Leaana Malo and Connie Nofoagatoto'a from Vaivase. While future accountant, Ms. Tualaulelei is the daughter of Tom and Lahoma Warren Tualaulelei of Sinamoga.