Digicel launches Tevi's Learning Centre at Samoa Primary
Samoa is a step closer to achieving its hopes of developing a national I.C.T (Information and Communication Technology) sector with the grand opening on Monday of a new learning centre sponsored by Digicel.
The Tevi's Learning Centre is dedicated to the memory of a leading Samoan woman and pioneer in the I.C.T. sector, La'eimau Oketevi Tanuvasa-Savea. It is expected to benefit the students of Samoa Primary School and students from neighbouring schools.
Just over a month after its groundbreaking, Samoa Primary School together with Digicel Samoa commissioned the project on Monday morning.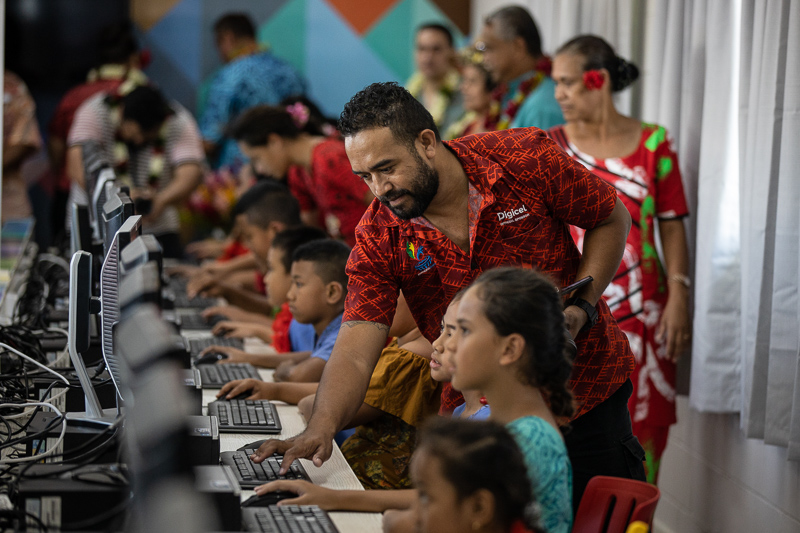 Co-Principal, Sue Sua said the selection of Samoa Primary as the location of the project followed an assessment by Digicel.
"[It is] a decision that we are eternally grateful for," the Principal said.
The laboratory is equipped with air conditioning, furnishing and 39 computers, all funded by Digicel.
"We are very excited to be able to reopen classes, teaching students necessary computer skills. All classes will have access to the lab and will be available for the upskilling of our teachers in ICT," she said.
Schools in the community will also be able to request time to access the computers as will Digicel when they wish to conduct workshops, Mrs. Sua added.
The project was built by Conrad Keil and a team of builders in only five weeks.
Digicel Samoa Chairman, Pepe Christian Fruean; Digicel Samoa C.E.O., Mark Witthuhn; the Minister of Communication, Afamasaga Rico Tupai; and thetwo co-principals of Samoa Primary, Mrs. Anne Leauga and Mrs. Sue Sua. Photo: Francis Faalili.
 Minister of Communication, Afamasaga Rico Tupai, on behalf of the Government, congratulated Digicel for the initiative and challenged them to build more.
La'eimau, the former Chief Executive Officer (C.E.O) of Computer Services Limited and Director of Digicel Samoa Ltd, passed away in December 2018. 
She was the first computer science graduate in Samoa. Laeimau was also instrumental in advocating and lobbying for the establishment of Digicel in Samoa as well as developing Samoa's I.C.T sector.
The late La'eimau and her husband, Samuel Savea's only daughter, Luisa, is also a former student of Samoa Primary School.