Father jailed unlawfully tells about ordeal
A man who was unlawfully jailed for more than four years, Sio Agafili, says he was unaware that his jail term had ended in 2015.
Agafili also known as Galo Agafili, of Sailailua Savai'i was released on bail last week by Consent Orders after the Court found that he has been unlawfully jailed for almost five years. 
His unlawful detention was uncovered by Justice Leiataualesa Daryl Clarke after reviewing Agafili's file upon appearing in Court over an incident at the Tanumalala Prison.  
During an interview with the Samoa Observer, Agafili said time went by so quickly, where he initially served his time before being transferred to Tanumalala prison. 
"I had asked to go on parole in the past but it wasn't accepted," says the 45-year-old father. 
"I'm divorced and have three girls; one is 15 years old, the second is 12 and the youngest is 10 years old. I can't recall when the mother of my children and my children left for Australia because I had been in jail for quite some time." 
Agafili was sentence in 2008 for five years for burglary and theft. 
While in prison, he re-offended and was later convicted of indecently assaulting another male prisoner at Tafaigata prison in 2015. 
That sentence was ordered to be served concurrently with his earlier crime.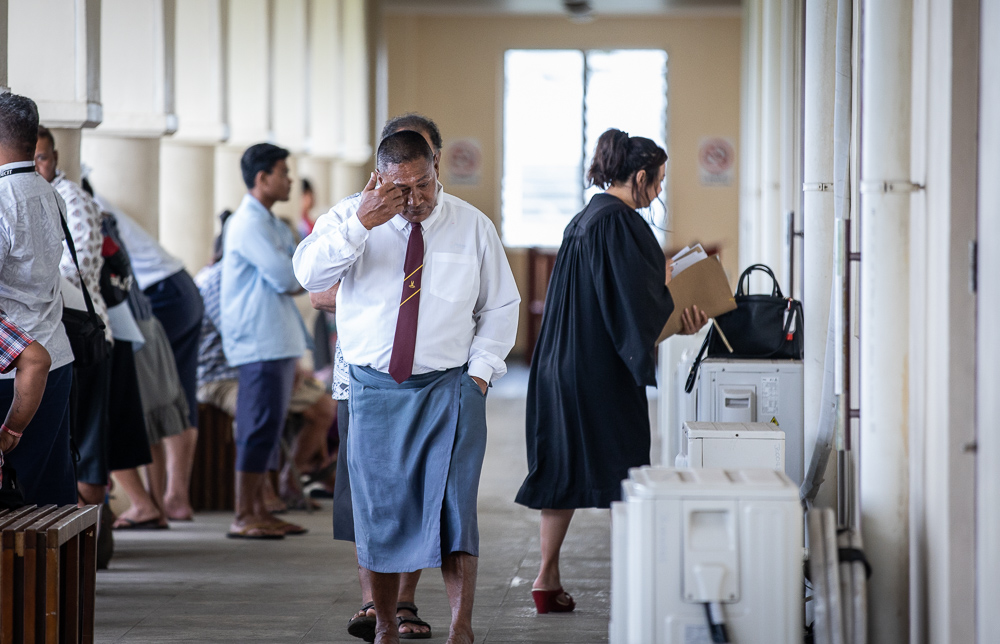 Agafili outside the Court on Monday.

According to Court records, the father of three was supposed to be released from jail in December 2015. 
That didn't happen and he continued to serve time without knowing when his imprisonment term expires. 
"No one told me when my jail term will end," said Agafili. 
"I lost count of the days [behind bars]. I don't remember much about when I should be out, I just know I had to serve my time."
Agafili recently appeared before Justice Leiataualesa to answer to charges of grievous bodily harm in an incident at the Tanumalala prison. 
It wasn't until then that the Court found that Agafili had been kept behind bars for more than four years when his jail term had already expired. 
That matter is pending in Court for sentence until July with the 45-year-old being remanded on bail. 
Asked if he intends to take legal actions for his unlawful detention, Agafili said he will know after he talks to his lawyer. 
Meanwhile, the father said it feels good to be out from prison. 
"I came with my uncle [at Court] today," he said.  "I will be able to talk some more once I discuss those other matters with my lawyer."   
 In response to queries from the Samoa Observer, Agafili's lawyer, Muriel Lui said their priority last week was to get her client released and will consider any "legal options" once her client is ready.