Wesley College Principal laid to rest
Former Wesley College principal and Methodist Church minister, Reverend Pasetto Eteuati, has been laid to rest.
The Wesley College and the Faleula Methodist Church closed on Monday as students, church ministers and friends joined the grieving family and relatives of the late church minister to pay their last respects before he was buried on Monday.
The late reverend, who died from a heart attack early this month, is survived by his four children. His wife Siniva Eteuati died on Christmas eve last year. 
Giving the eulogy at her late father's bereavement, eldest daughter Sunema Pasetto paid tribute to him by singing a song.  
"Thank God for a perfect father. You have worked hard, to feed our thirst and hunger," she sang. 
Ms. Pasetto said her father had a strong conviction in God and his work for the church and encouraged his children to take after him.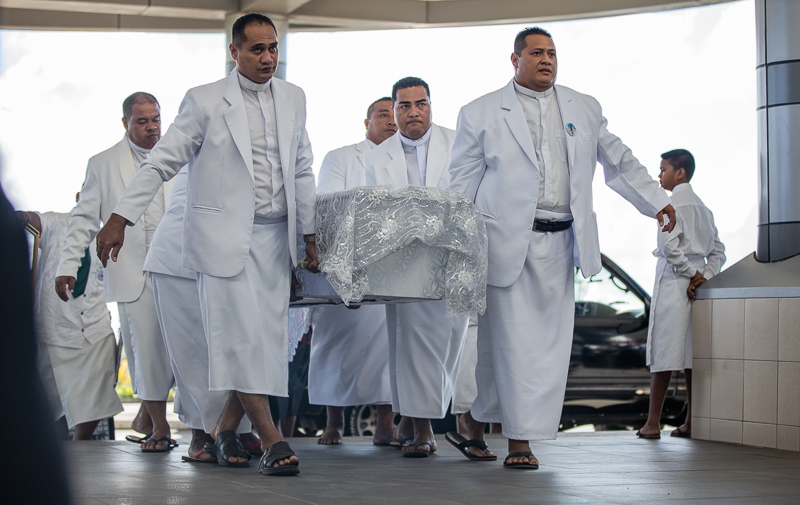 "The most painful thing that I always think of is how he always talks about the church and how he's very obedient of the church and supportive in everything the church does."
Ms. Pasetto, who is currently a student at the National University of Samoa [N.U.S.], said the future looks uncertain for her and her three siblings but her father would want her to be strong for the young ones. 
His final services were led by the Methodist Church President, Rev. Faulalo Leti and Secretary, Rev. Eteuati Leupo Tuioti.
The late Reverend Eteuati had been the Wesley College Principal since 2018 and prior to that the Uesiliana College Principal.
His career highlights include: Methodist Church Main Office [1997]; Bachelor's of Arts Degree N.U.S. [1998]; teacher Avoka Theological College Faleula [2000]; teacher Wesley College [2003]; vice principal Uesiliana College [2006]; principal Uesiliana College [2011]; church minister, Neiafu-Tai Savai'i Methodist Church [2015]; and Wesley College principal [2018].