Women officers eclipse men in historic Police swearing-in
The Samoa Police Service welcomed a new intake of 44 recruits in what was described as a "historic" graduation ceremony.
For the first time in the history of the Samoa Police Service, there were more women in the graduating class than men.
A total of 59 per cent of the graduating class were women, according to figures provided by the Police, and were passed out in a ceremony at the Police Headquarters on Thursday morning.
One member of the class of 2020 was a long-serving civilian officer of the Samoa Police Service who decided to switch to working on the frontline: Patricia Aoelua.
"This is such an honor," she said.
Ms. Aoelua is amongst only 44 hopefuls who qualified out of 150 hopefuls .
The new recruits age in range from 21 to 45.
Amongst the newly recruited Constables were four former Land and Transport Authority Traffic Officers.
In congratulating the recruits, Police Commissioner, Fuiavailiili Egon Keil said the graduating group is the first to be trained in a Samoa Qualification Authority approved curriculum.
"This class does not only assure a quality product but also produces an intelligent and critical thinking workforce; a workforce that has the confidence of the people of Samoa and reduces liabilities to our Government," he said.
"I am very happy to report that, for the first time ever, the Police Academy curriculum has been approved by an outside Qualification Authority.
"The Samoa Qualification Authority has given its seal of approval for the necessary and professional materials offered and training and taught by our qualified Police Instructors.
"This class is the first one that went through an [S.Q.A.] approved curriculum, so that's a landmark guys. Well done."
Fuiavailiili said it was always good to bring in fresh perspectives to improve and add value to the Samoa Police Force.
He told the new Officers that working in the Police was not to not work for personal gain, but to serve the people of Samoa as brave and honest public servants.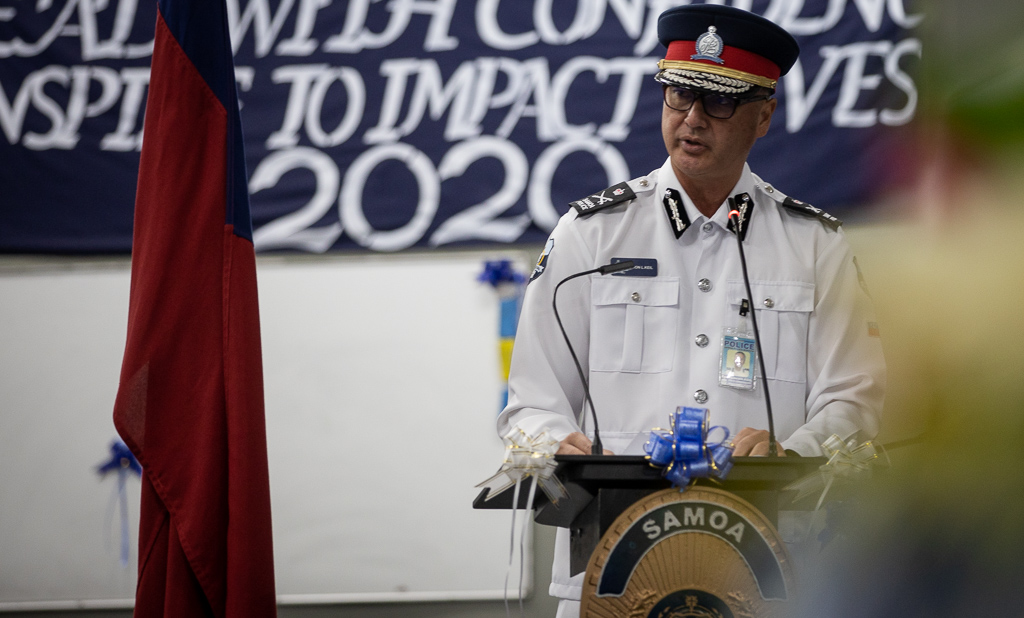 "To our new officers, I encourage you to continue to learn this is just the beginning of your Police learning process. Don't wait and expect our Government, us, to assist you to go out there and do it," he said.
"I will also remind you of the oath that you have taken, do not take in lightly, they are not just words. They mean something. Use the powers you now possess to help our Government, our people, our country.
"Be a great public servant. You will be judged and you will be challenged by many, however, I truly believe that it takes guts and love for country to do what we do."
The course the new Officers had to undertake ran for 15 weeks and introduced the foundations of basic police work such as the collection and treatment of evidence and undertaking investigations.
But other areas covered in new recruits' lessons included an Introduction To Policing; Pacific Policing; Human Rights; Constitutional Rights; Ethics And Responsibility; UN Conventions; and Public Relations; Community Awareness and Relations.
A number of new recruits were rewarded for their outstanding performance during the induction process. They included:
Top student award: Constable Fu'a Elekana.
Best All Rounder: Constable Fativaotele Faaleofi
Most Disciplined: Constable Liua Godinet.
Students' Choice: Constable Vili Viliamu.