Ophthalmologist shares her journey
The Head of the Ophthalmologist Unit at the Tupua Tamasese Meaole National Hospital (T.T.M.) at Moto'otua says she wants to encourage women to achieve their career goals.
Lucilla Ah Ching-Sefo reflected on her professional journey and all the hurdles and challenges she had to overcome in order to accomplish her goals.
"I am an ophthalmologist, which is a doctor that specialises in diseases of the eyes; I've also held the position of Head of Ophthalmologist at our hospital for the past three years," she said.
She shared her journey in the hope that her story may be able to inspire and motivate young women to become a better version of themselves.
"Ever since I can remember I have always been quite independent; I did not want to rely on anyone for my happiness and well being," she said. 
"To achieve this I realised I needed a good education and then landed a well-paid job."
At an early age Dr. Ah Ching-Sefo said she was not sure what she wanted to be when she grew up: she thought of becoming either a lawyer, architect or a doctor.
She recalls: "My decision to pursue medicine was greatly influenced by my dad: Salausa Dr. John Ah Ching; he would always tell me about his experiences and how fulfilling his profession is. However, during my Dad's early part of his career, females physicians were still quite rare in Samoa."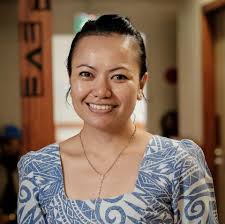 She recalled that there were only three women working in the hospital at the time: Mase Dr To'ia Alama, Papali'i Dr Viopapa Annandale and Namulau'ulu Dr Nuualofa Potoi.
"Despite this situation, the fact that he didn't hesitate to recommend such a male-dominated profession to his daughter, speaks to the caliber of these women who paved the way for all of us who have followed in their footsteps," she said.
"Women are capable of excelling in the medical profession and put to rest any doubts that it is solely a men's dominant professional.
"To them, we owe a huge debt of gratitude, I'm sure they faced a lot of challenges along the way, but thanks to their perseverance female doctors are now a common sight and nobody thinks twice when a young girl decides to study medicine."
She remembers her foundation year at the National University of Samoa (N.U.S.) where all the five scholarships for medicine were awarded to girls. Today, 48 per cent of all the doctors at the Motootua national hospital are women.
"I am proud to say that our 1998 foundation year produced five doctors, all females and all serving in Samoa in different specialty areas," she said.
In 1999, she started her medical studies in Fiji.
"Looking back at my time in medical school [...] it was an enjoyable time but it was also the very challenging period of my life," she said.
When times get rough she always remembers the advice given to her by a Carmelite nun, Sr. Antonina, who is a close friend to her family: "Just make sure you do your best and leave the rest to God".
She believes that her mother's prayers and her recital of the rosary helped her complete her Degree and kept her safe during the years she was away from her family.
"After six years of study I graduated with my Bachelor of Medicine and my Bachelor of Surgery, and I returned home and started on my internship at the hospital," she said.
Soon after, she became a fully registered doctor.
"I chose ophthalmologist because it was suitable and perfect for me," she said.
One of the hardest moments for her was leaving behind her one-year-old and going abroad to finish postgraduate study.
"[It] was one of the hardest decision I ever had to make, thankfully I'm blessed with an incredible husband and have an amazing support system in our family," she said
For Mrs Ah Ching-Sefo her family's sacrifice is what motivates her to succeed.