Eleven graduate from theological college
Eleven students have graduated from the Tuamafa Fili Malae Theological College with certificates and diplomas in various courses.
Pastor Dr. Teleiai Sapa Saifaleupolu, who is currently the acting head of the Tuamafa Fili Malae Theological College, told the graduating students on Thursday that their passing out is a testament to their hard work over the last three-years.
"We are all gathered here today to acknowledge and witness the work of each graduate students of 2019 Tuamafa Fili Malae Theological College," he said.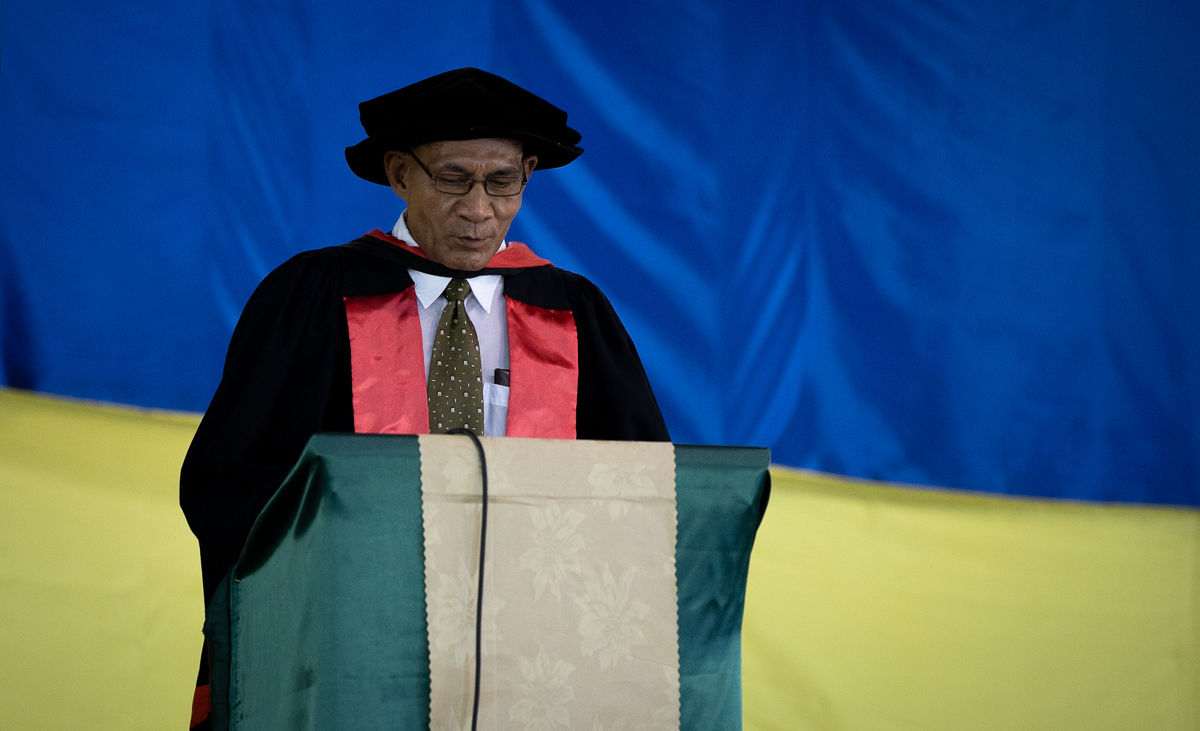 The theme for the 2019 students graduation was "thine for service" with guest speakers also including Prime Minister Tuilaepa Dr. Sa'ilele Malielegaoi.
Dr. Teleiai said the graduation on Thursday was a day that all the students dreamt off and were looking forward to and was a reward for families and friends.
"As says in the bible, this is the day the Lord has made to rejoice and be happy in it," he said.
Pastor Solomona Aleni, who spoke on behalf of the graduating class, said thanks to all families and friends who supported them and prayed for their studies.
Reminding the graduates of the advice given by Prime MInister Tuilaepa, Dr. Teleiai told the graduating students of the words of encouragement and advice that the Prime Minister and Pastor Manuao Maui'a gave.
"Which will help to your next journey in life and keeps you going further into life as serving the Lord," he said.
Congratulating the students on a job well done, Dr. Teleiai said everyone did a good job to pass all their courses over the three-year duration of the program. 
"Many of you have jobs to do to provide for the families and support them, also trying to manage the time and money because the school is really expensive," he said.
"But as it today your families and friends are going to witness it, and even some of you are elderly but that did not stop you from completing your studies."
Dr Teleiai said it would not be easy for those graduates doing the work of God, as they will continue to be tested by the Lord. 
"Like what the Prime Minister said the work of god has lots of challenges, and god will allow those challenges to make your faith grow in his work."
The youngest of the graduating class, 17-year-old Roshana Toni Vetemotu, said  she is grateful for graduating as she was in school for two years and the sacrifice has paid off for her.
"I struggled a lot because I have to go to school here at the theological college and then study at the Seventh Day Adventist College," she added. 
The 2019 graduating class were: Certificate in Administration & Leadership – Roshana Toni Vetemotu. Diploma in Administration & Leadership – Cecelia Vetemotu. Certificate in Ministry – Lemaota Fareni Toga, Sopi Gago, Tuialii Tuialii. Diploma in Ministry –  Ah Sui Mariner, Alesana Ah San, Penisula Feo, Iti Toni Vetemotu, Solomona Aleni and Beavy Tuialii.