Gospel concert draws hundreds
A gospel concert led by American evangelist Eddie James attracted hundreds of people to Gym 1 Tuanaimato last Friday evening.
Mr. James is a worship artist, minister, and founder of Eddie James Ministries who has been in ministry for more than 20 years and traveled the world full-time for 16 years. 
Friday's concert also featured a local band made up of young talented people from different denominations.
One of the organisers for the concert, Apostle Cruise Westerlund, told the Samoa Observer that the idea of having a concert occurred in 2016.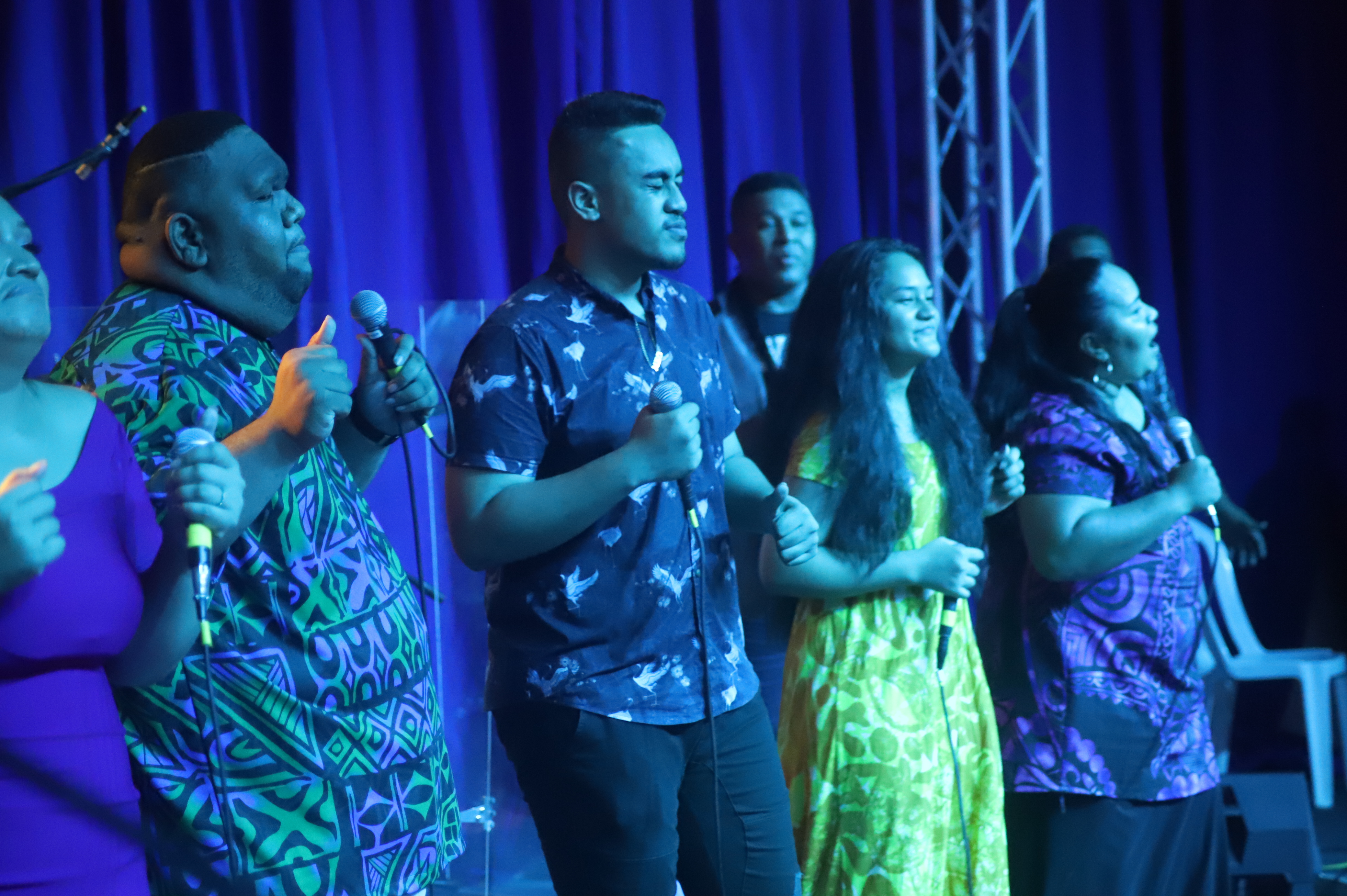 "I first heard Mr. James leading worship in America when we went with the team," he said.
"Apostle Cruise said that there were 80,000 people present at the event in America and he felt in his heart that Mr. James needed to come to Samoa."
"The challenge was the measles outbreak, churches and public gatherings were [cancelled].
"I respect the Government and the State of Emergency; I don't want to dishonor anyone.
"But every time I went inside my prayer closet the Lord would speak to me and say this is something Samoa needs more than ever."
He said that it was difficult during the two weeks when the measles-related death toll kept increasing.
"But the event we planned took months of getting sponsorship and other planning," he said.  
"We believed that God will come through in spite of the entire situation and the Lord dropped these words in my heart, an unprecedented crisis demands an unprecedented praise so in the midst of this crisis God says I need you to praise.
"God's praises resounded in the Tuanaimato complex with many participants having an encounter during the concert; it was an indescribable night."
Apostle Cruise added that he has never sung that loud and danced that hard just to celebrate God healing the land.
"The highlight was when there was a moment where we felt heaven came down and it permeated the whole facility," he said. 
"There were people just falling down, crying and no one was touching them. The emphasis was on praise and the bible does say God inhabits the praise of its people.
"Samoa we need to wake up and put up our garments of praise because God is here and he wants to heal us."
The concert was vital for Samoa to have amidst the measles crisis,. he added:
"It only takes a group of people for God's presence to come down and heal the land just like how Abraham was one man but because he was connected to God he saved his nephew Lot from Sodom and Gomorrah because of that connection.
"And because of last night's connection with God, this country is blessed and I believe that with all my heart.
"It is time for us to rise up, put on our garments of praise because these are garments of victory in spite of all this, let us look to God let us believe that he will make all things work for our good."
Organisers hope that the concert will bring a national healing to everyone that has lost loved one because of the measles.
"At the end of the night we finished it with the national anthem of our country, I have sung it hundreds of time during primary school but Friday night was special when we sang it. It is our time to have faith, believe and dream," he said. 
 "We hope to continue organising concerts such as the one we have done.
"It was not bad for a first time, I mean we did have minor difficulties with the sounds but aside from that it was great."
He acknowledged the sponsors: Mash Motors, Betham Brothers Enterprises Samoa, Rudy Nauer Machinery, Maria's Healthcare Pharmacy, Ink Patch Money Transfer, Samoa Commercial Bank, Le Manumea Hotel, Naydith Hirage, Lotopa Lodge, Lotopa Commercial vehicles.
"Donors are: Samoa Stationery and Books, Eazy Print, Lotopa Lodge, Wizconsult, Cool It, Skyview Villas Tiapapata."