P.M. angrily denies blame for epidemic
The Prime Minister, Tuilaepa Dr. Sailele Malielegaoi, hailed the first hours of the national shutdown and mass door-to-door vaccination campaign on Thursday a success. 
But at a heated morning press conference those achievements were overshadowed by a testy exchange with a British reporter who asked if such drastic action was only made necessary because his Government had been too slow to respond to measles. 
"The measles that we got came from a visitor from New Zealand so we did not leave it too late what we have decided to do is to inject all the children first to ensure that the needs go hand in hand with the quantity with the medicines that we have," Tuilaepa said.
"We are grateful as more and more vaccines arrive we extend the coverage include older people who have immunity than the young ones."
But a London Daily Telegraph journalist, Brian Deer asked the Prime Minster that, after talking to some members of the community, he concluded: "You seem to be blaming other people for this epidemic."
Tuilaepa told Mr. Deer he was wrong: "We are not blaming, and we were educating them."
"Understanding the problem is a big thing you do not know because you are not a Samoan."
Mr. Deer - who shot to fame as a British investigative reporter for debunking a later-withdrawn Lancet study that linked aurtism to vaccines - interrupted Tuilaepa by saying that he knew that Samoa's national vaccination rates were down to less than one-third of the population, or 31 per cent when the epidemic struck. 
The Prime Minister informed Mr. Deer that making people aware is the first step.
The journalist interrupted again by saying that Tuilaepa did not do that.
"We did so many times; I think you talked to the wrong people," he said. 
Mr. Deer continued to interrupt the Prime Minister, which drew, in turn, an angry response. 
"You came from where, London, England? What have you written about Brexit?"
Mr. Deer responded that Brexit was not the issue at hand. 
Tuilaepa said that it is not an issue for the British journalist that the issue of the United Kingdom leaving the European Union had massive implications for one million people across Europe.
"Before we talk about problems, talk about your own problems," he said, before calling for the next question. 
The Minister of Communication and Information Technology, Afamasaga Rico Tupai, stopped Mr. Deer from asking further questions but the Tuilaepa said it was alright.
"Our people are more conscious now than before that coming and having your children vaccinated is the only way," he said. 
Asked whether he will visit families who have lost the loved ones to measles and he said he will visit everyone.
He was also asked whether families who had lost members to the epidemic will get any compensation from the Government.
"I have never thought of compensation and thank you for raising the issue.
Tuilaepa said that an online digital platform played a major role in guidihg the vaccination campaign. The preliminary figures from Thursday are expected to rise following the inclusion of manual data 
"With the usage of our latest technological information reform that helps us the decision makers to find out the latest in the numbers of those vaccinated," he said.
Tuilaepa added that the mass vaccination initiative, rolled out from November 20, helped pave the way for Thursday's impressive numbers. 
He said that after returning from a trip to Savaii, where members of Cabinet visited various centers the Government said that over 43,000 people have already been vaccinated in Savaii.
A major challenge that Samoa faces is the attitude by some people thinking that it is safe and that the measles disease do not result to deaths despite warnings on television and radio, the Prime Minister said. 
One example provided was a family that was near the Moto'otua Hospital who had numerous red flags being raised in front of their homes.
"[This is] indicating that despite being a couple of steps from the hospital they did not bother to vaccinate their young," the Prime Minister said. 
"This has been the challenge we have been facing in our country.
He advised mothers to seek early treatment and get their children vaccinated.
"We also have our traditional healers who have been treating our people successfully," he said. 
"Let us all unite together in this campaign to save lives".
When asked about his perspective over a child who was refused vaccination in New Zealand which has angered the Prime Minister, Jacinda Adern, he simply said: "I do not have any say at all in respect of the laws of New Zealand.
"In exactly the same way that the New Zealand Prime Minister has no say in how we implement our laws."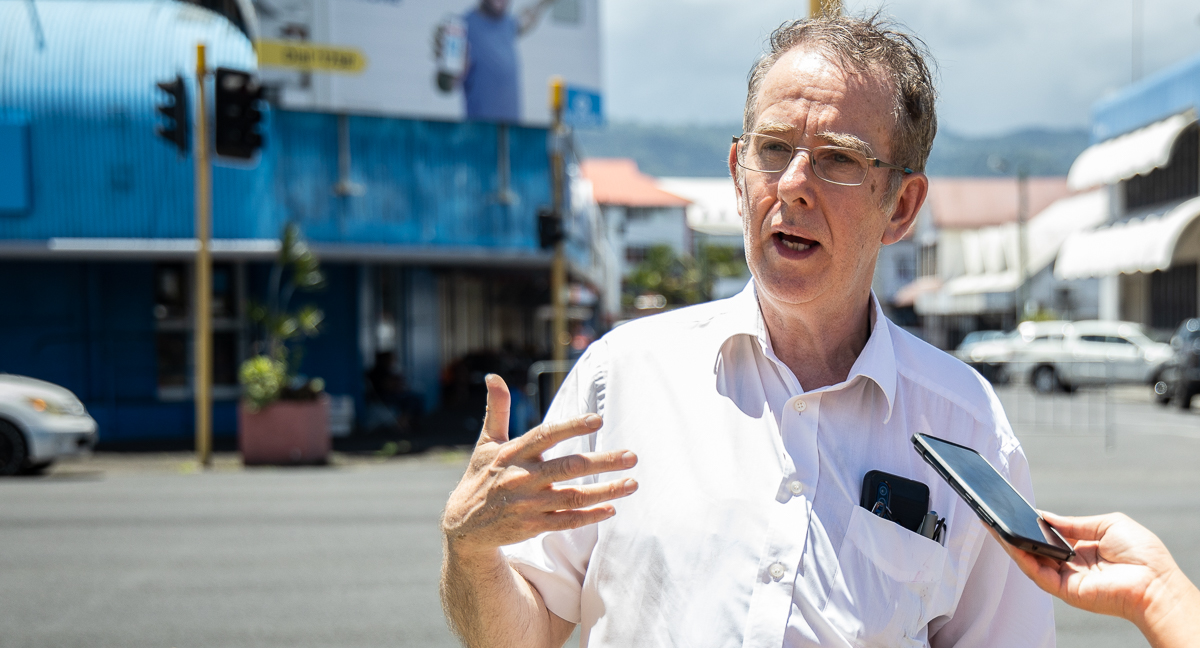 He acknowledged foreign support from China, Japan, and America.
"I want to also thank all those out in the fields our doctors, nurses, physicians and health workers that have come all the way from New Zealand, Australia and Hawaii