"I did not feel like celebrating when so many lives have been lost" - St. Mary's College Dux
The biggest moment in Sophie Warren Tualaulelei's life as a student has arrived with mixed emotions. 
Having been named the dux of Saint Mary's College for 2019, the 17-year-old daughter of Lahoma Warren and Tofilau Tom Tualaulelei, of Sinamoga, has had to celebrate her success quietly.
The measles epidemic which has so far claimed 32 lives has meant she could not be presented with the accolades during the usual end of year celebration.
Instead, Ms. Tualaulelei was quietly told the good news on the last day of school when it was abruptly closed by the Government under orders of the National State of Emergency.
She received her report card together with her trophies from her school at Vaimoso.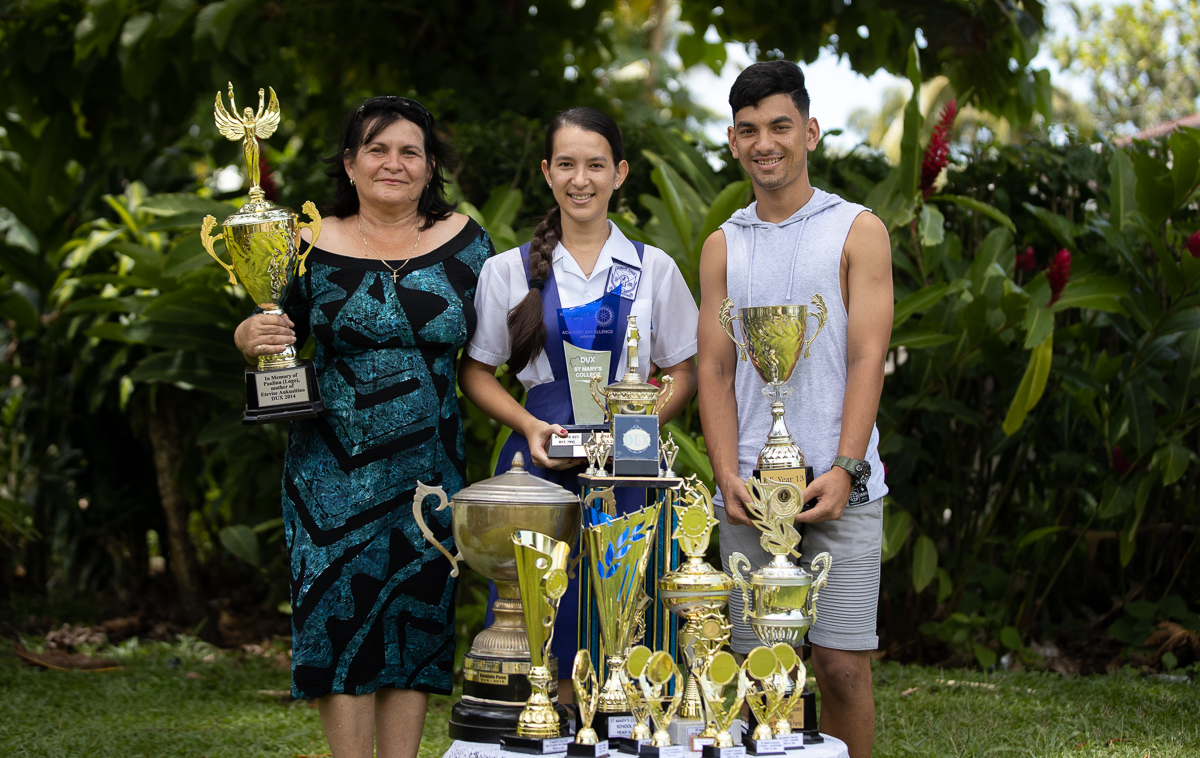 She came first in English, Mathematics, Accounting, Economics, Music, Religious Education, and top commerce student.
"It is such a privilege and an honour to be given the award of being a dux," she said.
"I admit I was sad at first when we all found out that there was no prize giving but then I did not feel like celebrating when so many lives have been lost to the measles epidemic. I think prioritising the health of our people was more important."
The Deputy Head Girl of Saint Mary's College dedicated her success to everyone who has played a role in her journey thus far.
"My parents, my grandmother Sophie, families locally and overseas and especially God.
"Without God my whole journey would not be possible but also a special acknowledgement to the Bank of the South Pacific for sponsoring my school fees.
"Some of the challenges I faced include having the confidence to just be myself and be able to compete in competitions in school. I tried my best in every subject.
Her interest in being a commerce student started from looking after her family's shop at a young age.
"I usually looked after our shop when I was young, so dealing with selling goods instilled an interest to study business," she said.
"In the future I want to be an accountant.
"My parents are my role models in life. They work hard day and night to ensure our family's wellbeing and to secure a bright future for me and my siblings to allow us to succeed in achieving our dreams and goals in life.
"I also thank my one and only sister Marion Tualaulelei for always being there for me through thick and thin and for financially supporting me in school activities."
She also acknowledged her brothers Lole, Italia, Mauri and Roger for their support and always believing that she could achieve anything if she did her best and leave the rest to God.
"I also thank my prayer warrior and wonderful grandma 'Sophie Warren' for the endless prayers which got me this far. 
"I want to wish my brother Mauri Tualaulelei who is in China for further studies the best of luck in everything that he does in his academic life. Have faith and courage but most especially know that we are always here for you to support and help you all the way to the end.  
"Finishing high school is just the beginning of one journey; hopefully I make it to the National University of Samoa Foundation level to try my best to earn a scholarship to study overseas. 
"We all know that education is the key to success." 
She also thanked all the sponsors who helped their Year 13 class project such as Samoa Stationery and Books to provide the Year 9 and 10 level classrooms with tiled floors.