Student's speech about losing sister to cyber bullying wins contest
A 17-year-old student from Vaiola College has won Savai'i College's English speech, after he gave a heartfelt speech on the impact of cyberbullying and how it claimed the life of his sister.
Year 13 student, Jeran Teikanoa, from the Solomon Islands, conquered a tough field on Monday to successfully argue for the topic "spending time on social media networking is a waste of time".
His speech placed him first among speakers from 10 Colleges in this year's competition hosted by Tuasivi College.

Asked how he felt about winning the top prize, the young orator was speechless.
"I don't know what to say actually, I'm kind of lost for words," he told Samoa Observer. "I've worked hard for this and I spent a lot of time memorising my speech and it's like a dream come true.
"The feeling is equivalent to the phrase that silence has a sound. I mean there's just silence outside but inside my mind there is this feeling (of excitement) and optimistic all in me. I'm just grateful to have achieved what I just achieved."
Jeran reiterated that losing his sister as a result of cyberbullying on social media was an experience he would not wish on anybody.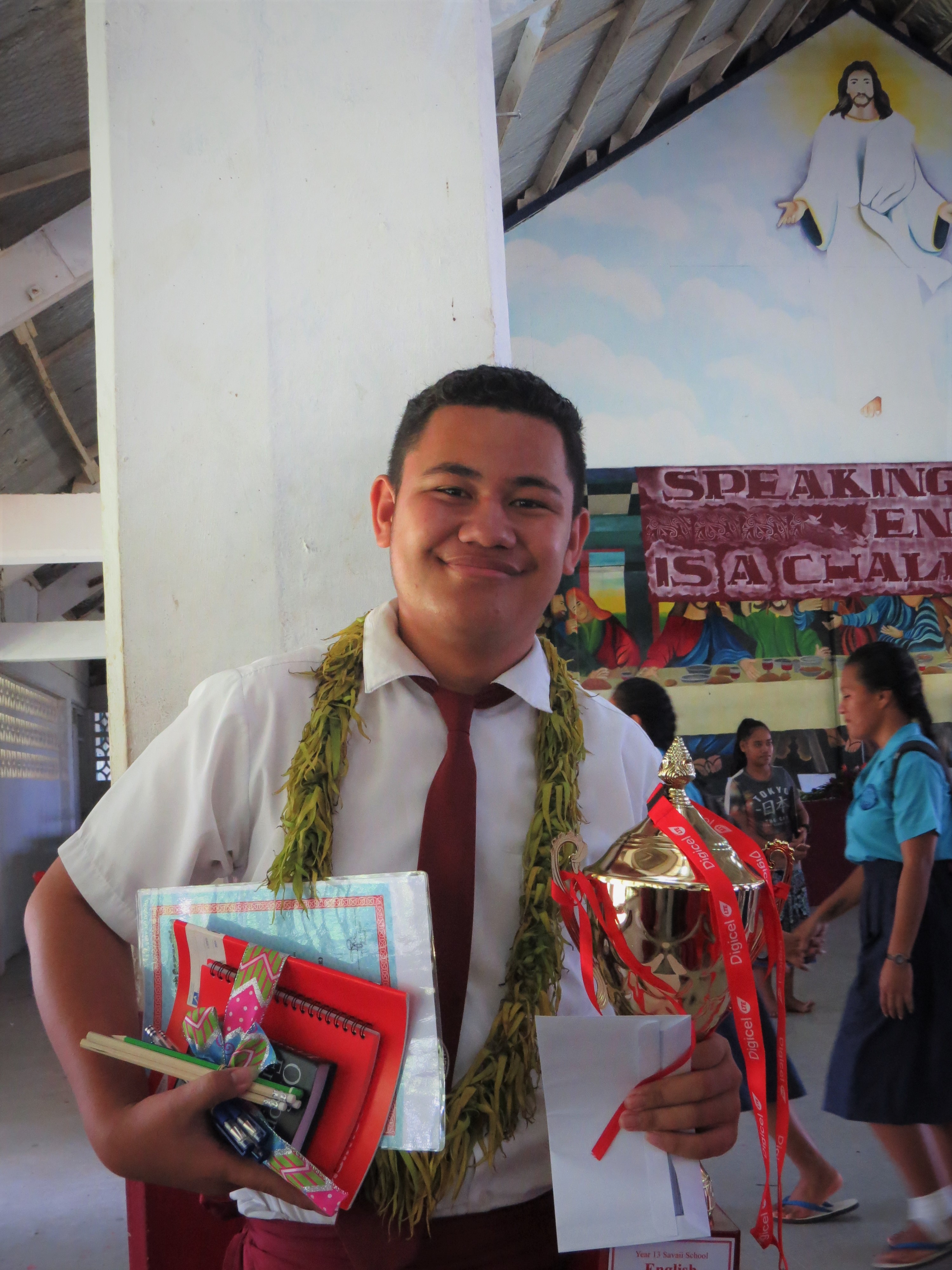 "I'm so grateful that I had a childhood before technology and social networking became addictive and manipulative. 
"This technology and social networking is your phone and internet sites that we waste most of our time and most of our day watching it.
"I chose that topic and spoke precisely on the topic because I had a sister who committed suicide just because of social media. I've also witnessed a lot of people and how miserable their lives have been because of social activities and social media.
"Cyberbullying lowers your self-esteem and causes people to feel lonely, self-doubtful and insecure. Some might be so offended that they end up committing suicide.
"People bully you on social media because they are too scared to face you. And my advice to those who are bulling people on social networking, I beg you to stop.
"I am not saying we should completely ban social media, but my opinion is that we should use it wisely and never use it as a tool to attack or harm others."
Held at the Tuasivi College school hall, the event took place before hundreds of students, teachers and parents.
Seventeen-year-old Cisco Pesamino from Tuasivi College came second, one point behind Jeran.
He spoke on the topic  "Climate Change is everyone's concern" and argued for the proposition, highlighting in his speech that the weather phenomenon is everyone's business and the solutions were in our hands. 
"I am just as thrilled as the winner of today's competition," he told this newspaper in an interview. 
"For me, the competition is more than just finding out who speaks better English. The main important thing for me is that the competition provided a platform for us to voice our views and opinions on the issues that we face on a daily basis.
"For example, we had the opportunity to listen and learn from other speakers on their views and perspective on climate change, education, environment, social media, cyber-bullying, women empowerment, violence in families and against women.
"So it has been very fruitful and being part of this year's competition was something I will always remember."
Savai'i Colleges' English Speech Competition  Results:
1st place – Vaiola College
2nd place – Tuasivi College
3rd place – Mata'aevave College
4th place – Palauli College
5th place – Itu-o-Asau College
6th place – Amoa College
7th place – Itu-o-Tane College
8th place – Alofi-o-Taoa College
9th place – Don Bosco College
10th place – Savaii Sisifo College