Slaven children's writing prowess make contest a family affair
The recent Samoa Observer Short Story Competition prize-giving ceremony was a family affair with the Slaven children walking away with prizes in various writing categories.
Quenjule, Alexandria, Christina and Charles – who are the children of Christian and Julie Slaven of Tanumapua – were awarded at the prize-giving ceremony at the Samoa Stationery and Books (S.S.A.B.) conference room last Thursday.
The writing competition comprises two divisions for English and Samoan, and in categories across Years 4-12 and Year 13 or University Foundation with the theme 'Once upon a time… or O le Tala Lenei…'.
Charles, who attends the Vaiala Beach School and is the only boy in the Slaven family, came third in the English category for Year 6 while his sister Christina who attends the same school came third in the English division for Year 7.
In Year 10 level for the English category, Alexandria attending Samoa College came second while her sister Quenjule took first place in the Year 13/Foundation category in the English division.
Mrs. Slaven, who was on hand to witness the prize-giving ceremony with her husband, was very proud of her children's achievements.
"I feel very blessed that my children have won awards and I also thank the sponsors. It has been an amazing time to have the chance to read their stories," she said. 
Mr. Slaven gave credit to God for his children's accomplishments.
"All the glory and honor unto God the Father and also those who have been supporting them spiritually as well our Reverend Nuuausala Siaosi of the Apia Protestant Church and his wife.
"We are very humbled by it; we thank God for the blessings and the gifts that he blessed my children with.
"The gifts the children have received will be used to further God's kingdom and to be of good use to other children in terms of encouragement," he said.
When asked how he felt about his children's writing success, he said: "It is something that you hope for your children and seeing them use their talents not just for themselves but to help other children."
"I also agree with Afamasaga Dr. Karoline Fuata'i who was saying 'It's not just English, there are other subjects like Mathematics and Science, literacy can be used in other areas.
"Literacy is very significant because it all starts from being able to read and write, comprehension is another important factor being able to comprehend what they are reading and being able to express their opinions and knowledge.
"It is part of building their knowledge and understanding as individuals which is a key part of progressing in life being able to read and write and getting your message across different people in terms of audiences."
The father of four added that as parents they had a role to play in their children's education, by encouraging them to read books. 
"My wife reads to the children from a young age and I sometimes read to them as well but they have other interests. But we try and prioritise reading not just any novel but one of the best books to read is the Bible which will help guide their lives.
"Our hopes and dreams for them is they can achieve anything they set out to do if they put their hearts to it, if it's writing they can pursue that but they can't do it by themselves, they need God every step of the way to support and guide them," he said. 
The eldest of the Slaven siblings, Quenjule said that her passion for writing started when her parents encouraged and pushed her and her siblings to read and write every day.
"In time, it became a habit, writing in our journals and I believe that reading is an escape to go to a whole new time and place and just be that whole different person and get away from the world.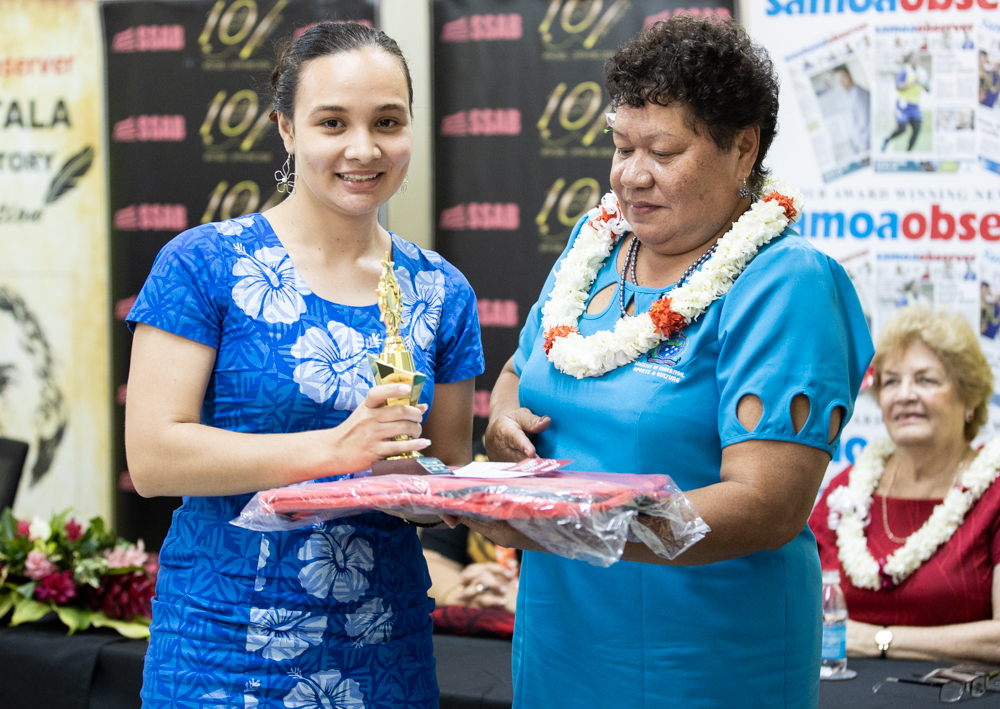 "My story that I came first in this year's competition is Dear Younger Self which is 10 years from now, giving words of wisdom that cultivated from childhood to now.
"When the competition came out, the time the story was due was the same time that I had my National University of Samoa (N.U.S.) Foundation exams, I had to write for my personal experience and it crossed my mind that about the advice my elders, parents, and people around me gave me," she said.
The 18-year-old, who is currently a science student at the N.U.S. Foundation Year, said her story is based on the advice that she has received since her childhood days. 
"The most significant advice for me was, 'a mistake that makes you humble is far better than an achievement that makes you arrogant.
"I have been writing ever since I was young and I plan to graduate first with a degree then travel; I believe that you can travel through reading books."