S.P.A. athletes' achievements celebrated
The Samoa Ports Authority (S.P.A.) celebrated two of their employees' successes at the recent Pacific Games with a brief parade and a dedication ceremony.
S.P.A. medallists included 28-year-old super heavyweight boxing champion, Filimaua Hala from Mulifanua and Fa'ala Palauli who is a security officer in the Ports Operations Division. 
And 19-year-old Rachael Moala So'oala-Toai, from Faleallii and Vaivase-tai and currently employed in the Maritime Division, was a bronze medallist in powerlifting, in the women's 84 kilogram plus category.
The S.P.A. Chief Executive Officer, So'oalo Kuresa So'oalo, first thanked the Lord for his guidance upon the athletes while they were underway with preparations and the competition in their respective sports.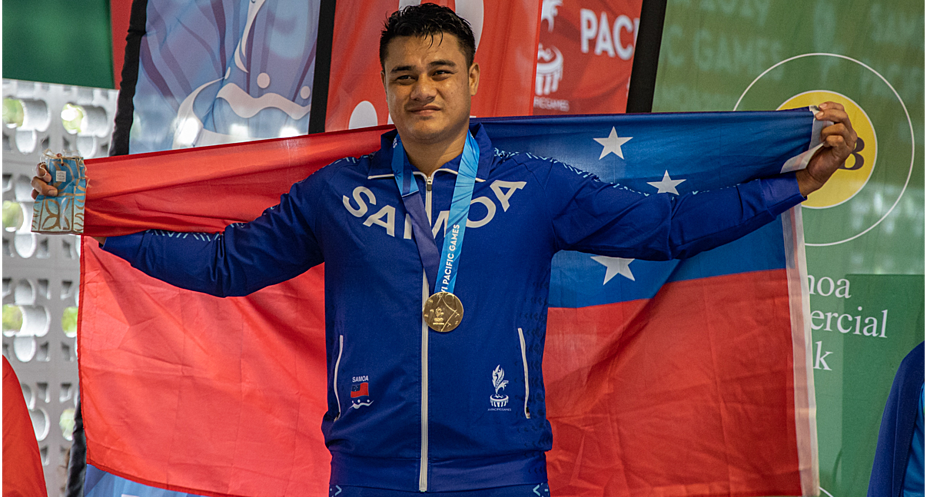 "We thank the Lord for his love who represented our organisation, their families, their villages and churches as well as our country in the Pacific Games we hosted," said So'oalo.
"On behalf of our Minister and Associate Minister, Board of Directors and management and staff, we dedicate this service for you two that represented us."
So'oalo praised the achievements of both athletes, saying they have achieved things that the S.P.A. previously would only have dreamt of.
"In truth many of us here can only dream of being a part of the Pacific Games but we cannot, because of the lack of persistence, but you two have done it all, and the praise goes back to God," he said. 
"In all these things, S.P.A. did not sit idle during the preparations of these games and obviously it has come to fruit."
The Ports Chief used the opportunity to challenge not only the two medallists but also his employees to chase their dreams and ambitions. 
He thanked Hala and So'oala-Toai for their bravery and wished them well for the future.
"Take this as a stepping stone for you both in your chosen sport pathways because from now on, because the end of one thing is the beginning of another," he said. 
"And may your achievements also be your challenges for the future that you only go up from here because people will not look at you the same way, they will think highly of you in your respected sports, meaning that whatever games you participate next; high expectations will always be there."
Hala who was dubbed the "King of the Pacific" spoke on behalf of So'oala-Toai and himself, saying he feels privileged by the recognition, and thanked the Ports Chief for the cash they have gifted for them both.
"Thanks to S.P.A. for everything. We don't have any blessings; only the Lord holds all of that, so may the Lord bless everyone abundantly," he said.
Hala was the only boxer to deliver a technical knockout during the boxing finals at Savai'i, which led to Samoa getting its sixth gold medal from boxing and the boxer's first ever gold. 
He was up against Tongan boxer, Hurrell Sepasitiano Lavemai, in the super heavyweight 91 kilogram+ division. 
Hala showed true sportsmanship when he helped medical personnel by the ringside attend to his opponent, who was knocked out few minutes into the first round of the match. 
The gold medallist, won silver at the 2011 New Caledonia Pacific Games, but said it was a different feeling winning gold at the 2019 XVI Pacific Games in Samoa. He dedicated his boxing gold medal to his father, who is also a boxer.
For So'oala-Toai, the 2019 Pacific Games was her first time representing Samoa in international games, ever.
"This is my first bronze medal and I am happy about it," Moala said in comments after the medal ceremony.
"It's a little bit harder especially I am competing in the super heavy category so it's pretty hard, but I am excited doesn't matter what medal I got."