Hundreds put in effort to clean up Samoa
Hundreds of people gathered at Malaefatu Park, Sogi, to support the river clean-up for four locations - Vaisigano river, Loimata o Apaula, Gasegase River and Fuluasou on Saturday. 
While Government agencies were tasked to clean up the Games venue, the Ministry of Natural Resources and Environment C.E.O., Ulu Bismarck Crawley, said cleanliness and tidiness is normal for Samoan people.
The challenge is to maintain it.
Ulu said they have noticed less rubbish in general, both in town and in the villages.
"And not only is it clean, the message seems to have gone beyond where we actually worked into the homes and villages. This is the actual awareness, is that it is reaching the households and its good," he said.
"We've seen more than the last time, it's less rubbish but more people engagement, and today it's a broad coverage. We have involved all our government ministries and also try to engage the private sector as much as possible, and this is the continuation of the last two clean ups as well."
Sylvia Craig-Kapu, of Craig Constructions, was seen out with their staff picking up rubbish at the Vaisigano river, saying they received a letter from the Chamber of Commerce, asking members of the private sector to assist.
"And our family, the Craig family, is strong believers in helping and contributing towards the environment and keeping our environment beautiful and so we asked all of our workers if they could volunteer their time this morning to help clean," she said.
With a team of 40, including children, they did not take long to clean both sides of the Vaisigano River from the bridge to the Sheraton Hotel.
"We are just a private company that wants to do our part to help Samoa get ready for the Pacific Games," she said.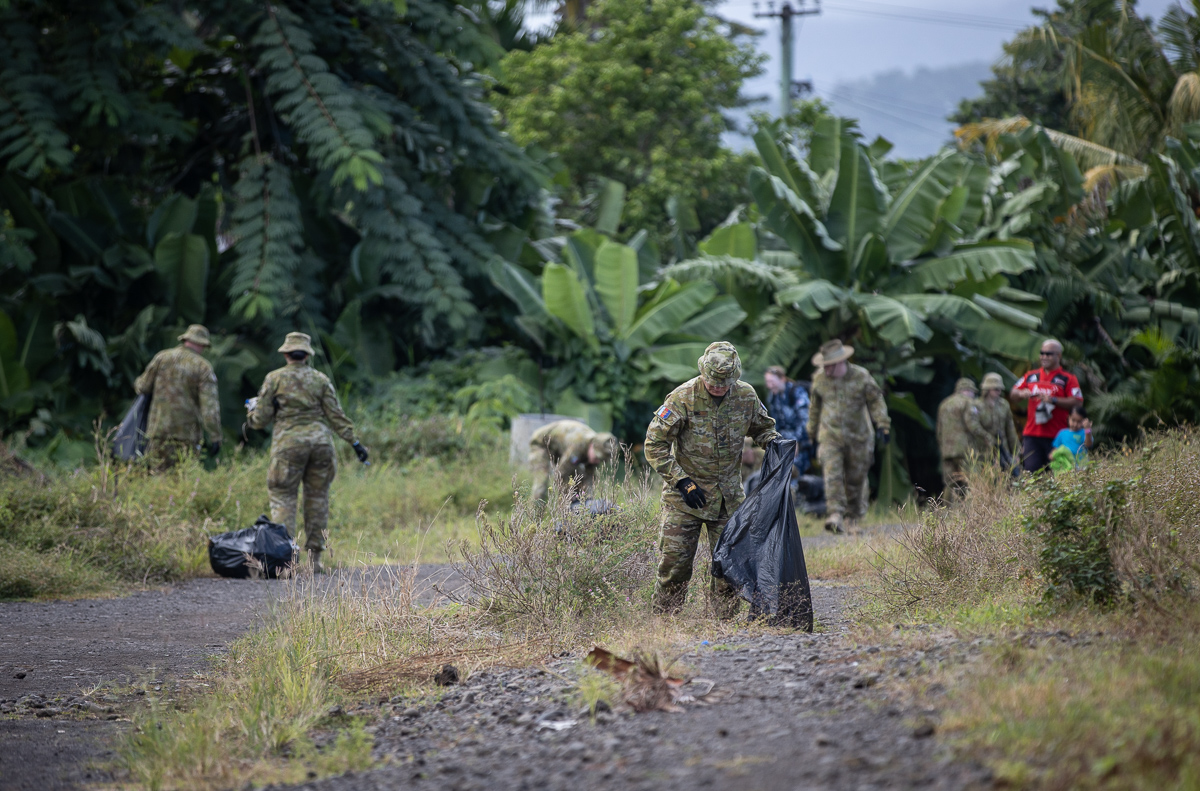 The Australian Defense Force also lent a shoulder to assist the Vaisigano River Clean up, picking up where the Craig Construction team ended.
Captain Jarrad Baldwin said they are more than happy to participate in the country's cleaning programme.
"We took the opportunity to join the local community and get our hands dirty and contribute back to Samoa while we are here.
"It's a problem that's widespread, particularly when it comes to marine waste and personally I'm quite passionate about that.
"I care a lot about the ocean but for me to do this as a military member, its a good feeling to contribute back and make a little bit of a difference, in a foreign country as well," he said. 
Ulu acknowledged the support of the Secretariat of the Pacific Regional Environment Programme (S.P.R.E.P.) as their partner throughout the clean-up events.
"So it was good to continue and maintain the momentum respond and feedback and we're quite happy and acknowledge the support of S.P.R.E.P., who has been our partner and of course all the government agencies, so it's been a tremendous feedback.
"Acknowledge support of the country, government ministries, and all the departments of Government, authorities and even the private sector and banks and everyone who contributed. It's been tremendous support," he said.