In memory of 'Mama Mousie' - Friends and families gather to honour her legacy
The life of one of the Cook Islands' most famous Samoan residents, Elisapeta Skews, or Mama Mousie as she was known, has once again gathered her dearest friends and families in Samoa this week.
They are here to attend the unveiling of her headstone on Tuesday night at her Tulaele residence.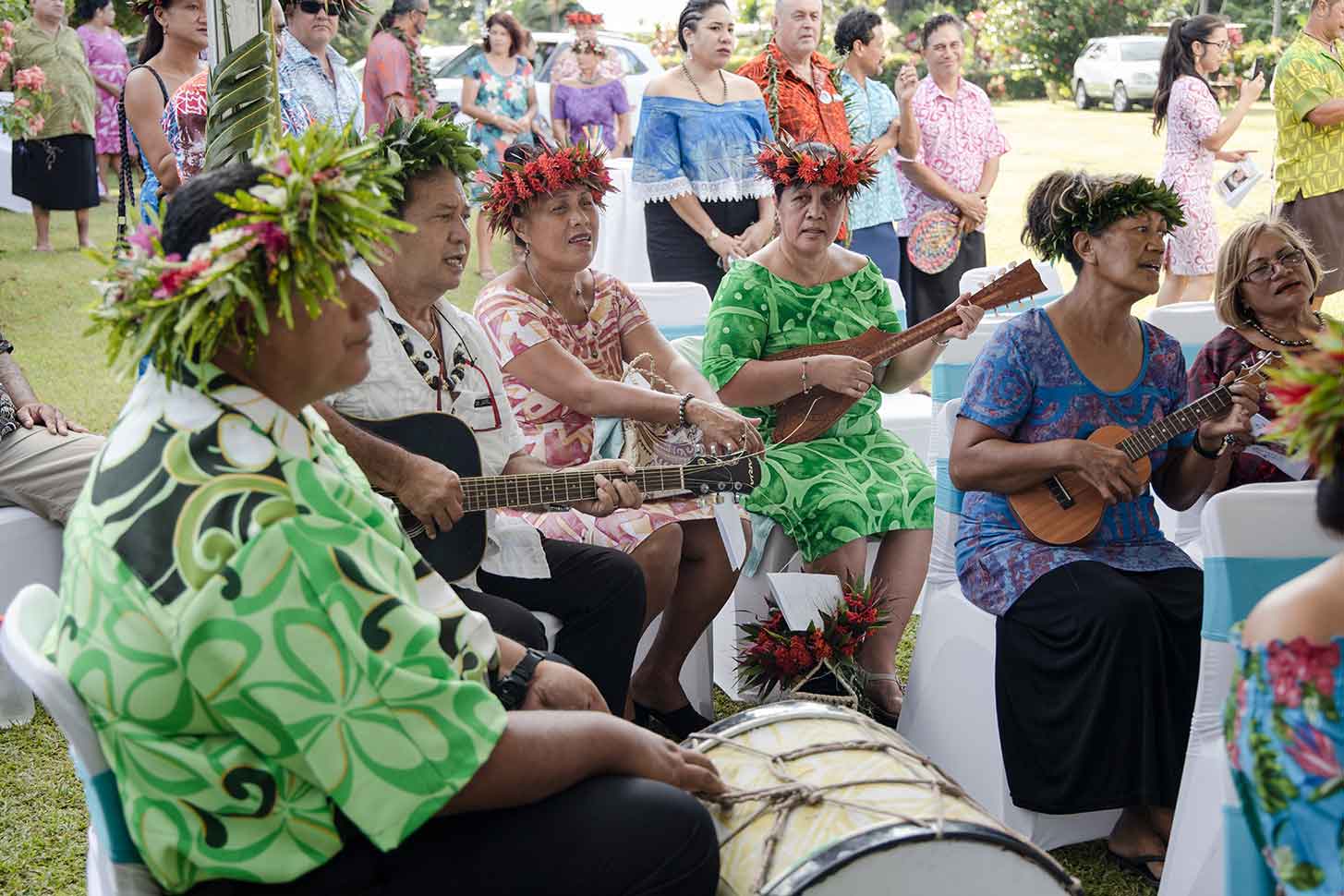 Nearly 40 people travelled from the Cook Islands, New Zealand and Australia to celebrate the life of a role model, mother figure and Samaritan.
At the unveiling, the Minister of Finance, Sili Epa Tuioti, was among a massive crowd of locals and international visitors attending the event, a testament to how many people she affected over her life. 
Mousie's husband, Robert Skews, told the Samoa Observer that was the kind of person Mousie was.
She passed away last year after a two year battle with osteosarcoma, or cancer in the bone. She lost her leg to prevent the spread of the cancer, only to find they were too late, and it had spread to her lung.
But that didn't stop her from being the generous, and a caring spirit she was her whole life.
Mousie was the first female Rotary President in both Christchurch and Rarotonga. She represented Samoa in squash in the 2009 Pacific Mini Games in the Cook Islands, and she was always ready with a plate or a broom to help whoever needed it.
One of those people was Anna Koteka, another Samoan woman living in the Cook Islands. They arrived in the same year, 1990, quickly befriended each other, and spent many years running the Samoan Community group together.
"She was my best friend, the voice in my ear, my moral compass," said Anna Koteka, who travelled to Samoa for the unveiling.
"When she passed away, all of the Cook Islands mourned. They claimed her as their own. She always gave back to the community who welcomed us."
Another dear friend, who travelled from the Cook Islands, is Ruta Hosking-Tane. Her parents Ruta and Archer Hosking were Mousie and Mr Skews' first neighbours when they moved to Rarotonga and the families became very close.
"My mum and dad are Mousie's mum and dad, she's like a sister to us," Ms. Hosking-Tane said. 
"She is a lovely lady. She helped a lot of communities, and they were great neighbours. We were their Cook Island family, but there was a lot of Cook Island family for them – everyone who turned up today is friends and family."
Like many of the guests, Ms. Hosking-Tane couldn't make it to Mousie's funeral in Rarotonga. 
But she would not miss the unveiling, she said.
"She's always in our minds. I have her photo with my family on my board in the office, and every time I look at her, tears come because she is a very special woman to us, to my family."
Mousie's "adopted" daughter, Linda Howard, and her husband, Takai Howard, also made the journey to Samoa. 
Ms. Howard shared how she used to think her family was the only one getting calls from Mousie on a regular basis, especially to hassle her husband when his rugby favourites, the Auckland Blues, were up against hers, the Crusaders. 
"The phone would ring before the game was over, and Takai would say 'can you get that, I know who that is,'" she laughed.
"So I would put the phone on speaker, and she would say, hey – what happened to your team, they're losers!
"We thought we are the only ones Mama Mousie rings, because she rings us every two days. But I didn't realise, she rings other families too. Where does she get the time?"
Her children and grandchildren are constantly learning the extent of her generosity. The day she passed away, people were at their house cleaning and preparing well before the family returned from the hospital, and the same again for the funeral.
Mousie's daughter, Myra Chan Boon, said she never knew how much her mother did. 
But now she knows: she was the first to the working bee, she always had a plate of food, and she was always raising money for someone.
"I think a lot of organisations miss her a lot," Ms. Chan Boon said.
"She made sure everything is done before the day. Before you know it, people try to come and plan for the day but she has already done it," she said.