Chief Justice Patu bows out, credits God and his faith

By Matai'a Lanuola Tusani T - Ah Tong

•
23 April 2019, 12:00AM
The Judiciary farewelled Samoa's longest serving Chief Justice, His Honour Patu Tiava'asue Falefatu Maka Sapolu during a valedictory sitting held at the Supreme Courtroom, Mulinu'u, on Tuesday.
The outgoing Chief Justice Patu had served as head of the Judiciary for 26 years and nine months. 
In his farewell address, Patu said the secret of his years of service is relying on God. 
He recalled the day he was sworn in as Chief Justice by the former Head of State, the late His Highness Malietoa Tanumafili II on 20 July 1992 at the Government House, Moto'otua. 
"It is my belief and faith in God that has been my source of strength and inspiration during my tenure of office as Chief Justice…" said Patu. 
"I therefore would like to thank the Almighty God for his blessings, help and guidance during my service to our country as its Chief Justice and head of the judiciary.
"Now the theme of my address at my swearing in as Chief Justice in 1992 was based on the concluding words of the judicial oath; So help me God, or in Samoan, ia fesoasoani mai le Atua ia te a'u, in which I acknowledge the sitting by a judge of divine power in the performance of his or her judiciary duties."
A day after his swearing in, Patu said interestingly a student from the Malua Theological College told his mother that the late Rev. Oka Fauolo had stopped their class at Malua to listen in to his swearing in, which was broadcast on radio 2AP. 
He said at the end of the swearing in address, Rev. Oka said to his class the person that has been appointed the new Chief Justice should not have become a lawyer but a Pastor instead. 
"So if anyone still thinks that I should not have been appointed Chief Justice, then perhaps Rev. Oka Fauolo was right I should have been a pastor, the path which would have led me to be a defendant in the tax administration case before the District Court," said Patu. 
"I think what our people do not know is that many Judges in the Common Law world are men and women with profound faith in God and strong Christian moral principles even though they are not members of the clergy." 
The Chief Justice also noted that he does not deserve the kind words offered by the Attorney General, Lemalu Hermann Retzlaff and President of Samoa Law Society, Leiataualesa Komisi Koria during their remarks. 
"I feel greatly honoured but I must say this to you, this is another secret I will disclose before I part," he said. 
"I have had a covenant with God that after any work, all praise should be given to him and I am just an unworthy servant. So I do not think that I deserve the kind remarks that you two made for me this morning.
"There is someone above me that the glory and praise be given to." 
Prior to his time on the bench as Chief Justice, Patu had been at the bar for about 15 years. 
He had served as a Secretary for Justice and a Registrar of the Court for a year. 
Patu pointed out he has spent more time on the bench as a judicial officer than on the bar as a legal practitioner. 
At the time when Patu was appointed as Chief Justice, he said he was already aware of the legal needs of the country. 
He said particularly the civil law was underdeveloped at the time in many areas. 
Patu also spoke about the challenge of stepping up as the Chief Justice. 
"I was also conscious of the need to maintain Common Law judiciary of judicial independence and judicial impartiality which are essential to sustaining a democratic form of government which our forefathers which chosen to adopt and embodied in our Constitution," recalled Patu. 
"It also occurred to me given the circumstances at the time of my appointment as Chief Justice, that if I did not succeed as Chief Justice it may become difficult to appoint another Samoan as Chief Justice when it is time for me to step down. 
"So I was no doubt about the importance and magnitude of the task…but with my faith in God and the trust and confidence of Tofilau our then Prime Minister in me I was confident that I was on solid ground to take up the challenge offered to me, and I hope I had done in some way towards meeting the legal needs of our country."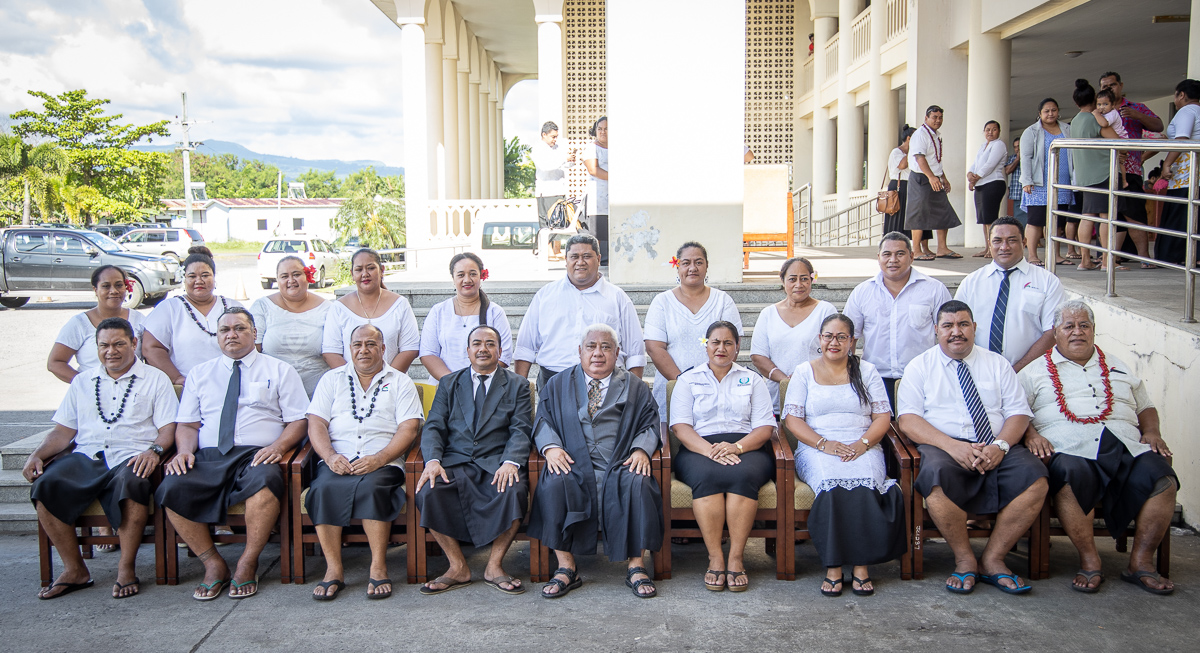 Patu also made special mention to his wife, Tuitama Iliganoa Sapolu, for standing by him during all the years he has been Chief Justice.  
"She has had to put up with me during all this time while I devoted nearly all of my time and energy to my judiciary work," he said. 
"I thank her for her patience, love and unfailing support."
The former Prime Minister, the late Tofilau Eti Alesana was also acknowledged for his trust and confidence in Patu in appointing him in 1992. 
He made it clear he had no wish for aspiration for judiciary office as there were a number of people at the time of his appointment who thought otherwise. 
"I say now I had no judiciary aspiration for judiciary, so when Tofilau asked me in April 1992 to take up appointment for Chief Justice it took me several weeks to think about what the old man wanted," he said. 
After consulting his mother and siblings and praying for divine guidance, Patu then decided to accept the appointment. 
He said he is deeply grateful for Tofilau's trust and confidence in him by giving him the opportunity to be of service to the country through the office of the Attorney General. 
"I hope Tofilau's trust and confidence was not misplaced and that I had measured up to his hope and expectation."
The current Prime Minister, Tuilaepa Dr. Sa'ilele Malielegaoi, was also acknowledge for the assistance and good things that he has done for Patu and the judiciary over the years. 
Patu made reference to the magnificent court house which was a historic step forward for the administration of justice. 
He also highlighted the extension of retirement age for judges of the Supreme Court from 62 to 68 years and government's assistance in establishment of specialist courts; Family Court, Family Violence Court, Alcohol & Drugs Court and Coroners Court. 
Patu said Samoa now has the most developed system of specialist Court among the Pacific Island countries.     
In thanking legal practitioners, he noted the quality of legal work at the bar has improved significantly over the years and it is an encouraging development as the bar is where the future judges will be appointed from. 
He also took time to express his gratitude to court officials from registrars to judge associates, administrative staff and court officers for their unfailing courtesy and support. 
He described them as unsung heroes which judges depend on. 
Lastly, Patu also thanked the Police force for their assistance and support over the years where he was the Chairman of the Prisons Parole Board. 
He pointed out he was a prosecutor for the Attorney General's office in 1976 and has had the long working relationship with the police force that goes back 43 years ago.  
"I have also often say that the world is never in a standstill, it is always turning," said Patu. 
"I am therefore conscious that I cannot afford to be at a standstill myself. I have had my day as Chief Justice so I am happy to be moving on. 
"Thank you again to you all who have gathered here today for the honor you have done me by your presence."

By Matai'a Lanuola Tusani T - Ah Tong

•
23 April 2019, 12:00AM