"Vai" breaking new ground for Pacific women film-makers
For Samoan born director, Marina Alofagia McCartney, making Vai was a deeply emotional and reflective experience, but is one many Samoan people may relate to.
Ms McCartney is one of the nine women who co-created Vai, a film highlighting Pacifika women from eight Pacific Island nations.
Vai is a movie in eight parts, each sharing the story of their own woman called Vai at different stages of her life. 
In Ms McCartney's 10-minute vignette, Vai has to bring together her mind, body and soul in order to tell her self: "she is enough," Ms McCartney said.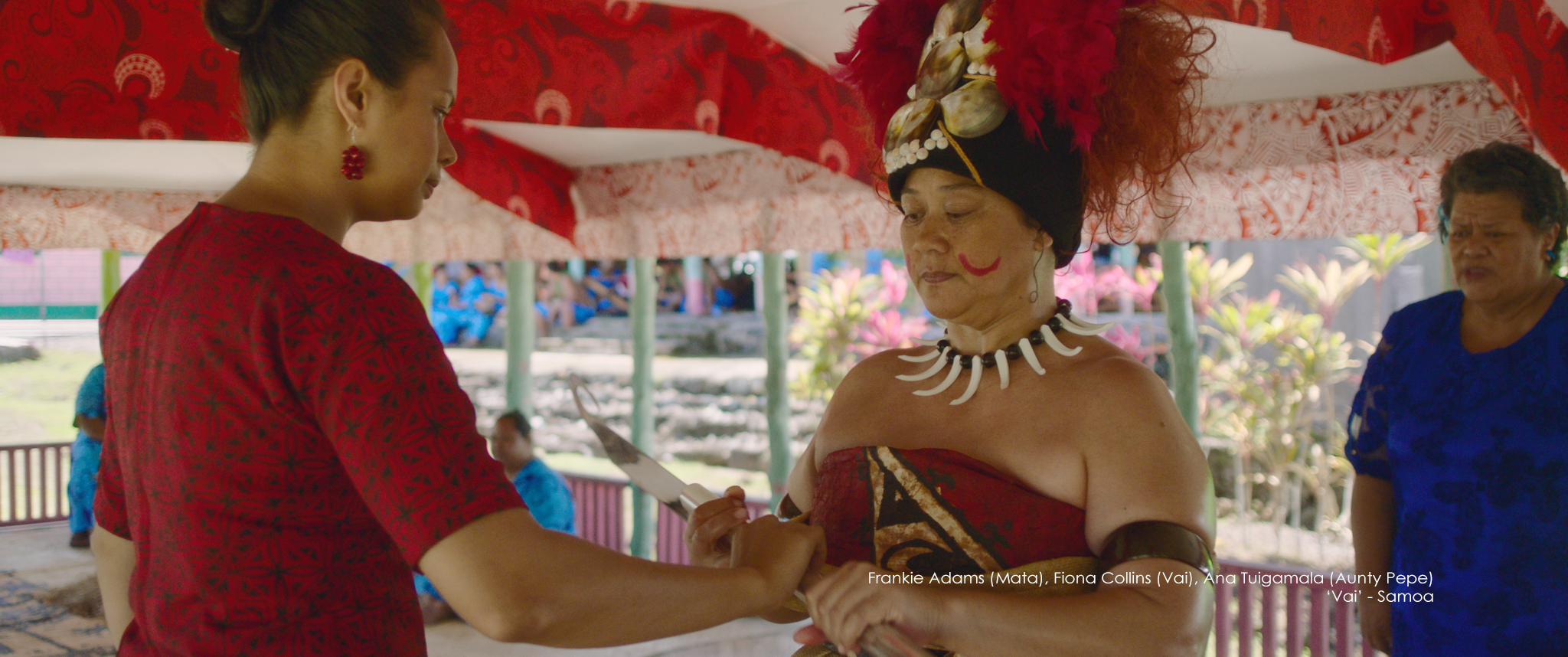 "We had to really dig deep, because we are really exploring our own identity," she said of the writing process. 
Her own experience growing up being called 'afakasi', someone who is half-Samoan, (Ms McCartney's mother Samoan and her father is from England), affected how she wrote the piece, and how her character navigates a familiar tension – feeling "Samoan enough".
Her vignette explores the way people get to that place of feeling "enough", when they either live away from, or were born outside of Samoa. 
"As somebody who has been told I am half of two things, it's hard to figure out where you sit. You sit in this in-between. I sort of tried to allude to that in my piece."
The piece also explores Samoan cultural practice and spiritually, which Ms McCartney said she wrote from her own experiences and knowledge. 
"My experiences with the fa'aSamoa (Samoan way) are going to be different to another family simply because we were taught by different people who have different world views and while are things that obviously tie us together, there are different ways to practice those values depending on our values, our villages, and where we grew up. I can only speak to my experiences," she said.
The nine-strong writing/directing team met for the first time on their way to Waiheke Island for a six-day writer's retreat to prepare a first draft of the script.
Ms McCartney said the team shared a lot, and had a tough week of exploring the hard and beautiful parts of life as a Pacific Island woman.
"We arrived on a Monday, and by Saturday we delivered a first draft of the script to the New Zealand Film Commission," she said. "It was pretty incredible.
"A lot of the themes we were exploring are really close to us. There is belonging and not belonging, connection and disconnection, themes around our migration history, pasts presents. 
"It's our grandmother's stories, our mothers, sisters, our cousin, we are all either directly affected by these themes."
But a determination to reveal an otherwise invisible character was driving them all. A notable absence of Pacific female characters on big screens continues to affect New Zealand, and the wider film world too.
"I think one thing we have to continually remind ourselves is that Pacific female perspectives and narratives have been rendered invisible from the screen," she said.
"We have to have our stories out there. We were lucky enough to have producers that provided a culturally safe space for us to explore those themes and issues."
With just a handful of Pacific women making films, about Pacific stories or otherwise, Ms McCartney said the film's release is something to celebrate.
New Zealand has only seen three films by three female filmmakers about Pacific stories: Apron Strings by Samoan-born director Sima Urale, The BreakerUpperers, with co-director Madeleine Sami of Fijian decent, and Vai, Ms McCartney said. 
And not only that, Vai is the first time to showcase Pacific women in the writing, directing, producing and lead acting roles. 
"We have to celebrate that, it's a breaking of a glass ceiling and it means hopefully more Pacific female movies will come.
"I certainly think for some Pacific female filmmakers, they can see it can be done and that people are interested in our stories."
Representation on screen, and behind the scenes can help Pacifika women feel validated in a world where they are not shown, and implicitly told they don't matter, Ms McCartney said.
But the reception to the film shows there is an appetite for Pacific stories, told by Pacific narrators. Overseas and New Zealand audiences have leapt at Vai, with sold out screenings at South by South West in the United States.
But like any Samoan, the most important reaction for this writer/director came from her family. 
"It was quite emotional at times when different siblings saw it, and they cried. And it was good crying, not like what have you done," she said.
"That was a big thing for me."