Wild weather strands ferry passengers
By Sialai Sarafina Sanerivi

•
05 January 2022, 8:31PM
The Samoa Shipping Corporation's compound at Salelologa in Savai'i, was still packed by Wednesday evening with the vehicles of stranded travellers, despite services being open for operation.
Inter-island trips had been suspended for two days due to bad weather conditions.
On Tuesday, Samoa Airways stepped in to assist some of the passengers who were stranded both in Upolu and Savai'i. However, those who travelled over to Upolu had to leave their vehicles behind. 
The S.S.C. compound was crowded with vehicles with many more cars lining outside of the gates all the way up to the gas station in Salelologa. 
Some of the stranded passengers on the big island have stayed at the wharf since Monday night. 
The S.S.C. informed the public on Wednesday morning that ferry services had opened again. 
"Please be informed that our ferry services between Salelologa and Mulifanua are now open. Any further changes and we will update accordingly. 
"We apologise for the inconvenience  but safety is always the priority."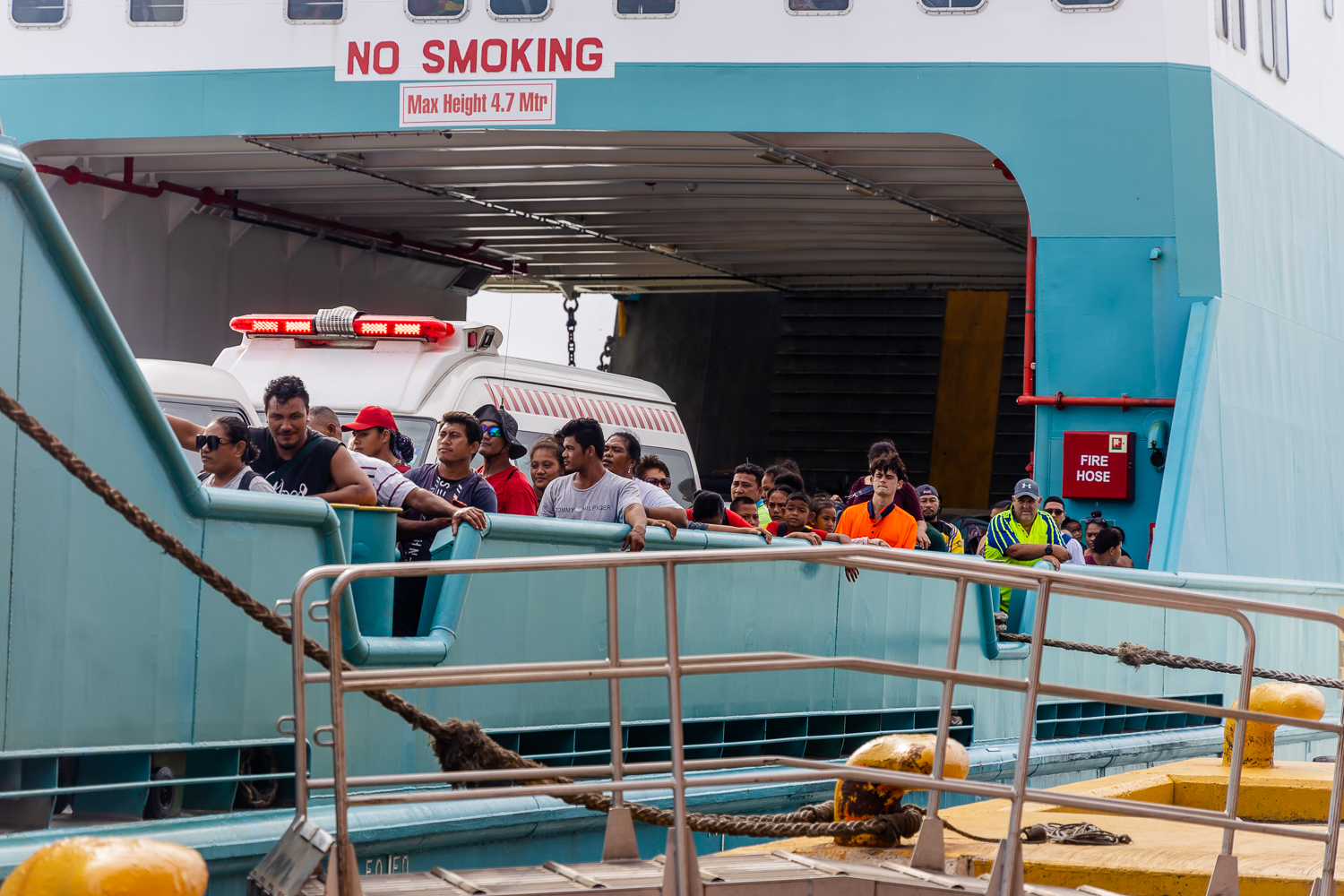 According to an employee of the S.S.C. who spoke to the Samoa Observer anonymously as he was not authorised to speak to the media acknowledged members of the public who were stranded on the Salelologa wharf for their patience. 
"I know it has not been easy for them, waiting here for the ferry services to commence again and waiting for an opportunity to go back to Upolu," a senior official said. 
"But they have been very patient and understanding. While some begged us to have the ferry up and running again because they have been stuck here since Monday afternoon, they understood that the decision to cancel all the trips was for the safety of our people. 
"We keep saying that prevention is better than cure, and that is also fitting in this kind of situation. It's better to be safe than sorry.
"Now that the weather kind of calmed down, we are trying our best to satisfy everyone and we are trying our best to be fair."
Nonetheless, there were additional trips on Wednesday for all of the passengers that were stuck in Savai'i. 
"Even with two ferries running, as you can see there are still a lot of cars lining not only inside the gate but also outside of the gate. These are all the people who were supposed to be on the boat back to Upolu starting from Monday, Tuesday and Wednesday. 
"A lot of people already made bookings for those days and because the services were cancelled, we are now trying to be fair with the way we deal with the situation at hand. 
"I know we are also expecting a lot of people who already made bookings to return to Upolu tomorrow (Thursday) and that is why we are trying our best to at least clear out the vehicles that have been stuck here for the past two days before tomorrow. 
"It has been a hectic day for everyone, but we are happy that the weather has cleared out and people can finally travel back to their homes and families."
By Sialai Sarafina Sanerivi

•
05 January 2022, 8:31PM