N.U.S. receives wheelchair donation
By Bethel Peato Ale

•
06 October 2021, 4:00PM
Not-for-profit organisation Brown Girl Woke (B.G.W.) has presented five wheelchairs to the National University of Samoa's Faculty of Health Science.
The founder of the organisation, Doris Tulifau, told the Samoa Observer that the university faculty requested their assistance to provide wheelchairs for vulnerable families in Savai'i who couldn't afford one.
"We are working together with N.U.S. and the Faculty of Health Science under our Wheelchair Project which started last year," she said.
The five wheelchairs are part of the 20 that were presented by the Abel Collective Australia to the B.G.W. last Friday.
According to Ms Tulifau, N.U.S. Faculty of Health Science staff member Ramona Boodoosingh sits on their board, and she has travelled to Savai'i and was able to identify families who are desperate for a wheelchair.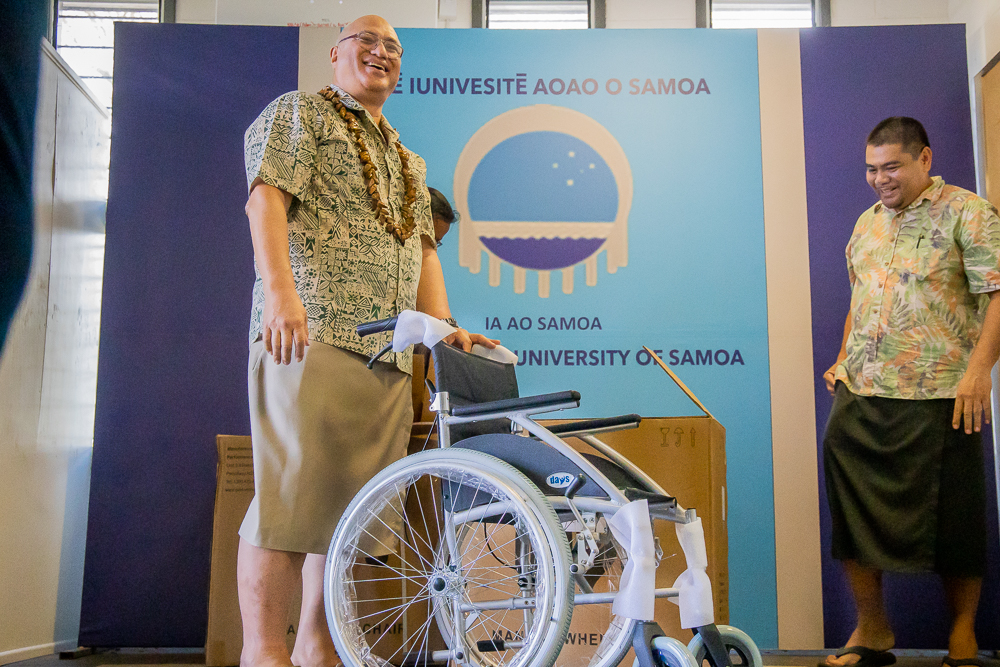 "She also trained Carers to help family members of people with disabilities," she said.
Of the five wheelchairs given to the university faculty, four will be given to families in Savai'i, while one chair will be used as training equipment. 
Ms. Boodoosingh said they hope to start distributing the wheelchairs in the next few weeks.
"We hope that in the next few weeks we'll start distributing the wheelchairs to the families we've selected in Savai'i," she said. 
The university faculty also provides training for carers as well as family members of people living with disabilities in Savai'i on how to use a wheelchair as well as dealing with people who are bedridden due to their medical condition.
N.U.S. Vice-Chancellor Aiono Prof. Alec Ekeroma thanked the not-for-profit organisation for assisting people in the community who need a wheelchair.
"On behalf of N.U.S. and staff I would like to thank B.G.W. for this wonderful donation. As they (B.G.W.) said before there is a need out there among the community for wheelchairs," he said.
"But they will first give out wheelchairs to poor families who need them the most. 
"I hope they continue with this initiative in years to come because most people can't afford wheelchairs because they're expensive."
By Bethel Peato Ale

•
06 October 2021, 4:00PM