A.P.T.C. Samoa elects new president
Alumni of the Australia Pacific Training Coalition (A.P.T.C.) have elected culinary artist Theresa Grace Finau as its new President to lead the group over the next two years.
Ms. Finau, a commercial cookery graduate of A.P.T.C. was chosen during a meeting of the organisation's Alumni Samoa meeting held on Thursday night at the J.P.'s conference room in Vaimea.
Ms. Finau said the current climate in Samoa is "up and down" when it comes to "women's opinions and movements," and she is "grateful" for the opportunity to serve as President and contribute to the national conversation.
"I am grateful I get the opportunity because we ladies, women – young and old need to step up and shine and be leaders", she said. 
"I thank the Lord, all challenges are blessings. Faafetai, thank you to our A.P.T.C. Alumni for choosing me as your leader and I hope to work with you all side-by-side to bring future achievements for our youth and our children of Samoa." 
The focus of the alumni association is to help families with special attention paid to graduates of A.P.T.C.
Ms. Finau graduated with an A.P.T.C. qualification in commercial cookery in 2010.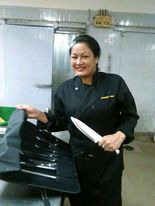 She has worked as a Sous Chef for the Sheraton resorts in Apia and in Mulifanua and operated her own restaurant in Tauese, "Le Papa's Spot" named after her papa Ulia Te'o Faavaivai Finau. 
"The main purpose of the A.P.T.C. is to support a network of former graduates who will, in turn, help raise the profile of the Institute. Mainly we help A.P.T.C. graduates' families by providing them with work or to help pay for scholarships for their children which is our new project. As the new president, it is my focus," Ms. Finau explained. 
By joining the A.P.T.C. alumni, members have a number of advantages: a wider professional network; exclusive online job listing; targeted career services; access to college resources; contact with classmates; up-to-date information about school happenings and exclusive perks and benefits, she said.
"I am greatly honoured and thank the Lord for the great opportunity for women of Samoa. As the new A.P.T.C. president, I hope to give back with funding and out time to help support the next generation of students and alumni. When we give back to our colleges that money goes toward research, scholarships and new facilities, among other things," Ms. Finau said.
"It helps increase the stature of the college, making a better place. Having an active alumni network is immensely beneficial to the students presently studying in the colleges. The Alumni Association achieves these objectives by staging an annual programme of events and reunions; through communications, by providing range of discounts and services for alumni; and by supporting student scholarships and other fund raising initiatives." 
With other chefs, Ms. Finau will soon open a new catering business called "The Planner."
She thanked the association for their vote and the outgoing officers of the alumni association Donna Stanley and Logotaeao Fiti for their contributions to the association.
"Big faamalo to our Former Executive board President Donna Stanley and Deputy President Logotaeao Fiti for the previous work support and effort you had contributed," Ms. Finau said.
Along with a new president, the association has also elected a new vice president, a secretary/treasurer, and two executive members.