Corporate hotel opens in Tauese
A new hotel that caters exclusively to corporate travelers has opened in the heart of Apia behind the Tauese Seaview Restaurant on Beach Road.
The three-storey, 25-room Tauese Seaview Hotel is the newest business venture from the owners of Tang Chen Restaurant, Ji Xiang Restaurant and the Tauese Seaview Restaurant. 
The Tauese Seaview Hotel and Restaurant are situated in between the Immaculate Conception Cathedral at Mulivai and the Australian High Commission.

They were initially scheduled to both the restaurant and hotel at the same time in March 2020, but when COVID-19 was declared a pandemic, the owners chose to open the restaurant and keep the hotel closed. 
The hotel's niche market is corporate travelers who come to Samoa for business, Hotel and Restaurant Manager Fatima Lam explained. 
"Our niche market is corporate, for all the corporate travelers. It's conveniently located right in the vicinity of business and government… that was the whole idea of this hotel. We kept it closed because we were trying to think economically and I think we made the right move to not open then," said Ms. Lam.

"It's still uncertain when the borders are going to open but we decided to open anyway to put the hotel through a test run. This is us trying to be ready for when the borders do open we will know hands down that our product is ready. We have 25 rooms, two room categories which are the Superior and Deluxe." 
There are 10 Superior King Rooms, 11 Superior Twin Rooms, two Deluxe King Rooms and two Deluxe Twin Rooms.
All rooms have air conditioning, a flat screen television, bathroom amenities, coffee and tea making facilities, a mini refrigerator, iron, ironing board and alarm clock.

For meetings, there is the boardroom style Mulivai Conference Room with a capacity of 25. 
This week, Tauese Seaview Hotel held a soft launch to begin marketing their accommodations to business travelers such as officials from the Asian Development Bank (A.D.B.), the World Bank and Business Services Limited (B.S.L.).
"The four deluxe rooms are catered to the long term stays for six months to a year or so…we have the Mulivai Conference Room, a boardroom style meeting room with a capacity for 25 people. Our owners, who are Chinese, have been here for a while and they wanted to elevate the Chinese style of accommodations," said Ms. Lam.

"The rooms are not your normal Chinese kind of feel. They have given a lot of thought as their market is not just Chinese it is for business travelers. We are not doing a grand opening. We are still in the soft opening stage so what I've done for this whole week is to invite the corporate people to come for a site visit and a one-on-one so I can actually showcase the product to them. We have had the likes of the A.D.B. and the World Bank come in and B.S.L. and all the people who I know would receive the type of travelers we are targeting."
The hotel officially opened on Saturday. 
The restaurant employs eight people: three in the kitchen plus five wait staff and the hotel employs seven, three housekeepers and two in the administrative office.

"Today [Saturday] is the actual day that we are opening up to the public but we were ready to open up last year around March, however due to the COVID-19 [pandemic] we decided to just close the hotel and open the restaurant instead," Ms. Lam said.
"Our hotel is a corporate hotel and a lot of thought has been given to the décor and rooms. This used to be the J.I.C.A. building so we didn't have much space to work with so we just made do."
The food, she notes is an "upgrade" from the usual Chinese cuisine found in Samoa. It is the only Yum Cha restaurant in the country.
"The owners, who are husband and wife, have been here for 21 years and they first opened their restaurant Tang Chen in Vaimea and they also ran the Vaimea Mart, then they branched out to open Ji Xiang Restaurant located at Savalalo," Ms. Lam said.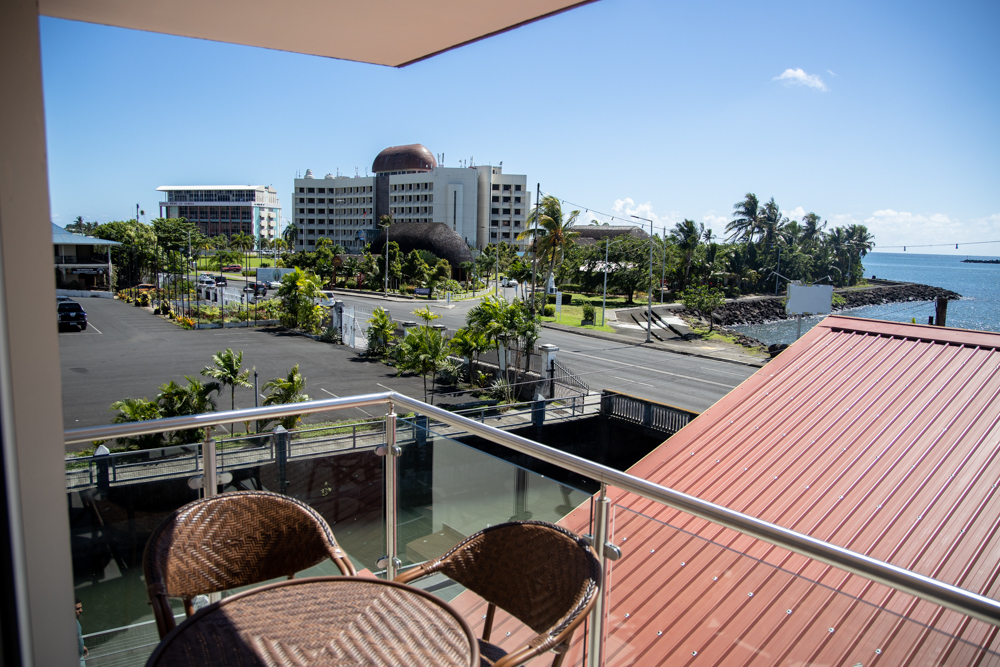 "Tang Chen in Vaimea is closed but we do have a Tang Chen branch at the airport in Faleolo. They are well known for their food. They are not your normal Chinese food that we have here. Their food is an upgrade of Chinese flavour in Samoa."
A range of services are available to hotel guests: meeting and conference facilities, guest parking, concierge service, tour options, shuttle and airport transfers and barista coffee and pastries.