AriLei Couture opens new shop in town
Local tailoring company AriLei Couture has opened its first shop in the Wesley Arcade Building at Matafele.
The opening service last Friday for the business' new outlet was led by Reverend Numereta Ofoia, who expressed appreciation and acknowledged the blessings that led to the firm's expansion.
Arilei Couture Company Director Taupule Taufao told the Samoa Observer in an email response that its label evolves around original island style and showcases Pacific Island fashion with a distinct Samoan identity.
"The Ariana and Leilani Fashions feature our mother's art and grace woven together with flowers and shells on a canvas of earth, water and crystal," she stated in her email.
"AriLei fashion is primary for everyday use and for all events-casual, formal, modern and even the outlandish if desire."
The company's products feature Pacific Islands traditional style and modern formal or casual wear and was established in Samoa in 2017 to promote and express Pacific Island fashion and color in its own way. 
According to Ms Taufao, her company has its origins in the September 2015 Miss Samoa Pageant when she and her friends put their hearts, skills and art together to dress the 2015/2016 Miss Samoa Ariana Taufao. 
They undertook the same assignment at the Miss Samoa 2016/2017 Pageant and in November 2017 Taupule and Risha Ah Mau formally launched the AriLei Couture fashion label as a home business. 
The opening of the shop last Friday marked the latest chapter in the local tailoring company's history with the launching done under the supervision of Doris and Salepolulua Maligiopen.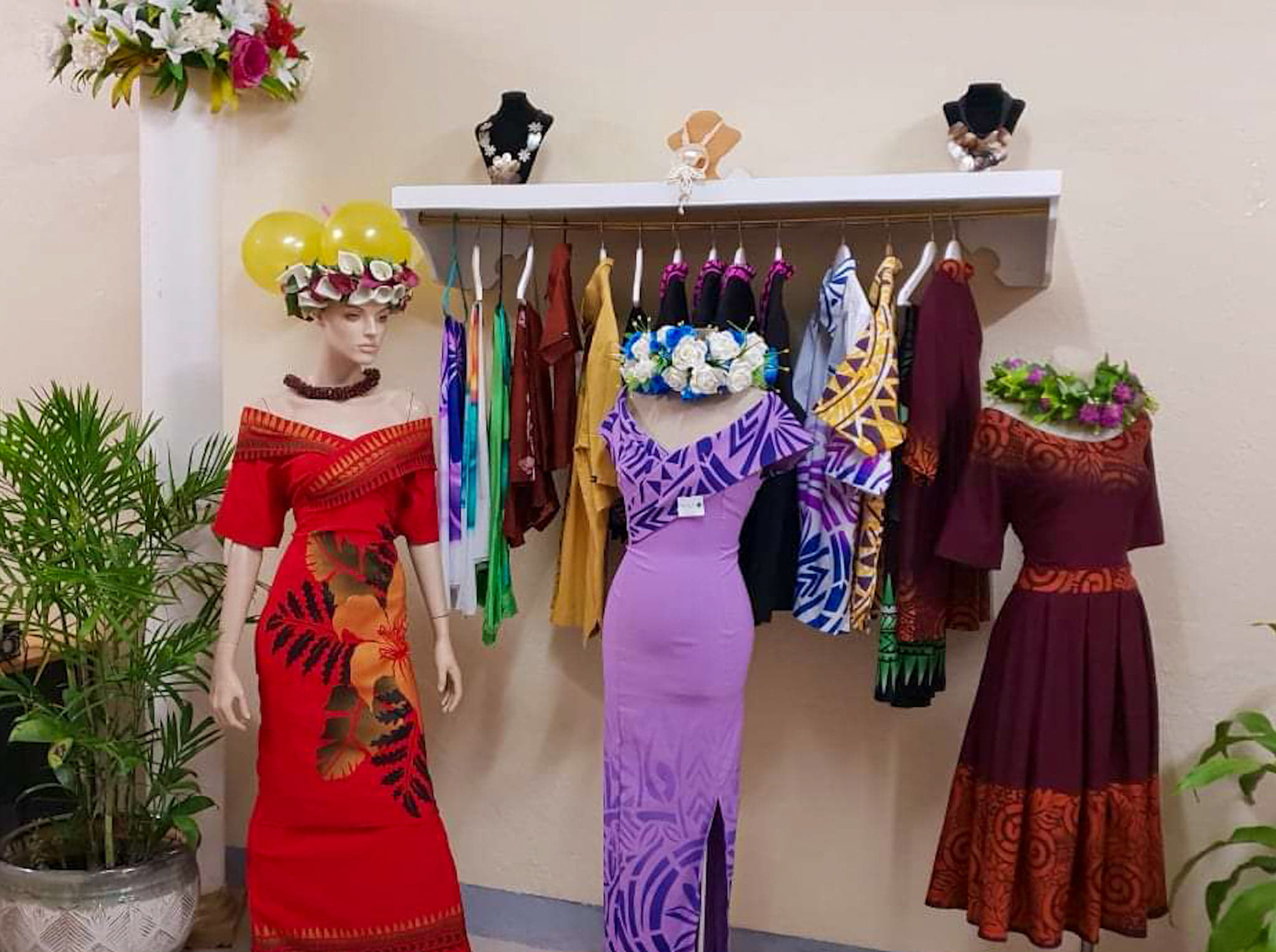 The AriLei Couture has been a strong supporter of the Miss Samoa Pageant, according to Ms Taufao as it gave young Samoan women a stage for the expression of their individual and cultural identity.
Therefore, Miss Susana Pale was the first Miss AriLei Couture in the 2019/20 pageant two years ago.
Ms Taupule then acknowledged the efforts of their team Tariu, Mate, Mafi, Soonalole, Maligi, Talavou, Etuati, Graeme, Siauala and Pasese for continuing to keep the company going. 
Reverend Fa'atulituli and faletua Meripa Setu and the children, who were acknowledged for the Upeti Samoa-the Samoan designs carved into hardwood which was gifted to the company, were also recognised for their contribution to the firm's success.