S.L.A.C. career day opens eyes
Raising awareness on the importance of life insurance for the future is the mantra behind a two-day career day that kicked off in Savai'i on Tuesday. 
Held at the Don Bosco College Hall at Salelologa, the event spearheaded by the Samoa Life Assurance Corporation [S.L.A.C.] attracted hundreds of students, teachers, and different government ministries and local businesses in Savai'i. 
A first of its kind in the big island, S.L.A.C.'s Chief Executive Officer, Heseti Sione Va'ai said the main objective is to promote their services. 
Booths were set up around the hall from the different government agencies and private sectors, offering the opportunity for the students to ask questions about the different services available to the public. 
"We're honored to host this programme here in Savai'i," Heseti told the Samoa Observer. 
"The aim is to promote and to raise awareness about the significance of the services we provide." 
"Right now, we only cover maybe 30 or 20 percent of the workforce in Samoa."
She said it was important that the public understand what they do and what they offer. 
"I believe we should work on more awareness for the public and for everyone, not just government agencies but also the private sectors.
"Not only that but we have some people who are paying for their family's insurance from overseas, so we would like to have a more efficient platform to enable that part, so it'll be easy and convenient for whoever wants to pay insurance for their families in Samoa from overseas."
She was also pleased with the turnout and commended her team who organised the event. 
"The turnout is very impressive, I wasn't expecting this but I commend our team who have been coming around the past couple of weeks. 
"They have been coming to Savai'i not only to visit the individual colleges but also again to confirm their participation and to make sure that everything is well organised. 
"As the C.E.O. I am happy with the turnout and the success of this initiative."
The career day in Savai'i was initially planned for 2020, but state of emergency restrictions delayed the event. 
"This is was initially planned for last year, but because of the lockdown and the S.O.E., it was delayed but we are happy that we finally had the opportunity to do it and we are also happy with the turnout."
A similar event for Upolu is in the pipeline, said Heseti. 
Fou Sisi, a 17-year-old attending Mata'aevave College, thought the event was a great learning experience for him. 
"I learned a lot of things today," the aspiring accountant told the Samoa Observer.
"I didn't know about S.L.A.C. before today, so it was really great to hear about the services they provide and how important it is to have insurance. 
"It's an investment that you make for your future and the future of your family in case of a emergency, so I thought it was really great to hear about their service."
Tuotmaresa Lomia Tauloa from Faletagaloa and Gataivai shared the same sentiment. 
"I am happy that I was given the opportunity to be a part of this very important event," the 16-year-old commerce student at Palauli Sisifo College said.
"I mean, we keep saying that we are the future of Samoa, yet we don't really pay attention to planning for our future. That's my own opinion. 
"I don't think a lot of people, especially us here in Savai'i are aware of the service provided by S.L.A.C. and the significance of having life insurance. 
"After listening to all the presentations and the discussions today, I personally believe that everyone should make good use of the service provided by S.L.A.C. if we really love our parents, families, and loved ones, we must have life insurance." 
The Head Girl of Alofi-o-Taoa College, Pamela Tiatia Faimata was also happy to be part of such an important event and commended S.L.A.C. for the initiative. 
"I honestly did not know about life insurance until today, so I thought it was a great way to get us to think about these things as we prepare for the future and the workforce," the 15-year-old told the Samoa Observer. 
"Most of us here today are final year students in college, so I thought they made the right choice to introduce their service to us as we think ahead. 
"While some people may think of life insurance as just another expense, I think we need to consider investing and set aside money for life insurance, to prevent our loved ones from having financial hardships in the event that you die suddenly. 
"I will be happy to share this good message with my family and parents that life insurance is important for you to have, as it offers protection for our families and home." 
Moreover, Ms. Tiatia thought it was great to have all the different colleges under one roof for the event. 
"We don't do this often," she said.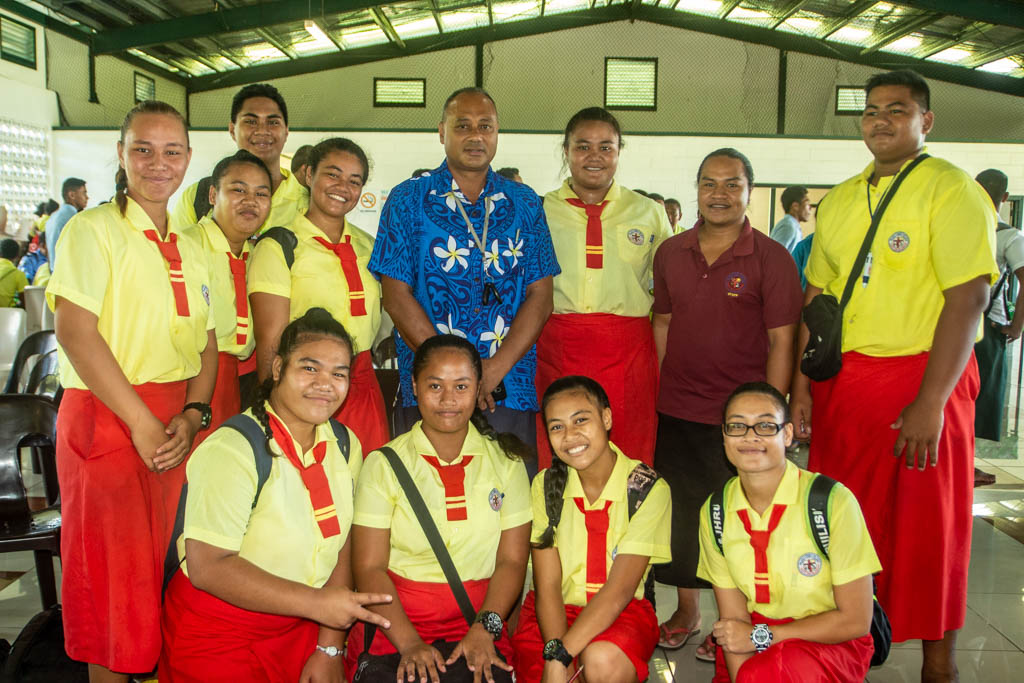 "Even though we are from all the colleges in Savai'i, but normally we are stuck in our own classrooms, so today's event provided the opportunity for us to step outside of our classrooms, mingle with the students from the other colleges and learn new things at the same time. 
"As I said before, I am really happy to be part of this event."
Today (Wednesday) is the final day of S.L.A.C.'s career day in Savai'i.