Activists raise environmental awareness

By Marc Membrere

•
13 March 2021, 5:20PM
The Lanulau'ava Student Association hosted their "The Future of the Green of the Pacific Project" on Saturday which enabled students top find out more about fanua, moana and measina as well as climate change.
The program was held at Tanoa Tusitala Hotel and was attended by six schools from Upolu and six from Savai'i which also comprises five girls each. 
It was also attended by the British High Commissioner to Samoa David Ward, members of the Samoa Conservation Society (S.C.S) and the Ministry of Education Sports and Culture.
Lanulau'ava is a student association at the National University of Samoa (N.U.S.) that was launched in October 2020.
The objective of the association is to raise environmental awareness as well as educate, protect and conserve the land, culture and the ocean.
The President of the Lanulau'ava Student Association, Grace Ah Young told the Samoa Observer in an interview on Saturday morning that they had started the first session of the program with the workbook they had created.
She highlighted that most workshops would just teach and leave the students, which is something their association is trying to avoid.
"We want to teach and follow up and we want to teach and teach and teach them and keep that relationship going," Ms. Ah Young said.
In session one they had discussed their module workbook which was divided into three sections tagged fanua, moana and measina.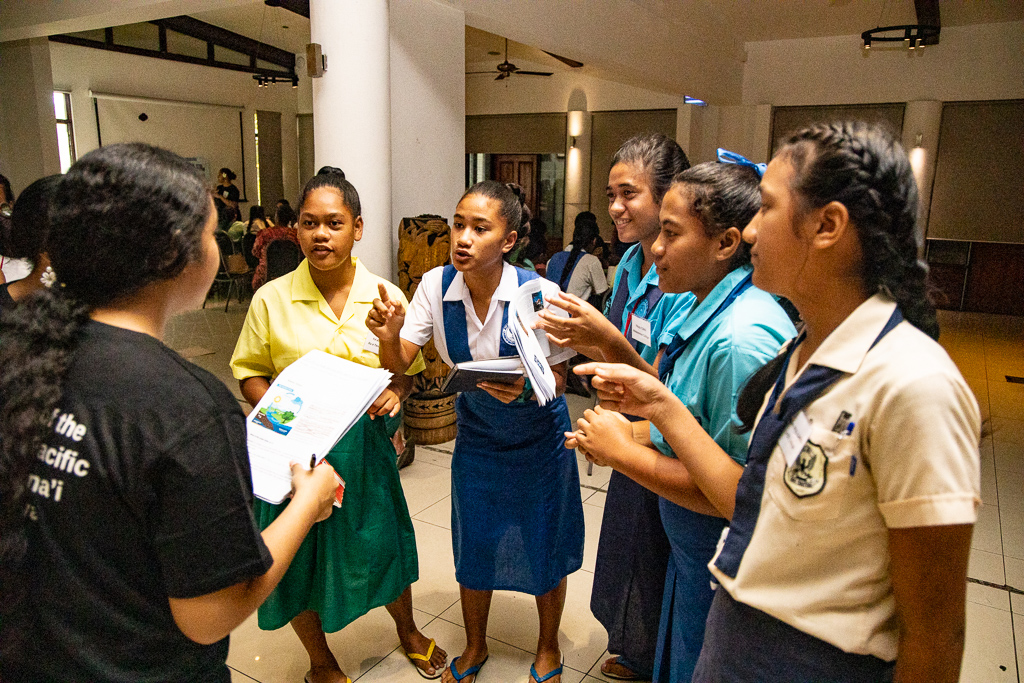 The reason for choosing these according to Ms. Ah Young is that they are probably the three most important aspects of Samoa overall.
"Whatever happens on land will affect our moana and if anything happens to these two because our culture relies so heavily on our environment then we will start to lose pieces of our culture," she said.
This according to her is already evident by the number of coconut trees disappearing and slowing down in growth.
The second session of the program was divided into two sessions which was climate change and the carbon audit.
They wanted to provide environmental awareness for fanua, moana and measina and the issues leading to one big issue which is climate change.
She further stated that they are also a program that is trying to push Samoa to be part of COP26 (2021 United Nations Climate Change Conference).
Ms. Ah Young stated that climate change is the overall problem: "If we cant help our students realise that it is the problem then wheres the future?"
The program was supposed to last for one week for Upolu and Savai'i but it did not work with the student's schedules.
M.E.S.C had allowed them to collaborate with them in their Women in Science and Technology Project.
Ms. Ah Young said that they wanted to show that science, technology, engineering and mathematics (S.T.E.M.) can become a career for women and there are a lot of women who have been exposed to such opportunities after taking S.T.E.M. as a career option.

By Marc Membrere

•
13 March 2021, 5:20PM