Photo exhibition captures "life among Samoans"
An exhibition featuring photographs taken by a Czech photographer of her life living among ordinary Samoans was launched on Sunday.
The exhibition, which comprises 47 photographs taken by Denisa Manaskova featuring different villages on Upolu and Savai'i, is called "Faasinomaga" and was held at the Tiapapata Art Gallery. 
The opening of the exhibition was also an early celebration of International Women's Day on Monday March 8.
Ms. Manaskova, who is in Samoa with her partner Adam Vilkus, are both from the Czech Republic.
They arrived in the country in March last year and have been stranded for a year due to the international border closures brought on by the COVID-19 global pandemic. 
The photos that Ms. Manaskova took highlights the Samoan way of life through farming, religion, culture, cooking, or dining environments.
The 25-year-old started taking photos when she was 14 and has been studying photography her whole life from high school to university. 
During her studies, every chance she got for a holiday, she would travel to different countries like Scotland, Iceland and around Europe. And eventually, she came and lived in New Zealand and while wanting to explore other places, she ended up with her partner in Samoa.
Speaking to the Samoa Observer, Ms. Manaskova said that their plan was to volunteer and stay with locals and experience the country in a different way.
They were supposed to volunteer for two weeks in Upolu then go to Savai'i and spend another two weeks. 
However, after two weeks in Upolu, the international borders closed and travelling by ferry became prohibited, so they ended up staying on a cocoa farm for four months.
"All I was doing was picking cocoa, processing it and making chocolate or getting coconuts and getting o'o [coconut embryo] for the pigs," she told this newspaper.
The Czech photographer said they met a lady who had a family in the village of Auala in Savai'i.
"We lived at Auala and the family had a plantation which I took advantage of and applied all knowledge from Upolu like collecting cocoa. 
"I lived there for two months.
"And 60 per cent of our photos are from [the village of] Auala and then met Steven and Wendy and stayed with them.
"We did one trip for one week where we took a bus and went to Uafato [village] and met some people there, and we lived with one family in their small fale."
A highlight for her while being in Samoa was living with the locals and getting to experience their life.
"They allowed me to part of them, their aiga [family]," she said.
"In some way through photography, I was trying to understand the culture more, I learned to connect with nature and get away from the western way of life and just relax here."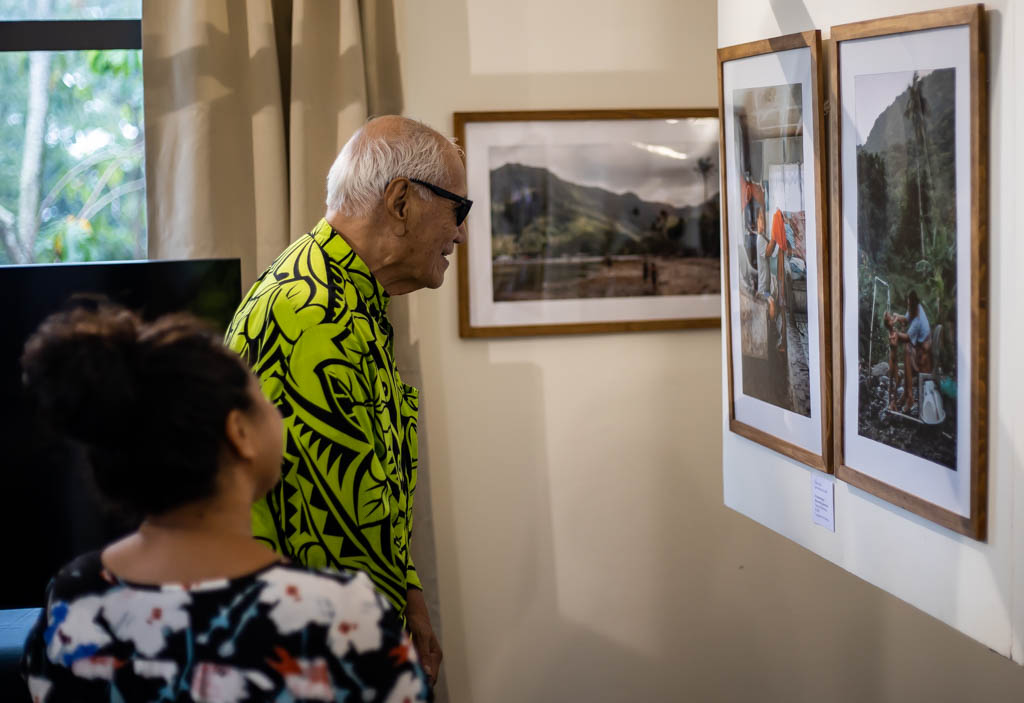 Asked about the difference between Samoa and her country, she said it took her awhile to process the fact that in Samoa the whole family, "let's say 20 people live in one house."
"And everything is open, there are no secrets, everything was shared, that took me a while to process," she added.
"When I came to Auala, I was supposed to stay with the family and it was an open fale [house], just a couch and a fridge. 
"The first thought which came to my mind was where I am going to keep my things other than that I can get used to it."
As an avid documentary photographer, she says living in Samoa has also made her dream come true of documenting life.
"I have to wait for New Zealand to open their borders to non-residents because some of our things are there," she said.
"Besides being a photographer, I am also a videographer, I would like to get into story-telling videos on the Samoan life.
"I took thousands of photos but we have 47 on display."
The Czech national will also give 15 per cent of the proceeds from the sales of her photographers to the families that are featured in the Samoa Observer's Village Voice column.
"We want 15 per cent of proceeds to go to the people on Village Voice, I feel like this is home and I want to help people out," she told this newspaper.